Survey Flights 1930-32
Although New Zealand is larger than the United Kingdom, its population is less than 3.5 million.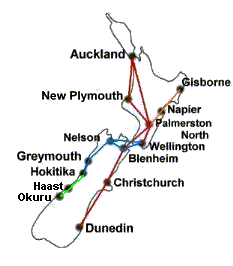 The distance by road from the north of the North Island to the south of the South Island is greater than the distance between Edinburgh in Scotland and Milan in Italy. The combination of it being relatively sparsely populated, mountainous, long and thin and divided into two islands has meant that it is expensive to provide an extensive road and rail infrastructure.
These circumstances do however mean that it is ideally suited to air travel both for passengers and mail and by 1937 a regular airmail network had been set up linking most parts of the country.
1937 routes:
East Coast Airways (orange),
Cook Strait Airways (blue),
Union Airways (red),
Air Travel (NZ) (green).
However, the development was not a smooth progress and most of the pioneering companies of the early 1930s did not survive.

Early flights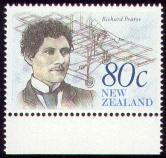 The first powered flight in New Zealand was by Richard Pearse in March 1903. Although this was earlier than the Wright Brothers flight in December 1903, Pearse did not claim to be the first to fly as he felt that the flight was not controlled.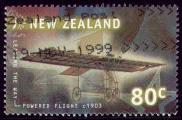 His achievement was marked in 1990 by a Heritage stamp showing his portrait and aircraft and again in 1999 by a Heritage stamp showing his aircraft.
There were experimental airmail flights after World War I, mostly in 1920. In 1926, RJG Collins published a series of articles on these flights in The New Zealand Stamp Collector. They were reprinted in The Kiwi in 2000 [1]. Although several thousand letters are reported to have been carried, surprisingly few (less than 100) have survived [2].
Survey flights 1930 - 1932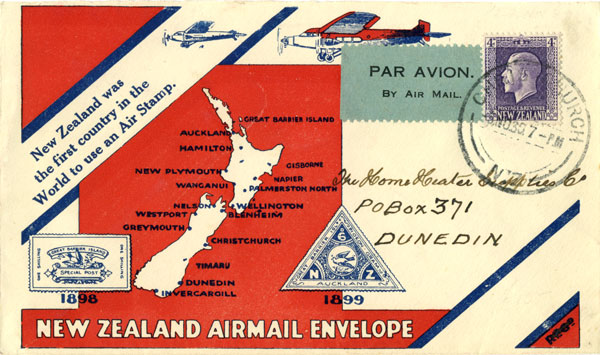 It was not until the early 1930s that experimental airmail flights were resumed.
The first New Zealand airmail in which postage stamps were used to prepay the cost of carriage by air was between Christchurch and Dunedin on 6 November 1930. The pilot was M.C. McGregor. An article by Alan Gardiner describes his flying career [3].

The next development was several unofficial services.
Dominion Airlines started an unofficial airmail on 22 December 1930 between Gisborne and Hastings. Payment was via a 6d stamp, but after one week that was deemed to be illegal. Their solution was to charge 6d for the signature of the pilot, G.B. Bolt who had flown some of the 1920 airmail flights.
Dominion Airlines ceased flights at the end of January 1931.

Dominion Airlines route was taken over by Gisborne Air Transport, who flew airmails between Gisborne and Hastings from March 1931 until 1932.
Another unofficial airmail was by Kaitaia Aero Club who who flew an irregular service between Kaitaia and Auckland starting in March 1931.
These were all unofficial airmails with the airmail charge being officially levied for the pilot's signature. The mail was posted on arrival so that it was carried to its eventual destination by ordinary surface mail.

Special airmail stamps were issued on 10 November 1931 and an important effort was made to publicise the advantages of air mail.
On November 12 there was a flight from Invercargill to Auckland with many intermediate stops. Mail was flown between each pair of stops and the flight also connected at Auckland with the experimental Australia - UK Christmas mail.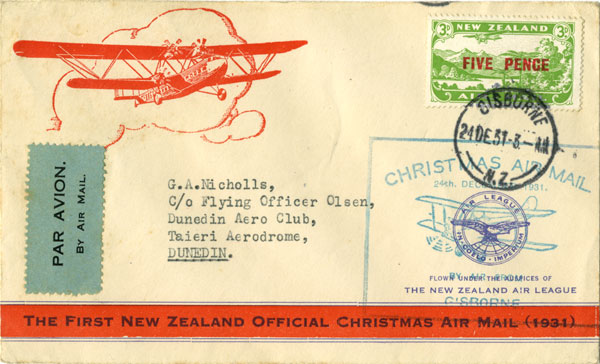 A 5d airmail stamp was issued on 18 December 1931 specially for a series of inter-connecting internal flights on December 24. Mail was sent from Gisborne, Invercargill and Auckland to Palmerston North and then flown from there to destination. There was a total of 73 different departure / arrival pairs.

Air Travel organised a series of survey flights on 10 December 1931 and on 20 January, 16 March, 30 April and 28 September 1932 to investigate the possibilities of setting up regular airmail routes. These survey flights carried official airmails.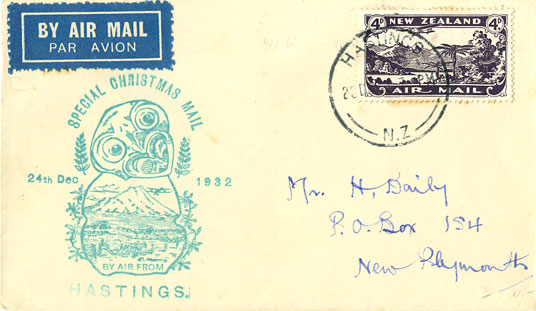 There was then a repeat of the Christmas flights in December 1932, but then no further internal mail flights for another year.

---
All scans were made by the author. Information on this page is taken from:
Airmails of New Zealand, volume 1 (1955) compiled by Douglas A Walker, and the New Zealand Airmail Catalogue, (2nd Edition, 1994) by James Stapleton. Both are published by the Air Mail Society of New Zealand
[1] RJG Collins, 'Aerial Mails of New Zealand', reprinted in The Kiwi, vol 49, p 114-117, September, 2000 continued in vol 49, p 137-140, November 2000.
[2] M Shand, 'The Airmails of 1920', pp 20-21 in Aspects of Collecting New Zealand Stamps, New Zealand Society of Great Britain, 2002.
[3] A Gardiner, 'Malcolm Charles McGregor - An Early New Zealand Air Mail Pilot' pp 108-114 in New Zealand: A Philatelic Miscellany, New Zealand Society of Great Britain, 1990.