Gisborne Air Transport
Gisborne Air Transport ran a Gisborne - Hastings airmail service from March 1931 to December 1932.
Gisborne Air Transport took over the Dominion Airlines route with the first flight being on 10 March 1931. The plane was a DH 60 Moth and the pilot was W.H. Lett. The airmail cost was 6d although that was officially a charge for the pilot signing the letter. In addition, the letters had to carry an ordinary stamp as the mail was posted at the end of the flight.
Gisborne - Hastings

The first flight left Gisborne at 6.45am and arrived in Hastings at 8am where the letters were posted.
Special envelopes were used on the first day flight. They included the direction of the flight and so this cover is inscribed Gisborne - Hastings. 180 covers were flown in each direction and they were all signed by the pilot Flt-Lt W H Lett.
This cover has been backstamped with a slightly different Hastings handstamp from the postmark.

Hastings - Gisborne
The return flight left Hastings at 9.45am and arrived back at Gisborne at 11am.
This cover is inscribed Hastings - Gisborne. It is signed by the pilot at the bottom left and was posted on arrival at Gisborne. The postmark shows 2.45pm on March 10.

Later Flights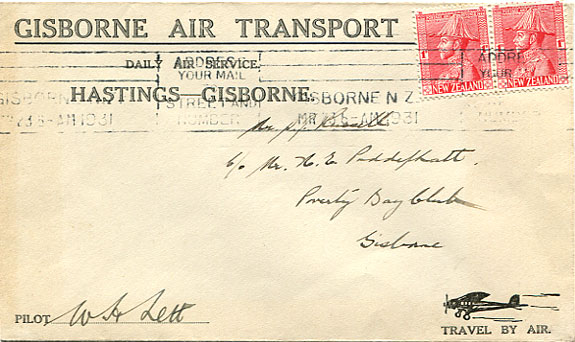 Regular daily flights continued on this route until December 1932. This cover is postmarked on 23 March 1931 and was flown from Hastings to Gisborne. It was scheduled to leave Hastings at 11.30am and arrive in Gisborne at 12.45pm.
It is a specially printed cover although other covers exist with a cachet with the same wording as on the printed cover. The same arrangements were made with 6d being paid for the pilot's signature and the covers being posted on arrival.
In April 1935, East Coast Airways started a regular passenger service between Gisborne and Napier (near Hastings). This was connected to the national network in 1937.

---
All scans were made by the author. Information on this page is taken from:
Airmails of New Zealand, volume 1 (1955) compiled by Douglas A Walker, and the New Zealand Airmail Catalogue, (2nd Edition, 1994) by James Stapleton. Both are published by the Air Mail Society of New Zealand
Wingspread by Leo White, Unity Press, Auckland 1941.