Wellington - West Coast
On January 20, 1932 a survey flight was made from Wellington to Hokitika on the west coast of the South Island with the return on the same day. Stops were made in both directions at Nelson and Westport.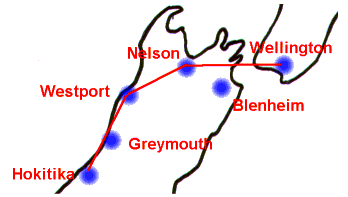 The company involved was Air Travel, the pilot was M.C. McGregor and the plane was a Simmonds Spartan.
The flights had the support of the Postal Department and airmail was delivered and collected at each stop. The postage was 5d made up of 2d surface and 3d air mail. A total of 7719 items was carried.
Different cachets were applied at the four starting points, each in a different colour.

Outward
Wellington - Westport
The first cover is one of 736 carried on the Wellington to Westport leg. The Wellington cachet is purple.

The cover is postmarked 6 am at Wellington and was backstamped 11 am on arrival at Westport.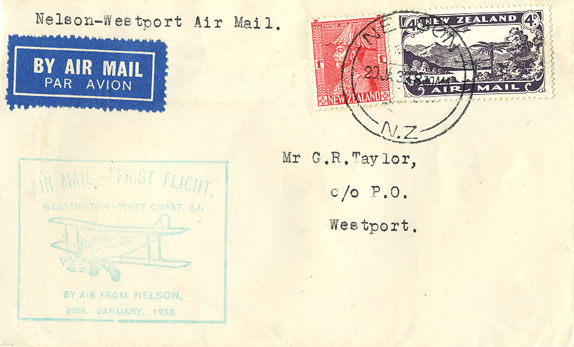 Nelson - Westport

The next cover was also carried to Westport, this time it is one of 447 carried from Nelson where it was postmarked at 8.30am.
The Nelson cachet is green.

Return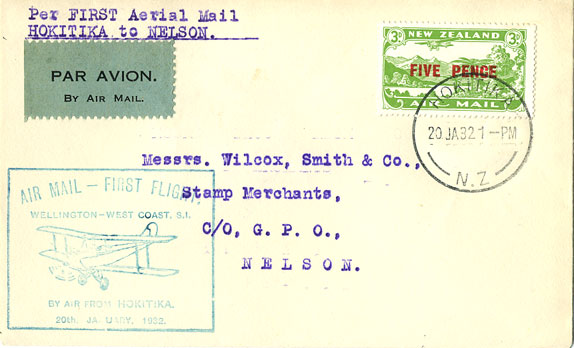 Hokitika - Nelson
The next cover is one of 502 carried on the return journey from Hokitika to Nelson and is postmarked at 1 pm. The Hokitika cachet is dark green.

The cover was backstamped 5 pm on arrival at Nelson.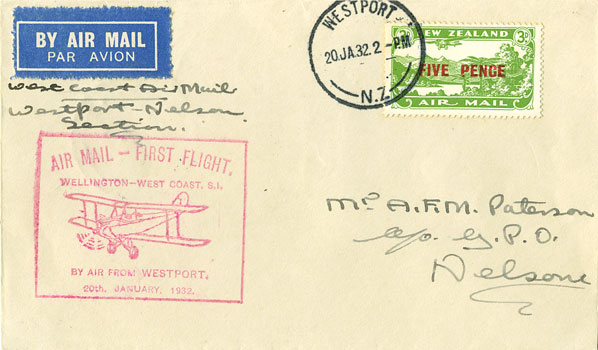 Westport - Nelson
The fourth cover is one of 484 carried from Westport to Nelson and is postmarked at 2pm and is backstamped on arrival at 5pm. The Westport cachet is red.
A regular service between Nelson and Hokitika via Greymouth was set up in February 1937 by Cook Strait Airways. This connected with their service from Nelson to Blenheim and Wellington. In March 1939, a stop at Westport was added to the service.

---
All scans were made by the author. Information on this page is taken from:
Airmails of New Zealand, volume 1 (1955) compiled by Douglas A Walker, and the New Zealand Airmail Catalogue, (2nd Edition, 1994) by James Stapleton. Both are published by the Air Mail Society of New Zealand