Christmas Eve Flights 1932
The 1932 Christmas Eve airmail flights were organised along the same routes as in 1931. The mail was smaller (6,709 compared with 16,836). A much fancier cachet was applied compared with the earlier survey flights.
Once again, Palmerston North was the centre of operations. Mail from Auckland was sent by the night train while mail from Wellington, Gisborne and Hastings was flown early on the morning of 24 December. There were then three flights from Palmerston North: north to Auckland, east to Gisborne and south to Invercargill.
Flights to Palmerston North
From Wellington
Mail from the South Island was sent to Wellington by boat and then flown, along with local mail, to Palmerston North by G Stedman.
The cover is postmarked Wellington at 6 am on 24 December and the plane left at 8am.
The cover was then flown in the same plane on the Palmerston North to Wanganui leg of the flight to Auckland by R.A. Kirkup. 112 items were carried from Wellington to Wanganui where it was backstamped 11 am.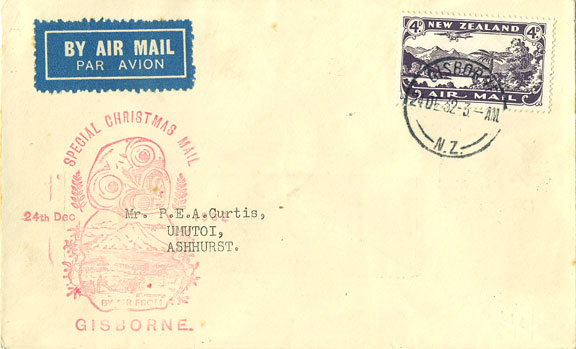 From Gisborne


The pilot from Gisborne to Palmerston North via Hastings was A.G. Gerrand. The plane left Gisborne at 4 am and arrived at Palmerston North at 6.20 am. 146 covers were carried.
The cover is postmarked at 3 am and has an arrival backstamp at 6 am. (Before the reported arrival time!) There is a second local backstamp showing that it arrived in Umutoi later that day.

Flights from Palmerston North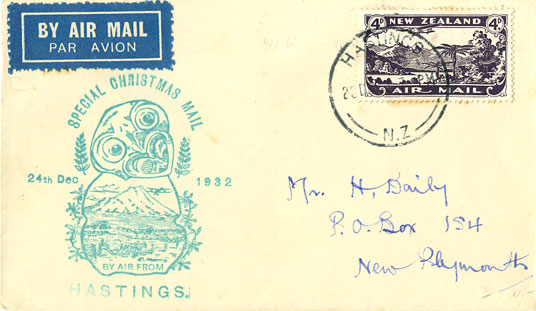 North to Auckland
The route from Palmerston North to Auckland was via Wanganui, Hawera and New Plymouth.

This cover was first flown on the Hastings to Palmerston North leg of the flight from Gisborne and then flown on the Palmerston North to New Plymouth leg of the flight to Auckland by R.A. Kirkup.
The cover is postmarked 7 pm on 23 December and is backstamped in New Plymouth at 12.45 pm. The flight arrived in Auckland at 1.30 pm.
Only 43 covers were flown from Hastings to New Plymouth.

South to Invercargill
The flight south left Palmerston North at 7.38 am and the route to Invercargill was via Wellington, Blenheim, Christchurch, Timaru, Oamaru and Dunedin. The pilot was J.M. Buckeridge in a DH 60 Moth.

As with the other flights, mail was picked up as well as delivered at each stop. The cover is one of 60 that were picked up at Blenheim and flown to Invercargill.
It is postmarked 12 noon at Blenheim (which seems rather late) and backstamped 5pm? at Invercargill. The flight had arrived there at 3.55 pm.

East to Gisborne
The return flight to Gisborne was also made by A.G. Gerrand. The plane left Palmerston North at 9.22 am and arrived in Gisborne at 12.05 pm. There was an intermediate stop in Hastings.
The cover is one of 155 carried and is backstamped at 12.15.
The surface postage rate had been reduced from 2d to 1d during 1932 and so the required postage was 4d (3d air mail plus 1d ordinary postage) compared with 5d the year before.

---
All scans were made by the author. Information on this page is taken from:
Airmails of New Zealand, volume 1 (1955) compiled by Douglas A Walker, and the New Zealand Airmail Catalogue, (2nd Edition, 1994) by James Stapleton. Both are published by the Air Mail Society of New Zealand