Christchurch-Dunedin, 1930
Air Travel operated a daily passenger service between Christchurch and Dundedin from 6 November 1930 until April 1931. The plane was a DH 50 and the pilot was Sq-Ldr M.C. McGregor.
An official airmail was carried on the first day flights: from Christchurch in the morning and the return from Dunedin in the afternoon. The flight took just under two hours.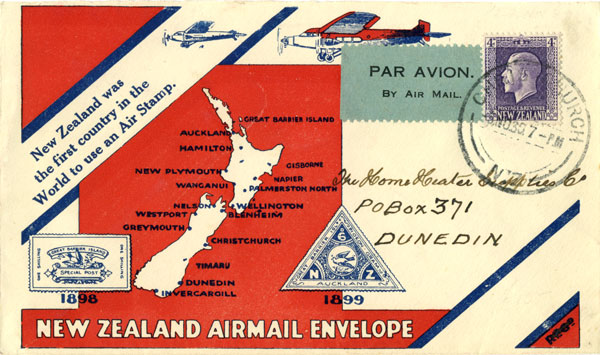 From Christchurch
The first cover is one of 524 carried from Christchurch to Dunedin and is postmarked in the evening of 5th November.
The specially printed envelope commemorates the Great Barrier Island pigeongramme stamps, claimed to be the world's first air mail stamps.
The plane left Christchurch at 9.16 am and arrived in Dunedin at 11.20 am. It was not backstamped on arrival.
This was the first time in New Zealand that postage stamps had been used to prepay the cost of internal air mail. The charge was 3d in addition to the normal cost of 1d. No cachet was applied.

This second cover is another version of the printed envelope, this time without the striking red background. In my experience this is by far the more common version.

The cover is postmarked early on the morning of 6th November while the backstamp was not applied until 5 pm which is well after the arrival time. The cover is signed by the pilot.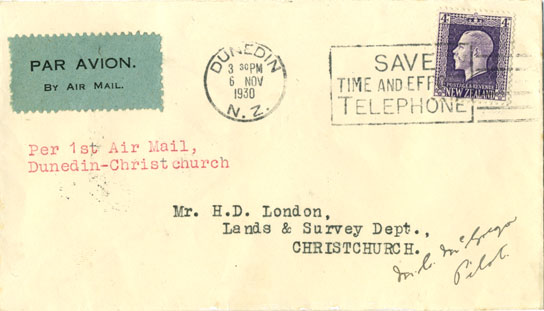 From Dunedin
The next cover is one of 306 carried on the return journey from Dunedin to Christchurch.
The cover is postmarked Dunedin at 3.30 pm on November 6 although Walker [1] states that the return flight left at 3.20 pm and arrived in Christchurch at 5.15 pm. The cover was backstamped at 8pm that evening.
This cover is also signed by the pilot.

---
All scans were made by the author. Information on this page is taken from:
[1] Airmails of New Zealand, volume 1 (1955) compiled by Douglas A Walker,
[2] the New Zealand Airmail Catalogue, (2nd Edition, 1994) by James Stapleton.
Both are published by the Air Mail Society of New Zealand