To UK, Christmas 1931 and return
In 1931, Kingsford Smith and Australian National Airways planned a special Christmas flight to the UK. The pilot was to be G.U. Scotty Allan. Mail from New Zealand could be sent by sea and join the flight at Sydney.
NZ Internal flight and Australia-UK
In conjunction with this first All-Australian flight to the UK, Air Travel Ltd organised a flight on 12 November from Invercargill to Auckland stopping at Dunedin, Christchurch, Blenheim, Wellington, Palmerston North and New Plymouth to pick up mail which was then sent from Auckland or from Wellington to Sydney by sea. This was the first time that the new airmail stamps were used on air mail.
The first cover was flown from Invercargill to Wellington by Air Travel on November 12 from where it was sent to Sydney by sea. It was then flown on the All-Australian flight to the UK.
The cover is correctly franked as the postage rate was one shilling and fivepence made up of 2d ordinary postage, 3d for the internal flight in New Zealand and 1s 0d for the flight from Australia to the UK.

The second example is postmarked in Christchurch on 10 November, the first day of issue of the new airmail stamps. It was flown from Christchurch to Auckland on the internal flight of 12 November as well as on the All Australian Christmas flight to the UK.
It has the cachet for that flight on the back although there is plenty of room on the front and has the required franking of 1s 5d.
There seemed to be a widespread belief that the cost of air mail had to be paid for by the new airmail stamps which could not be used to pay surface mail. As a result, the cover does not contain the full set of airmail stamps as that would have resulted in deficient postage.

Not flown on NZ Internal Flight
The second cover was posted in Lower Hutt near Wellington. As it was not flown internally in New Zealand, the postage rate was only one shilling and twopence.
Mail from Auckland (1555 items) was sent to Sydney on the SS Ulimaroa while mail from Wellington (1598 items) was sent on the SS Marama both on 13-17 November. An identical special cachet was applied to the mail from both Wellington and Auckland. A different cachet was applied on mail originating in Australia, but it was not applied to mail from New Zealand.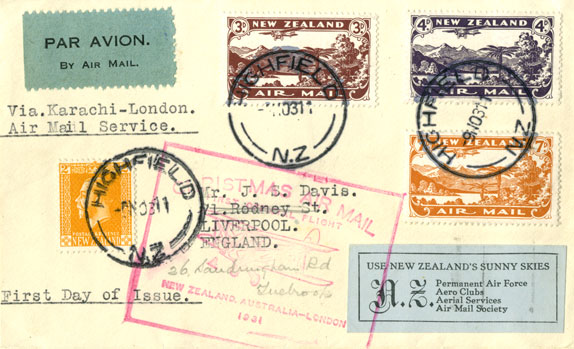 Highfield cover
Some of the new airmail stamps were issued at Highfield on November 9, a day too early. Some were then used on covers to the UK.

Although the intention was clearly that they should be flown on the Karachi - London service several, including the example, were flown instead on the All Australian Airmail.

Details of the Australia - UK flight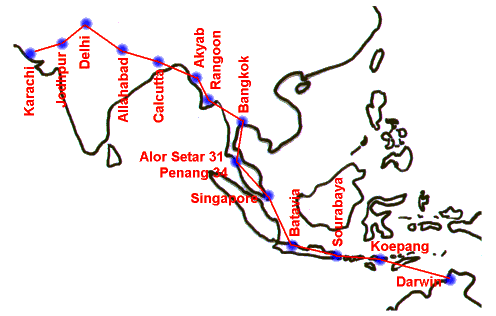 The flight to the UK started from Hobart, Tasmania on 19 November and was due in London on 3 December. The plane was an Avro 10 named Southern Sun. The crew was pilot: G U Allan, co-pilot: R N Boulton and wireless operator: L M Callaghan. There was one passenger: Lt Col Horace Brinsmead, the Australian Controller of Civil Aviation. The first leg was to Melbourne. On 20 November, the mail was flown Melbourne - Sydney - Brisbane and the New Zealand mail joined the flight at Sydney. The total mail from Australia was 52,000.
On 21 November it was flown: Brisbane - Longreach - Camooweal; on 22 November it was flown: Camooweal - Newcastle Waters - Darwin; on 23 November it was flown: Darwin - Koepang - Bima; on 24 November it was flown Bima - Surabaya - Batavia; and on 25 November it was flown Batavia - Singapore - Alor Star.
Unfortunately, due to heavy rain, on 26 November the Southern Sun crashed on take-off from Alor Star (Alor Setar) in the Malayan state of Kedah and did not fly again.
Kingsford Smith left Sydney on 30 November in a relief Avro 10 (the Southern Star) and arrived at Alor Star on 5 December. The mails were transferred and Kingsford Smith, Allan and Boulton continued to the UK in the Southern Star. They flew to Rangoon via Bangkok on 6 December; Rangoon - Calcutta - Gaya on 7 December; Gaya - Bamroli - Karachi on 8 December; Karachi - Djask - Bushire on 9 December; Bushire - Baghdad - Aleppo on 10 December; Aleppo - Athens on 11 December; Athens - Rome on 12 December; Rome - Lyons on 13 December.
They were then delayed by fog and flew to Le Touquet on 15 December and finally arrived at Croydon Airport, London on 16 December.
There is a manuscript date on the front of the first cover indicating that it arrived in Thurso in the north of Scotland on 17 December while the Highfield cover has a 17 December Liverpool backstamp.
Details of this eventful journey are given in the Airmails of New Zealand, Vol 2. Brinsmead did not wait for Kingsford Smith, but caught a KLM flight and was badly injured when it crashed on 7 December in Bangkok.

Special cover from Australia
Australian National Airways produced a large special cover for the flight and it is shown below along with the Australian cachet. No examples of the cover are known from New Zealand.
There is a map of the route on the back of the cover.

Return Christmas airmail
When Australian National Airways Ltd planned a special Christmas flight to the UK in 1931, they also planned a return flight to Australia. Mail for New Zealand was accepted for this flight and was to be sent on by sea from Sydney.
Due to the problems of the Australia - UK flight, the Avro 10 Southern Star did not arrive in the UK until 16 December. The original plan had been to leave the UK on 9 December, but that date was now put back to 18 December.
The cover is postmarked 17 December, ready for that departure date and was specially produced for the flight.
As it was clear that they could not get the mail to Australia in time for Christmas, Kingsford Smith and Scotty Allan decided to postpone the departure until 21 December so that the Avro 10 could be thoroughly checked by A.V. Roe, its manufacturer.
On the afternoon of 21 December, the plane was ready and Allan was to fly it from Hamble, near Southampton, to Croydon. Unfortunately there was dense fog and he crashed on the way. The plane was badly damaged, although Allan was unhurt.
The plane was repaired by A.V. Roe at Hamble and amazingly was ready for the return journey which began from Southampton on 7 January, 1932.

Registered cover postmarked on 17 December 1931 and addressed to Christchurch.
The mail arrived in Sydney on 21 January and was sent from Sydney to Auckland on the Maunganui on 22 - 26 January. This cover was backstamped on arrival in Sydney on 21 January and again at North Avon, a suburb of Christchurch on 28 January.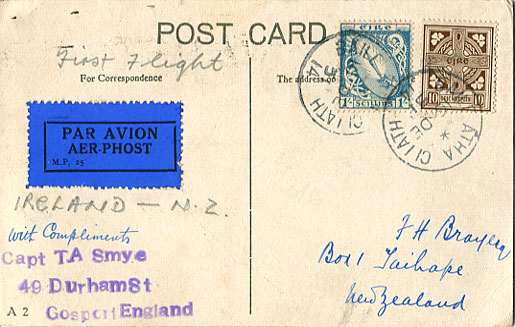 This picture postcard from Ireland is inscribed First Flight Ireland - N.Z. It is postmarked Baile Atha Cliath (the Irish for Dublin) on 16 December and has the expected Sydney backstamp on 21 January. There is no New Zealand backstamp.
The franking is 1s 10d which seems rather high. The sender was Captain Smye, a prolific creator of early airmail covers. There are not likely to be many acceptances from Ireland for this flight that were addressed to New Zealand.

Mail from Singapore
It was planned that mail would be picked up at Singapore on the return journey. However, after the crash on 21 December, the authorities in Singapore decided that they would send the mail by sea.
This cover is postmarked 24 December in Singapore and was one of the covers sent to Australia by sea.
It was backstamped at Broome in Western Australia on 8 January and so was presumably landed there and flown by West Australian Airways, first to Perth and then to Adelaide.
Later Singapore mail was postmarked 14 January and was flown by Kingsford Smith.

ANA were wound up shortly after Kingsford Smith's return to Australia.
---
All scans were made by the author. Information on this page is taken from:
Airmails of New Zealand, volume 1 (1955) and volume 2 (1986) compiled by Douglas A Walker, and the New Zealand Airmail Catalogue, (2nd Edition, 1994) by James Stapleton. They are published by the Air Mail Society of New Zealand