Auckland - North Auckland
The route of the survey flight on April 30, 1932 was Auckland, Dargaville, Russell, Whangarei and back to Auckland.

Again, the company involved was Air Travel, the pilot was M.C. McGregor and the plane was a Simmonds Spartan. An official airmail was delivered and picked up at each stop with the total flown being 4804 items.
Dargaville to Auckland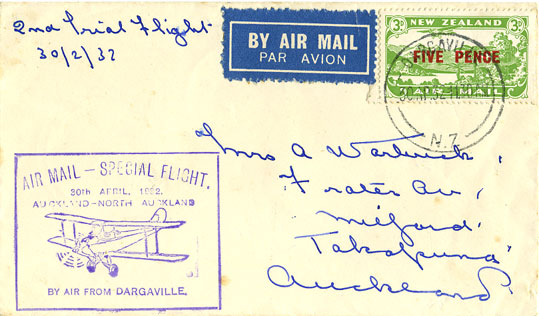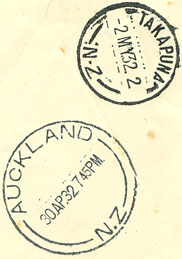 This cover is one of 398 flown from Dargaville to Auckland.
The cachets were similar to those used in the earlier survey flights and state where they were flown from.
The backstamps show that although it arrived in Auckland on 30 April, it was not delivered in Takapuna until 2 May.
This was the last of the survey flights made by Air Travel which closed two months later.

Dargaville to Russell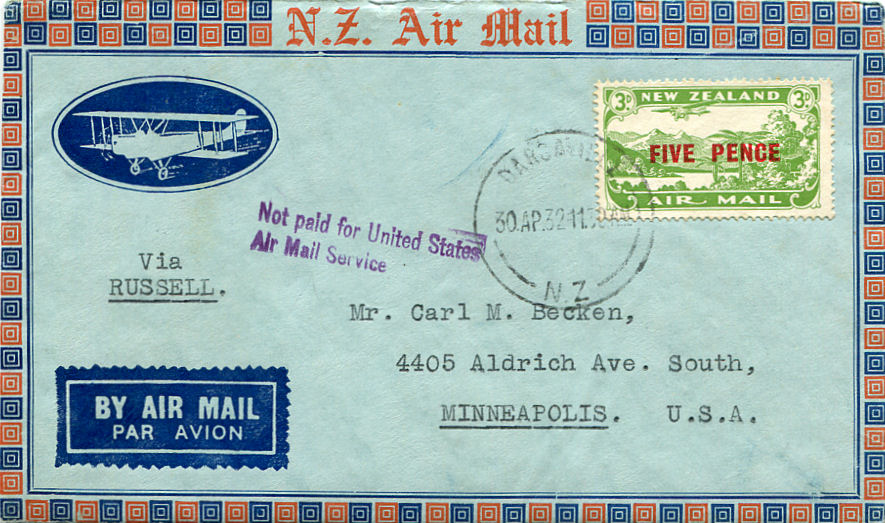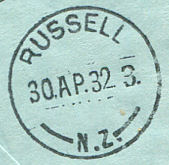 This cover is one of 562 flown from Dargaville to Russell and its special flight cachet, which is the same as the above, is on the back.
It is unusual in that it is addressed to the USA and has the purple cachet Not Paid for United States / Air Mail Service on two lines. The consensus of opinion is that this cachet was applied in the United States.
Although it appears in the other mail to the USA flown on this survey flight, I have not seen an example flown on any other service.

---
All scans were made by the author. Information on this page is taken from:
Airmails of New Zealand, volume 1 (1955) compiled by Douglas A Walker, and the New Zealand Airmail Catalogue, (2nd Edition, 1994) by James Stapleton. Both are published by the Air Mail Society of New Zealand