Kaitaia - Auckland, 1931
The Kaitaia Aero Club started an intermittent passenger service betwen Kaitaia and Auckland with the first flight on 29 November 1930. The plane was a DH 60 Moth owned by the Air Survey and Transport Co and the pilot was F.D Mill.
The first Auckland - Kaitaia airmail was on 24 March 1931 with the first return mail on 7 April. The mail was unofficial and letters were posted on arrival and so had to be franked at the normal surface rate. Presumeably, an airmail surcharge was levied in the same way as at Dominion Airlines and Gisborne Air Transport with the charge officially being for the pilot's signature as all covers were signed.
First Airmail Auckland to Kaitaia, 24 March 1931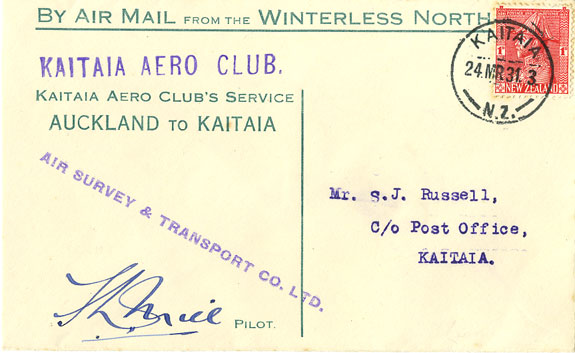 Special covers were printed with green lettering and two purple cachets were applied - one for Kaitaia Aero Club and the other for Air Survey and Transport Co.
This cover was flown on the first flight from Auckland to Kaitaia on 24 March 1931 and posted on arrival. It is signed by the pilot F.D.Mill who flew all the early airmail flights.
The postage rate had been raised to 2d on 1 March and so the single 1d stamp on the above cover would appear wrong.

Kaitaia to Auckland, April 1931
The first airmail from Kaitaia was flown on 7 April.
Covers from Kaitaia to Auckland were printed in purple. The Auckland postmark on this cover is difficult to make out, but appears to be 14 April, 1931. That is likely to be the second airmail flight from Kaitaia.
Although Mill signed covers on the first flights, subsequently a rubber stamp facsimile of Mill's signature was made and that was used instead. The facsimile appears on this cover.
The Auckland machine cancel shows that ugly postmarks are not a new phenomenon!

Later flights: Kaitaia - Auckland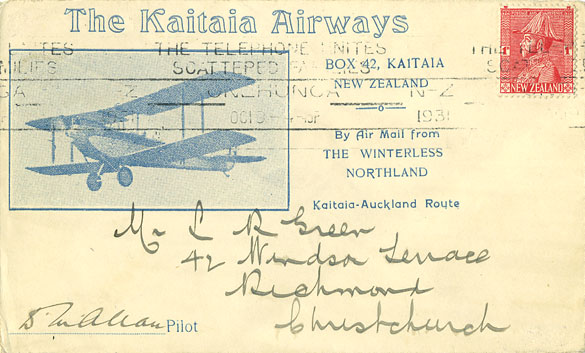 The service continued intermittently for the next year. Three pilots (F.D. Mill, D.M. Allan and J.D. Hewett) were involved and they all signed covers.
Signed by F/L D M Allan
This cover is signed by Flight Lieutenant D.M. Allan and is backstamped in Auckland on 19 October.

Special covers were used, some printed in red and some in blue. These covers have a picture of a DH Moth and the earlier reference to Kaitaia Aero Club is replaced by The Kaitaia Airways.

Signed by Captain Hewitt
There are minor differences in the covers. The previous cover is inscribed Kaitaia - Auckland Route while this cover is inscribed Kaitaia - Auckland Service.
The cover is signed by Captain J.D. Hewett and postmarked in Auckland on 21 December 1931.

Later flights: Auckland - Kaitaia
This cover has a three-line Air Survey and Transport Co cachet and a facsimile of Mill's signature. It also has a rubber stamp in purple for Air Survey and Transport Co together with a box number as address.
It was posted in Kaitaia on 30 December 1931.

---
All scans were made by the author. Information on this page is taken from:
Airmails of New Zealand, volume 1 (1955) compiled by Douglas A Walker, and the New Zealand Airmail Catalogue, (2nd Edition, 1994) by James Stapleton. Both are published by the Air Mail Society of New Zealand