Internal Airmails 1934-1938
Although there were experimental air mails between 1930 and 1932, the first regular service did not start until late 1934. Airmails were developed along with freight and passenger services.

The first regular New Zealand airmail service connected Hokitika with Haast and Okuru in December 1934. It was operated by Air Travel (NZ).

East Coast Airways set up the first New Zealand licensed passenger service in April 1935 between Gisborne and Napier, but they could only carry airmail on the first day of the service. A regular airmail service was not added until December 1936.
On 16 March 1936, regular airmail services were started by Cook Strait Airways between Wellington in the North Island and Nelson and Blenheim in the South Island and by Union Airways between Palmerston North and Dunedin via Blenheim and Christchurch. There was a connection between the two services at Blenheim.

In February 1937, the Cook Strait Airways service was extended from Nelson to Hokitika thereby connecting the Air Travel (NZ) Hokitika-Okuru service with the rest of the network.
In June 1937 Union Airways started a service between Auckland and Wellington connecting with their service to the South Island at Palmerston North and with Cook Strait Airways at Wellington.

In October 1937, East Coast Airways extended their Gisborne-Napier service to Palmerston North and so connected with the rest of the network.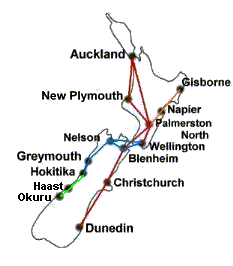 By October 1937 the routes were as shown in the map. The routes operated by the different companies are shown in different colours.
East Coast Airways (orange),
Cook Strait Airways (blue),
Union Airways (red),
Air Travel (NZ) (green)
---
All scans were made by the author. Information on this page is taken from:
Airmails of New Zealand, volume 1 (1955) compiled by Douglas A Walker, and the New Zealand Airmail Catalogue, (2nd Edition, 1994) by James Stapleton. Both are published by the Air Mail Society of New Zealand