East Coast Airways
On 16 April 1935, East Coast Airways (ECAL) started a regular passenger service between Gisborne and Napier. This was the first licensed regular passenger service in New Zealand. The planes used were two DH 84 Dragons.
Gisborne - Napier
An official airmail was only carried on the first flight from Gisborne to Napier and on the return from Napier to Gisborne. The pilot was Captain T.W White.
The cover was carried from Gisborne to Napier. It is postmarked Gisborne at 6 am on 16 April and backstamped at Napier at 9.30 am.

Napier - Gisborne
The next cover was carried on the return flight from Napier to Gisborne.

It is postmarked Napier at 9.30 and backstamped on arrival at Gisborne at 12.30.
The pilot on the first flight was Capt. TW White. His biography is on pages 108-110 of the November 1995 issue of The Kiwi.

Also flown to South Westland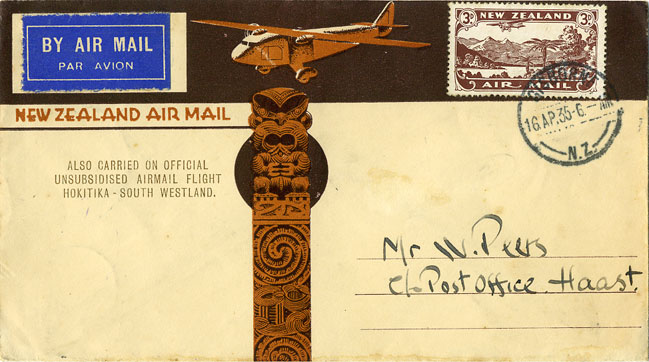 The only regular airmail service in New Zealand at this time was from Hokitika to Haast and Okuru in South Westland.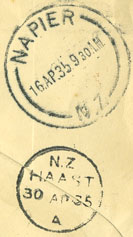 After being flown from Gisborne to Napier, this cover was flown from Hokitika to Haast. It is backstamped at Napier on 16 April, but the Haast backstamp is not until 30 April.
The cover has a privately printed inscription stating that it was flown on the service to South Westland.

Later flights
The passenger service was suspended on 15 March 1936 while improvements were made to Gisborne airport.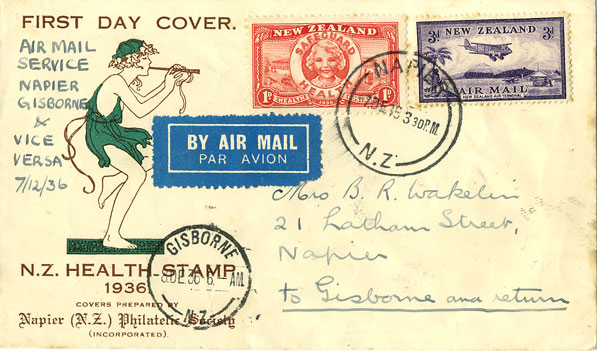 The service resumed on 7 December 1936 and now included a regular official airmail. The flights were from Gisborne to Napier in the early morning with a return from Napier in the afternoon.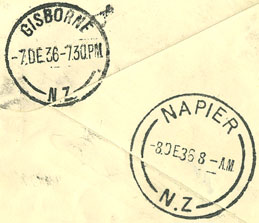 This cover is one of 245 covers flown on the first regular flight from Napier to Gisborne. It is postmarked Napier at 3.30pm on 7 December and backstamped Gisborne at 7.30pm. It was then flown back to Napier on the next day on the second flight from Gisborne. It is postmarked at Gisborne at 6am and backstamped at Napier at 8am.
On 30 October 1937, the service was extended from Napier to Palmerston North allowing a connection with Union Airways services. This route was taken over by Union Airways on 1 July 1938
---
All scans were made by the author. Information on this page is taken from:
Airmails of New Zealand, volume 1 (1955) compiled by Douglas A Walker, and the New Zealand Airmail Catalogue, (2nd Edition, 1994) by James Stapleton. Both are published by the Air Mail Society of New Zealand