East Coast Airways extension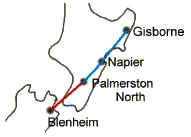 On 30 October 1937, East Coast Airways extended their Gisborne, Napier service to Palmerston North and on 10 January 1938 to Wanganui.
The extension to Palmerston North enabled connections to be made with Union Airways services at Palmerston North and hence with Cook Strait Airways at Blenheim.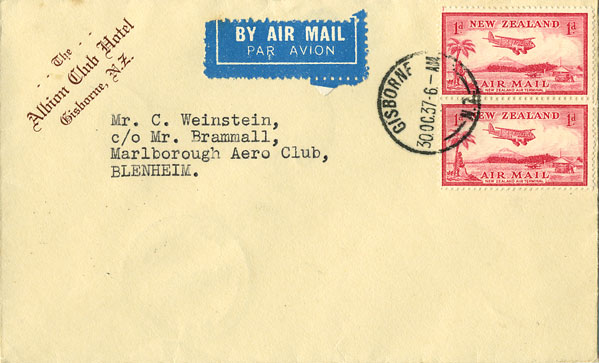 This cover was carried from Gisborne to Palmerston North by East Coast Airways and then from Palmerston North to Blenheim by Union Airways.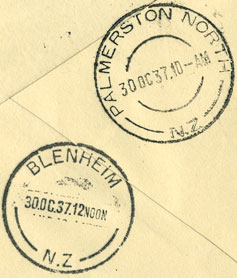 A backstamp was applied at Palmerston North as well as on arrival in Blenheim.
East Coast - Union - Cook Strait - Air Travel
The next cover is addressed to Bruce Bay which was a stop on the Air Travel(NZ) route from Hokitika to Okuru.
Presumably, the intention was for this cover to be flown from Gisborne to Palmerston North by East Coast Airways, from Palmerston North to Blenheim by Union Airways, from Blenheim to Hokitika by Cook Strait Airways and from Hokitika to Bruce Bay by Air Travel(NZ).
However, the backstamps show that it was flown from Palmerston North all the way to Christchurch by Union Airways on 30 October. From there, it was taken by rail to Greymouth and then flown from Greymouth to Hokitika by Cook Strait Airways. It is backstamped at Hokitika on 2 November.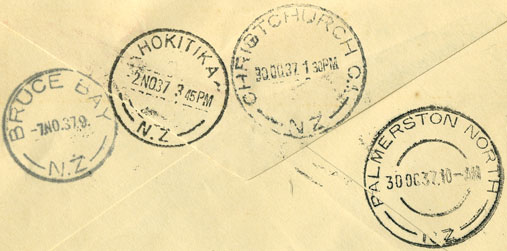 I have three similar covers addressed to Greymouth, Hokitika and Okuru. The first two are backstamped on 1 November at Greymouth and Hokitika respectively while the third is backstamped at Hokitika on 2 November and Okuru on 10 November.
The Bruce Bay backstamp shown here is on 7 November. If both it and the one to Okuru were flown from Hokitika to Okuru via Bruce Bay, we would expect the Bruce Bay and Okuru backstamps to be on the same day. Strange!

Wanganui Extension, January 1938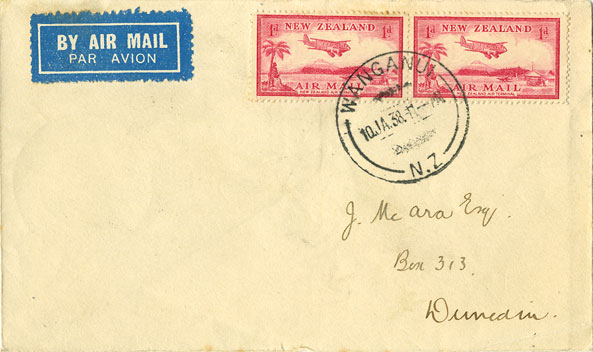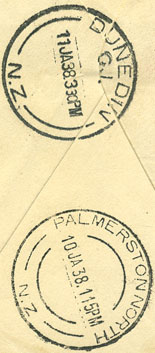 On 10 January 1938, East Coast Airways made a further extension from Palmerston North to Wanganui.
The cover was carried on the first return service from Wanganui on 10 January. It then connected with the Union Airways service at Palmerston North and was flown to Dunedin on 11 January.
It was backstamped on 10 January at Palmerston North and at 3.30pm on 11 January at Dunedin.
To Hong Kong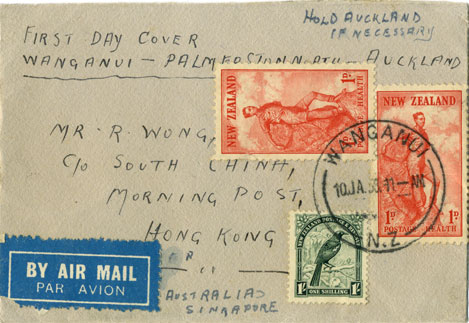 This cover was also flown from Wanaganui to Palmerston North on the first flight. It was then flown from Palmerston North to Auckland by Union Airways.

From Auckland it went by sea to Sydney and from there to Bangkok on the Imperial Airways Australia - London service. From Bangkok, it was flown to Hong Kong by Imperial Airways. The rate to Hong Kong was 1s 0d with an extra 1d if it was to be flown by internal New Zealand air mail. As this cover is franked with 1s 2d, it would appear to be overfranked by 1d.
In December 1937, the connection of the Hong Kong service with the main Imperial Airways route had been changed from Penang to Bangkok.
The date 24.1.38 is in manuscript on the back of the cover and I assume that is when it was delivered in Hong Kong. That is the arrival date in Hong Kong of the sixth flight of the new Bangkok - Hong Kong service via Hanoi on 23 - 24 January. It must have left Sydney on 14 January to connect with the flight that arrived in Bangkok on 19 January [1].
Postscript
The Wanganui service was discontinued after five weeks.
The Gisborne to Palmerston North route was taken over by Union Airways on 1 July 1938.

---
All scans were made by the author. Information on this page is taken from:
Airmails of New Zealand, volume 1 (1955) compiled by Douglas A Walker, and the New Zealand Airmail Catalogue, (2nd Edition, 1994) by James Stapleton. Both are published by the Air Mail Society of New Zealand
[1] Aircraft Movement on Imperial Airways' Eastern Route, vol 2 1937-39 Peter Wingent, Winchester 2005.