Union Airways to Auckland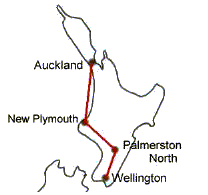 On 27 June 1937, Union Airways started a regular airmail service between Wellington and Auckland via Palmerston North and New Plymouth.
There were connections with the South Island through Union Airways Dunedin service at Palmerston North or Cook Strait Airways at Wellington.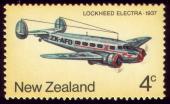 North-bound airmails were flown from the South Island to Auckland in one day, but south-bound airmails were held overnight at Palmerston North or Wellington.
The Wellington - Auckland route used Lockheed Electras for the first time in New Zealand. They were commemorated in a stamp issue on early air transport in 1974.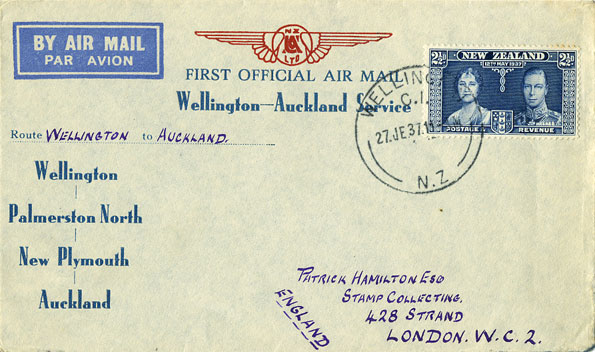 Wellington - Auckland
This cover is one of 2822 flown from Wellington to Auckland It was then carried to the UK by sea.

Letters were backstamped on arrival in Auckland at 4pm.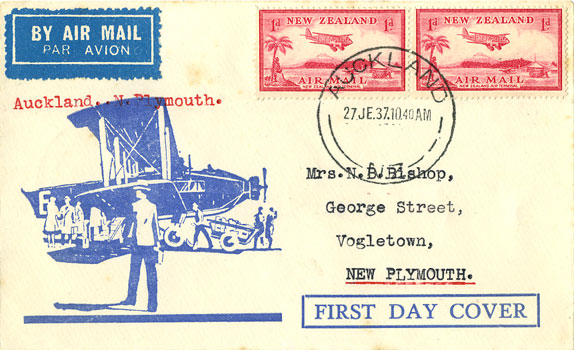 Auckland - Wellington

This cover is one of 324 carried on the Auckland to New Plymouth leg of the Auckland - Wellington flight.

Connection with Cook Strait Airways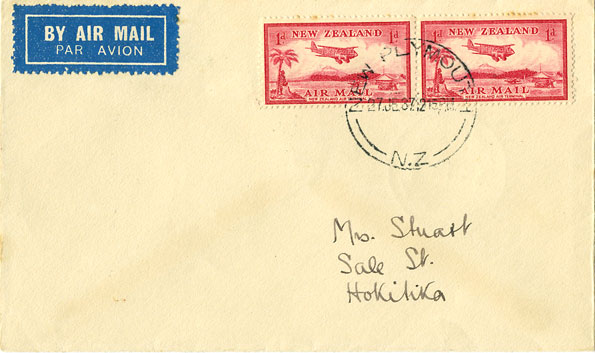 New Plymouth - Hokitika
The next cover was flown south from New Plymouth with the intention of connecting with the Cook Strait Airways service at Wellington.
It was then flown to Nelson on 28 June and from there to Hokitika on 29 June.
The cover is backstamped at Palmerston North which is most strange as it should not have been unloaded there, but flown straight to Wellington.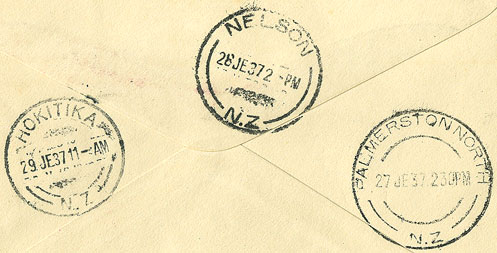 That suggests that it was held overnight by mistake at Palmerston North on 27 June and then, on 28 June, flown by Union Airways to Blenheim and from there to Nelson by Cook Strait Airways.
There certainly were several mistakes in handling the mail on these flights. The Wellington - Palmerston North mail was not unloaded there, but flown to Auckland as was part of the Wellington - New Plymouth mail. In addition, some covers from Auckland to Hokitika were flown by mistake to Christchurch.

---
All scans were made by the author. Information on this page is taken from:
Airmails of New Zealand, volume 1 (1955) compiled by Douglas A Walker, and the New Zealand Airmail Catalogue, (2nd Edition, 1994) by James Stapleton. Both are published by the Air Mail Society of New Zealand