New services, March 1936
On 30 December 1935, Cook Strait Airways started a regular passenger service over a triangular route linking Nelson, Wellington and Blenheim. The planes used were two DH 89 Dragon Rapides and the chief pilot was G B Bolt.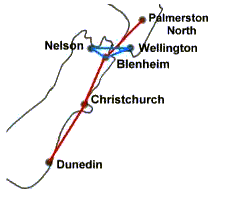 On January 15 1936, Union Airways started a regular passenger service between Palmerston North, Blenheim, Christchurch and Dunedin. The planes were three DH 86 Express airliners.
However, official mail was not carried on these services until 16 March 1936, when both Cook Strait Airways and Union Airways started regular air mail services.
Each service had a postage rate of 2d per oz. An airmail connection between the two services could be made at Blenheim at no extra charge.
Cook Strait Airways
This was an important route as it linked the North and South Islands and provided an alternative to crossing the Cook Strait by sea. The boat and train journey between Blenheim and Wellington took about 4 hours while the air journey was 20 minutes.
The planes used were two DH 89 Dragon Rapides and the chief pilot was G B Bolt. The fleet was gradually increased to five Rapides.

The cover is one of 444 flown from Blenheim to Wellington. It was postmarked in Blenheim at 8.45am and in Wellington at 11am.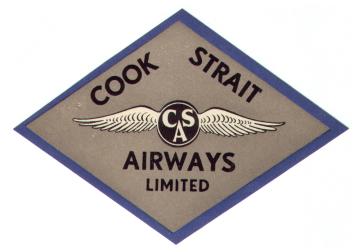 There were ten flights on the first day, the morning flights by G B Bolt and the afternoon flights by R Matheson.
As the backstamp shows that the cover had arrived in Wellington by 11 am, it was flown on a flight piloted by G B Bolt.
A contemporary Cook Strait Airways baggage label is shown on the right.
Although Cook Strait Airways did not have a contract to carry mail until 16 March 1936, their passenger airline service started on 30 December 1935 and some covers were flown unofficially.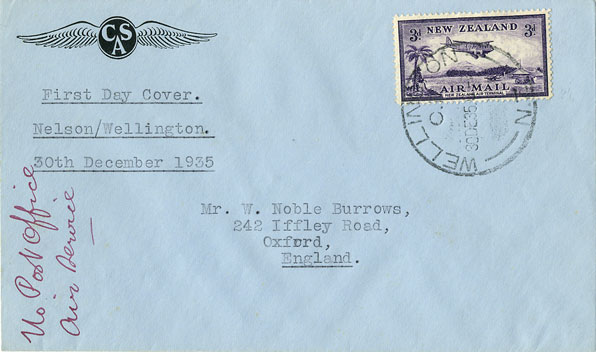 This cover is on a CSA envelope, has the routing instructions Nelson/Wellington and was postmarked in Wellington at 6pm on 30 December.
If it started its journey in Nelson then it must be one of the covers flown unofficially from Nelson to Wellington and posted on arrival as otherwise it would have a Nelson postmark.
I do not know whether the inscription No Post Office Air Service was added officially or by a later collector.

Union Airways
On 16 March 1936, Union Airways started a regular airmail service between Palmerston North and Dunedin via Blenheim and Christchurch. The postage rate was 2d.
Flight North
One flight in each direction was made on the first day.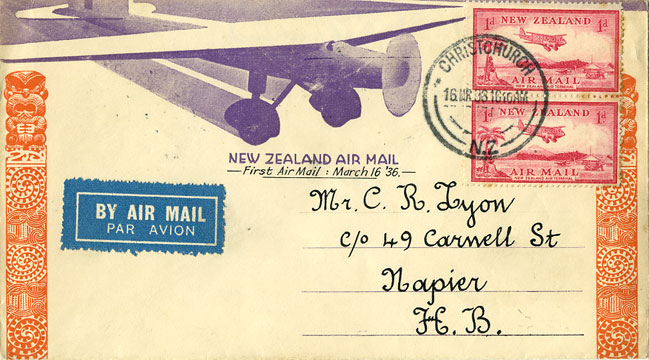 The cover is one of 1572 that joined the Dunedin to Palmerston North flight at Christchurch.
It is postmarked 10.10 am at Christchurch and backstamped 4.45 pm at Palmerston North. It was then carried by surface mail to Napier where it was backstamped at 7.45 am the following morning.

Flight South
The next cover is one of 3373 flown south from Palmerston North to Dunedin.

The backstamp shows that it had arrived at Dunedin by 1.45pm.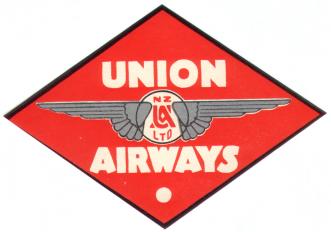 Union Airways planes were DH 86 Express airliners, similar to that shown on the airmail stamps on the above cover.
A contemporary Union Airways baggage label is shown.

Cook Strait - Union Airways Connection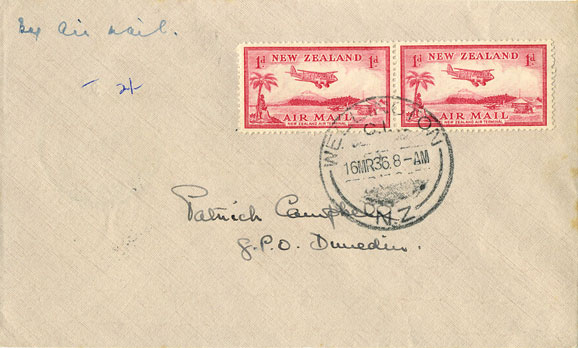 A connection betwen the two airlines could be made at Blenheim. The cover is one of 1007 flown by Cook Strait Airways from Wellington to Blenheim and then by Union Airways from Blenheim to Dunedin.

Interesting to note that the Dunedin backstamp on this cover is different from that on the Palmerston North - Dunedin cover above. Given that almost 6000 letters arrived at Dunedin on the first flight, it is not surprising that more than one datestamp was required.

Use of Internal Air Mail to connect with External Mail Services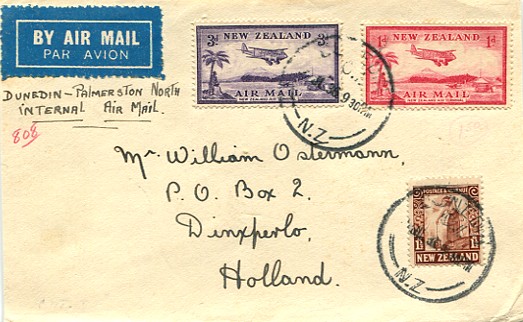 The trans Tasman mail service was typically only once a week. As the connecting internal air mail closed later than the internal surface mail, it could be used to make late connections from the South Island with mail boats at Wellington or Auckland.
This cover to Holland has Dunedin - Palmerston North / Internal Air Mail in manuscript and is postmarked in Dunedin at 9.30 pm which is after the closing time for connections with the overnight ferry from Christchurch to Wellington, but in time for the air mail service to the North Island that left early the next morning. Unfortunately, the precise date in July 1936 is unclear and so it is not possible to pinpoint the particular connecting trans Tasman service.
The postage rate was 1d in addition to the normal overseas postal rate.

---
All scans were made by the author. Information on this page is taken from:
Airmails of New Zealand, volume 1 (1955) compiled by Douglas A Walker, and the New Zealand Airmail Catalogue, (2nd Edition, 1994) by James Stapleton. Both are published by the Air Mail Society of New Zealand