South Westland Airmail
The first regular New Zealand airmail service was not between major population centres, but was to South Westland connecting Hokitika with Haast and Okuru. (There had previously been an experimental airmail between Hokitika and Okuru in September 1932.)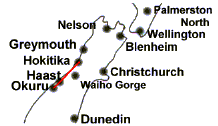 The route was operated by Air Travel (N.Z.) Ltd with J.C (Bert) Mercer owner and chief pilot. This was a different company from Air Travel Ltd which had flown experimental airmails in 1930 - 1932.
Regular weekly flights between Hokitika and Okuru via Haast started on 18 December 1934 with the first airmail on 31 December. The flight left Hokitika at 8.15 am and the return flight arrived back there at 3.45 pm. The plane was the DH Fox Moth ZK-AD1 which could carry four passengers. It replaced a mail service that used pack-horses!
First Flight
The cover shows a picture of Bert Mercer beside the Fox Moth. The cover is postmarked Hokitika on 27 December and was flown from there to Haast on 31 December. It has a Haast 31 DE arrival mark on the front.
The cost was the normal surface rate of 1d as this was an "all up" service with all mail between Hokitika and Haast and Okuru now being carried by air.
The special cover emphasises that the airmail service was unsubsidised although it also states that they were Royal Mail Contractors. There has been some debate [3] about why the service was described as being unsubsidised when there was clearly a subsidy.

A recent article [2] contains an extract from The New Zealand Gazette stating that it was in fact the first subsidised air mail service in New Zealand and that Air Travel received a subsidy of £131 for the year 1935. The contract was for a fortnightly service (although mail was usually also carried in the intervening weeks). The service was continued in subsequent years.
A possible explanation is that it is a typo in the first flight covers and that it was meant to say 'subsidised' rather than 'unsubsidised'.
The next cover is postmarked on 31 December in Haast and is addressed to Okuru. It is the second kind of special cover which has two aerial views: the bridge connecting Hokitika with the Southside Aerodrome and a view of Haast and Okuru.
It has the same inscription about the unsubsidised service as the first cover.

The next cover is postmarked in Okuru on 31 December and is addressed to Carterton which is north of Wellington. It would be flown on the return flight from Okuru to Hokitika and then be sent from there by surface.
It is seriously overfranked with the 3d airmail stamp and the 1934 health stamp.

Later flights
(a) Also flown by East Coast Airways
On 16 April 1935, East Coast Airways started a regular passenger service between Gisborne and Napier.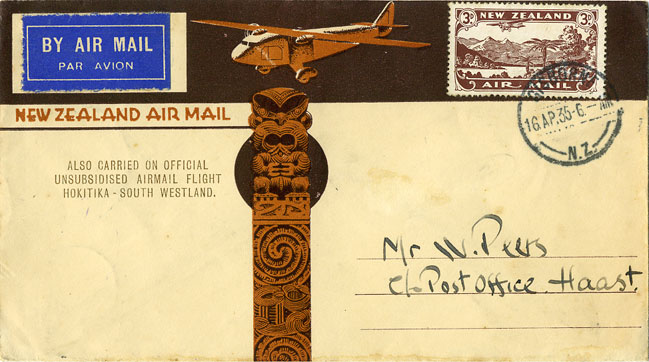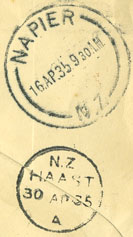 After being flown on the first flight from Gisborne to Napier this cover was flown from Hokitika to Haast. It is backstamped at Napier on 16 April, but the Haast backstamp is not until 30 April which supports the point that the official service was fortnightly.
The cover has a privately printed inscription stating that it was flown on the "unsubsidised" service to South Westland.
(b) Bruce Bay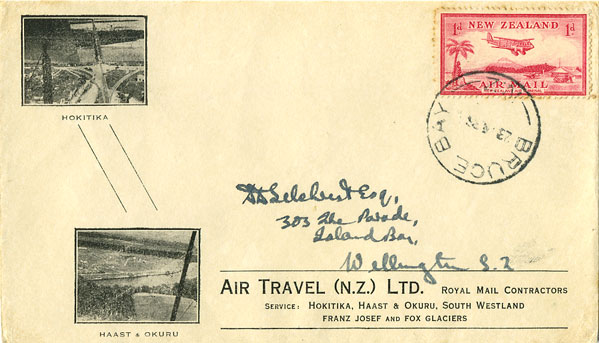 From 1 January 1936, Bruce Bay was added to the service.
This cover is postmarked at Bruce Bay on 23 January 1936 and so was flown on one of the first scheduled flights.
The first recorded air mail from Bruce Bay is on 5 August 1935 (two copies known), but that was before there was a contract [1].
This cover has the same pictures as one of the two special covers produced for the first flight on 31 December 1934, but has a different inscription which no longer refers to the service being unsubsidised.

(c) Link with national network
In February 1937, Cook Strait Airways extended their airmail services from Nelson to Hokitika thereby connecting the South Westland airmail with the rest of the country.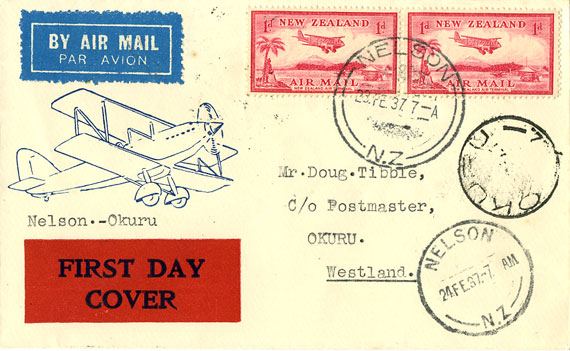 The first flight left as planned on 23 February 1937, but had to return due to bad weather. Letters had been datestamped 23 February at Nelson, but as the second attempt was on 24 February, the datestamp was re-applied at Nelson at 7 am with the new date.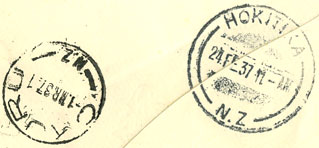 This can be seen on the cover which was flown from Nelson to Hokitika by Cook Strait Airways on 24 February. It has an arrival Hokitika datestamp at Hokitika at 11 am on 24 February. Then, seven days later on 1 March, it was flown from Hokitika to Okuru by Air Travel (NZ) as can be seen by the Okuru receiving mark.

(d) Connection with East Coast Airways
On 30 October 1937, East Coast Airways extended their Gisborne - Napier service to Palmerston North enabling connections to be made with Union Airways services at Palmerston North and hence with Cook Strait Airways at Blenheim.
Presumably, the intention was for this cover to be flown from Gisborne to Palmerston North by East Coast Airways, from Palmerston North to Blenheim by Union Airways, from Blenheim to Hokitika by Cook Strait Airways and from Hokitika to Bruce Bay by Air Travel(NZ).
However, the backstamps show that it was flown from Palmerston North all the way to Christchurch by Union Airways on 30 October. From there, it was taken by rail to Greymouth and then flown from Greymouth to Hokitika by Cook Strait Airways.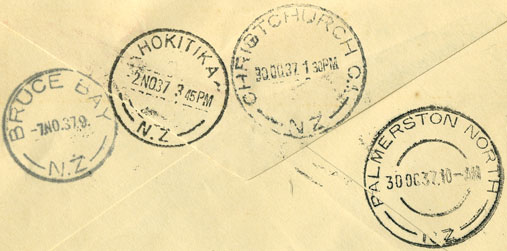 It is backstamped at Hokitika on 2 November and then at Bruce Bay on 7 November.
I have a similar cover addressed to Okuru which has similar Christchurch and Hokitika backstamps but whose Okuru backstamp is 10 November. If both covers were flown from Hokitika to Okuru via Bruce Bay, we would expect both covers to be backstamped on the same day. Strange!
In November 1939, Air Travel (NZ) took over the Hokitika to Nelson airmail service from Cook Strait Airways.
The service to South Westland continued until 1967 when the opening of the Haast Highway meant that it was no longer economic. It was still using de Havilland biplanes [4].

---
All scans were made by the author. Information on this page is taken from:
[1] Airmails of New Zealand, volume 1 (1955) compiled by Douglas A Walker, Air Mail Society of New Zealand
[2] Air Travel (N.Z.) Ltd. Flights of December 31, 1934, New Zealand Air Mail News, no 658, May 2006, pp 4-5. (Reprinted in The Kiwi, vol 56, pp 40-43, March 2007.)
[3] M Shand, Mr Mercer and the Unsubsidised Flights - A Further Thought, The Kiwi, vol 56, p 106, September 2007.
[4] 75th Airline Anniversary, Newsletter No 1, July 2009.