Extension to Hong Kong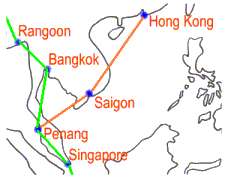 The Eastern Route of Imperial Airways was gradually extended with the first flight to Hong Kong being in March 1936.
On 23 March 1936, an Imperial Airways service to Hong Kong was started, connecting with their London - Australia route at Penang. The mail leaving London on 14 March connected with the first flight from Penang on 23 March.
The DH 86A Express flew to Saigon and then Tourane in French Indo China on the 23rd and then on to Hong Kong on the 24th.

The example cover is postmarked London on 14 March and arrived in Penang on 22 March. It was flown from Penang on 23 March and backstamped on arrival at Victoria, Hong Kong on 24 March 1936.
The postage rate was 6d from London and 20c from Penang.
Penang had replaced Alor Star on the London - Singapore Route in April 1934.

The first return airmail left Hong Kong on 27 March and arrived in Penang on 28 March. A special cachet was applied.
The mail left Penang for London on 29 March on IW430, but the covers were not backstamped on arrival in England on 7 April.
The rate to the UK was 50c and $1.20 to the rest of Europe. The rate to Penang was 20c while the rate to Australia and New Zealand was 80c.

Connection with China
In November 1936, Hong Kong became a stop on the Shanghai - Canton service of the Chinese National Aviation Corporation (CNAC).
The cover was flown on the first flight from Hong Kong to Shanghai on 5 November [1]. It is backstamped 6 November.
The service ended on 25 September 1937 due to the Japanese invasion of China. However, for a while this provided an all-air connection between countries on the Imperial Airways route and China.
USA - NZ via Hong Kong
From April 1937, Pan American operated a regular airmail from San Francisco to Hong Kong allowing a connection with the Imperial Airways service.
The route was via the Philippines and Macau. The shown cover was flown on the first flight from the USA to Macau (21 - 28 April) where it was backstamped on 28 April. After a brief stop in Macau, the plane continued on to Hong Kong where it arrived later that day. This cover was carried from Macau to Hong Kong by surface mail where it was backstamped at 1pm on 30 April.
The Hong Kong - Penang flight that connected with the first Pan American airmail to Hong Kong left on 30 April and arrived in Penang on 2 May [1, 3]. It is not clear whether this cover had arrived in Hong Kong in time to make this connection.
At Penang there was a tight connection on 2 May with the Imperial Airways Eastern Route leg from Penang to Singapore. The next stage was Singapore to Australia by Qantas. The US mail to Sydney was backstamped there on 7 May [2]. The final leg from Sydney to New Zealand was by sea.

Route to Hong Kong now via Bangkok
Imperial Airways had always intended that the feeder service to Hong Kong should connect with the Eastern Route at Bangkok. There were problems in getting the agreement of the Siam government and so the connection was initially made at Penang.
Agreement was eventually reached and from 19 December 1937, the connection was at Bangkok and the route was via Fort Bayard (China), Hanoi (French Indo-China, now Vietnam where there was an overnight stop) and Udorn (Siam, now Thailand).

The cover is backstamped Victoria, Hong Kong on 26 December 1937 and so was presumeably carried on the second flight by the new route.
(I sometimes think that we should collect second flight covers rather than first flight covers as they indicate that a scheduled route had in fact been set up. They also tend to be real commercial covers rather than being philatelically inspired.)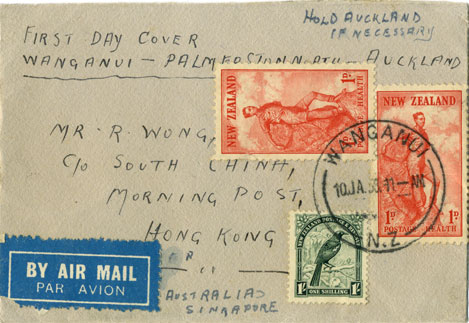 The next cover was flown from Wanaganui to Palmerston North on the first flight of the East Coast Airways extension on 10 January 1938.
It then went to Sydney by sea before being flown from Australia on the IA service to Bangkok, presumably on IW 619 which arrived in Bangkok in the evening of 19 January. The date 24.1.38 is in manuscript on the back. That is the arrival date in Hong Kong of the sixth flight of the new IA Bangkok - Hong Kong service.
The cover has 1/2 postage although Walker [2] suggests the rate should be 1/3.

This cover is postmarked in Hong Kong on 18 February 1938. It would have been flown by Imperial Airways on 20 February from Hong Kong to Hanoi and then on 21 February from Hanoi to Bangkok.
It connected at Bangkok with the Eastern Route service on 23 February which arrived in Brisbane on 28 February. The New Zealand mail was offloaded at Charleville and flown by Butler Air Transport to Cootamundra on 28 February. Finally, it was sent by overnight train to Sydney where it was backstamped at 6.30 am on 1 March.
It is correctly franked with 80c which was the rate to Australia and New Zealand.
That was the first service using S23 Flying Boats on the Karachi - Singapore leg of the route. The plane was the Coogee [3].

Closure of Bangkok - Hong Kong route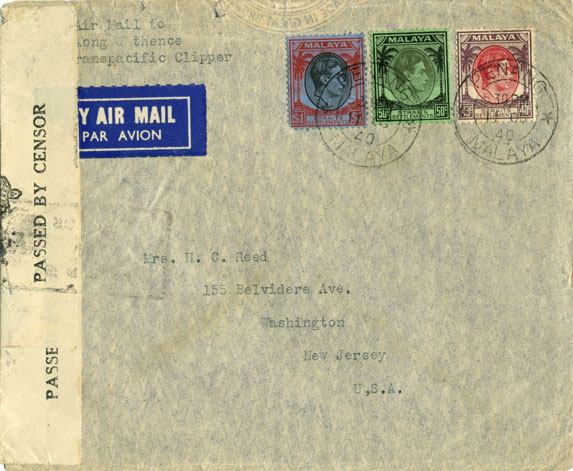 By late 1940, there were political problems flying over French Indo-China and the Bangkok - Hong Kong route was closed with the last flight from Bangkok being on 15 October [1].
This censored cover is postmarked Penang on 11 October 1940 and franked with $1.90 Malayan dollars.
It is routed to the USA via Hong Kong and so it may have been flown on 12 October (flight WS24) by BOAC on the Penang to Bangkok leg of the Horseshoe Route [4] and then on the last Bangkok - Hong Kong flight. It would then be flown from Hong Kong to San Francisco by Pan American Airways on route FAM 14.
A China National Aviation Corporation (CNAC) Chungking - Rangoon service had started in October 1939 with the first flight from Rangoon being on November 2. It connected with the earlier Chungking - Hong Kong service that had started in December 1937. From 25 October 1940, the connection between Hong Kong and the Horseshoe Route was via this service.
From November 1940, there was a $1.90 rate to USA and a $2.60 rate to Britain via New Zealand.

Via Singapore
From May 1941, the Pan American service between Manila (Philippines) and Hong Kong was changed so that every second week it went instead to Singapore. From September 1941, there was a weekly service from Manila to both Hong Kong and Singapore. This meant that from May, the CNAC route between Rangoon and Hong Kong was no longer used to connect the Horseshoe Route with the PAA route to the USA.
Hong Kong services ceased with its fall to the Japanese in December 1941.
---
All scans were made by the author. Information on this page is taken from:
[1] D Crewe, Hong Kong Airmails 1924-1941, Hong Kong Study Circle, 2000.
[2] Airmails of New Zealand, volume 2 (1986) compiled by Douglas A Walker, published by the Air Mail Society of New Zealand
[3] P Wingent, Aircraft Movements on Imperial Airways' Eastern Route, vol 2, 1937 - 1939, Winchester 2005.
[4] Bridging the Continents in Wartime: Important Airmail Routes 1939-45, H. E. Aitink and E. Hovenkamp, SLTW, Enschede, 2005.
[5] Airmail Operations During World War II, T.H.Boyle, 1998.