Emergency Flights, June 1940
Early in the morning of 19 June 1940, the Niagara was sunk by a mine shortly after leaving Auckland. As a precaution, the ferry services across the Cook Strait were cancelled and ordinary surface mail was flown between Wellington and the South Island on emergency flights on aircraft chartered from Union Airways.

According to contemporary newspapers, the following emergency flights were made [1]:
Wellington - Christchurch and return: 20, 21 June,
Wellington - Nelson and return: 20 June,
Wellington - Blenheim and return: 20, 21 June.
Note that the above information differs from that reported in the literature [1].
Ordinary air mail services were in operation and so only covers franked with surface postage were flown on these emergency flights.
According to [1], the GB Postage Stamp Centennial first day covers sent by surface postage arrived in New Zealand during this time. Those addressed to Christchurch and further south were sent from Auckland to Wellington by rail and flown from Wellington to Christchurch on the emergency flight of 21 June [1].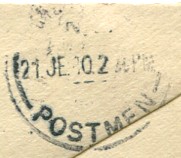 The first cover is postmarked on 6 May 1940 and is addressed to Christchurch. On the back is a Christchurch Postmen backstamp on 21 June, confirming the arrival date.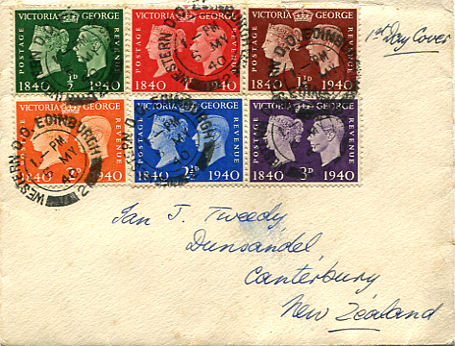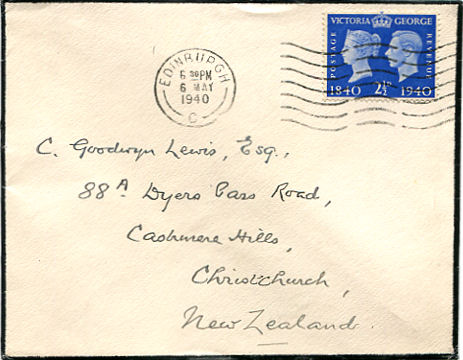 The cover on the left is franked with the complete Centennial set and is addressed to Dunsandel, a suburb of Christchurch.
The cover on the right is a mourning cover also postmarked in Edinburgh on 6 May and addressed to Christchurch. It is franked with the surface rate of 2½d and, although it is postmarked on the first day of issue of the GB Centennial stamps, it appears to be a genuine non-philatelic use. Both would have been flown on the emergency flight of 21 June.
It is not clear which ship carried the mail from Britain to New Zealand, but a possibility is the Australia Star which left Liverpool on 14 May and arrived in Auckland on Tuesday 18 June having travelled via the Panama Canal.
The plane used on the flights to Christchurch was a Lockheed Electra chartered from Union Airways. The pilots on the 21 June flights were Commander M.C. MacLeod and Second-Officer W Smillie.

Airmail from UK, 1 June
This cover to New Zealand is postmarked on 31 May and again in London on 1 June 1940. As the service to Australia from the UK was twice weekly on Sundays and Thursdays [3], it may have been on flight SE 252 that left Poole on Sunday 2 June and arrived in Sydney on 15 June.
Alternatively, it may have been flown on flight SE 253 which left on Thursday 6 June and arrived in Sydney on 17 June [4]. In both cases, it would then have been flown trans-Tasman on SA8 on 20 June.
Previously, external air mails required extra postage to be flown on New Zealand internal services, but mail to and from New Zealand flown on the trans-Tasman service were flown to and from the South Island at no extra charge.
This air mail cover from UK to Dunedin would have been sent on the overnight express from Auckland to Wellington on the evening of 20 June and then flown by air from Wellington to Dunedin on 21 June. Hence this cover would have been flown on the normal internal air mail service although on the same day as the Emergency Flight from Wellington to Christchurch on Friday 21 June 1940.

---
All scans were made by the author.
[1] Airmails of New Zealand, volume 1 (1955) compiled by Douglas A Walker, published by the Air Mail Society of New Zealand
[2] The Emergency Flight in 1940, H Fox, The Kiwi, vol 49, no 6, p 141, Nov 2000.