Early External Flights
New Zealand is distant from other countries. The Tasman Sea between New Zealand and Australia is two-thirds the width of the Atlantic Ocean and is notorious for sudden violent storms.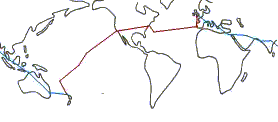 That not only meant that air mail is very important to New Zealand external communications, but that it was relatively late (1940) before regular external airmail services were established by Tasman Empire Airways (TEAL).
Although there were few direct airmail flights to or from New Zealand in the 1930s, mail could connect with airmail services in other countries. Both the westward 15,000 mile route to the UK via Australia (known as the Eastern Route!) and the shorter eastward route to the UK via the USA were used.
This page outlines the development of the services. Much more detail is obtained by following the links.
The flights 1911 - 41
The first mail that arrived in New Zealand after having been flown on part of its journey was the aerial post that had been flown the 21 miles from Hendon to Windsor to commemorate the coronation of King George V in 1911.
It was to be many years before there was another mail to New Zealand that had been flown even on such a small part of its journey.
New Zealand stamps were not accepted for the pre-payment of air mail until 1930. Mail from New Zealand to be flown by US air mail services had a mixed franking with the surface postage in New Zealand stamps and the air mail surcharge in US stamps.

The Imperial Airways London - Karachi service started in March 1929. Although some mail to New Zealand was sent on the first flight, it was August 1929 before mail was officially accepted from the UK. Karachi to New Zealand was by surface mail via Ceylon and Australia.
Airmail to New Zealand could be sent on the West Australian Airways Perth - Adelaide air mail service from the first service in June 1929. Mail from the UK to New Zealand was accepted on this service from August 1929. It went by sea to Fremantle and was flown from there.

New Zealand stamps were first accepted for the payment of airmail postage on flights in Australia, Canada, USA and on the Karachi - London service from 1 July 1930.
There were two experimental airmail flights between Australia and the UK by Imperial Airways in April / May 1931 and mails to and from New Zealand were accepted for each flight.
Mail for New Zealand was also accepted on the KLM Amsterdam - Australia flight in May 1931.

To cater for the use of external airmail services and for the planned internal New Zealand flights, 3d, 4d and 7d airmail stamps were issued on 10 November 1931.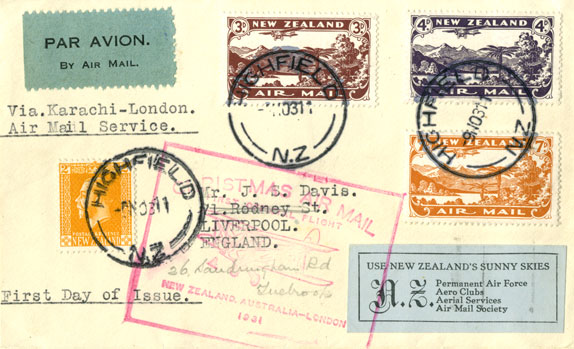 They were used on mail from New Zealand which connected with the All Australian Christmas Air Mail to London in November / December 1931. Mail for New Zealand was sent on the return flight in January 1932.

In June 1932, air mail for Africa was accepted from New Zealand. It went by surface to Karachi and was then flown to Cairo where it connected with the Imperial Airways African route.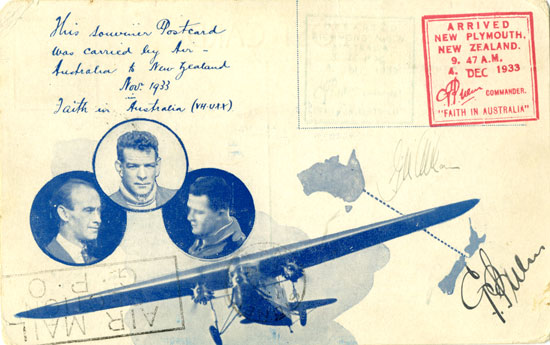 In 1933, Kingsford Smith and Ulm both made unofficial airmail flights between Australia and New Zealand as they tried to persuade the authorities to agree to an official airmail.
The first official trans-Tasman airmail took place in February 1934. Ulm was the pilot and Allan the co-pilot. In April they flew an official airmail from Australia to New Zealand and return.
A third official airmail flight from New Zealand to Australia by Ulm and Allan was in early July. They then flew on to Papua and New Guinea in late July. Much of the New Zealand - Australia air mail was addressed to be flown on to Papua or New Guinea. Mail was accepted for New Zealand on the return flight from New Guinea to Australia. Australia to New Zealand was by sea.

In addition to the flights by Ulm and Allen, in March 1934 there was an official airmail from New Zealand to Australia flown by Kingsford Smith.
In October 1934, there was an air race from London to Melbourne and, after taking part in it, Hewitt and Kay continued their flight to New Zealand. They carried an unofficial air mail.

A regular Australia - UK service via Singapore and India was set up in December 1934 by Imperial Airways and Qantas and that became the standard NZ - UK airmail route. However, it was 1940 before this route was extended to New Zealand with a regular trans-Tasman service.

In May 1935, Kingsford Smith planned a flight from Australia to New Zealand and return to commemorate the Jubilee of George V. The return flight would then connect with the regular Australia - UK airmail. However, the flight from Australia had to be abandoned half way across the Tasman Sea.

In January 1938, there was an experimental official airmail by Pan Am from New Zealand to San Francisco via Hawaii. However, on the return flight, the plane exploded after leaving American Samoa and so a regular service was delayed until 1940.

In March 1938, Clouston and Ricketts flew UK - Australia - New Zealand and return in a record time. They left London on 15 March, arrived in Blenheim on 21 March and were back in London by 26 March. They carried an unofficial mail.

On 4 August 1938, the first mails left Wellington on the Empire Air Mail Scheme. The low cost of one and a half pence per half oz from New Zealand to most parts of the British Empire led to a great increase in airmail traffic. However, the New Zealand to Australia leg was still by sea.

From 4 September 1939 the cost of the Empire Air Mail Scheme was increased twelve-fold to 1s 6d per half oz due to the outbreak of war and that remained the cost to the UK when the regular trans-Tasman air link was eventually established in April 1940 by Tasman Empire Airways. By this time Imperial Airways had been replaced by BOAC.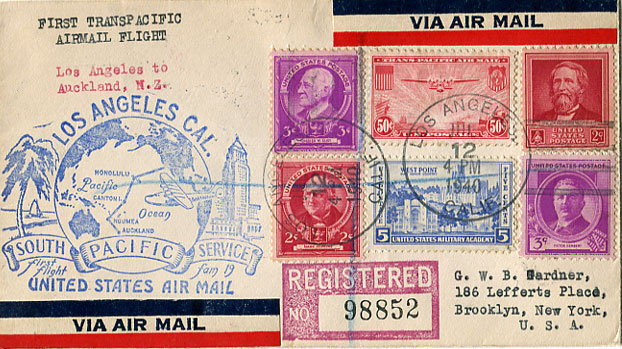 In July 1940, a regular airmail route from US to New Zealand and from New Zealand to USA was established by Pan American and with that a through eastward airmail route to the UK.
As the through airmail service to the UK via Australia had been suspended in June 1940 when Italy joined WW II, the combination of the Trans-Tasman route with the trans-Pacific and trans-Atlantic routes was now the through airmail route from Australia to the USA and UK. So for the first time, New Zealand was not at the end of the line.
In November 1941, Fiji was added to the Auckland - San Francisco route. However, this did not last long as the Pan Am trans-Pacific service to the USA was suspended in December 1941 after the attack on Pearl Harbor.

---
All scans were made by the author. Information on this page is taken from:
Airmails of New Zealand, volume 1 (1955) compiled by Douglas A Walker, and the New Zealand Airmail Catalogue, (2nd Edition, 1994) by James Stapleton. Both are published by the Air Mail Society of New Zealand