Australia-NZ Airmail
The first official airmail from Australia to New Zealand left Sydney on the evening of 11 April 1934 and arrived at New Plymouth in New Zealand at noon the next day having taken 16 hours 46 mins. The plane was the Faith in Australia as in the first New Zealand to Australia airmail in February. Once again the crew was Charles Ulm (pilot), G.U. (Scotty) Allan (co-pilot and navigator) and R.T. Boulton (engineer).
A total mail of 39,971 items was flown and the postage was 7d (5d airmail plus 2d normal postage). A purple cachet was applied in Sydney.
As there was no regular internal New Zealand airmail service at this time, the New Zealand Post Office made special arrangements and three planes were waiting to carry the mail to different parts of New Zealand as soon as it arrived in New Plymouth at 11.53 am.
To Auckland
This cover is one of 24,690 that were flown by Flt. Lieut. Wallingford in a RNZAF Fairey IIIF to Auckland.
The backstamp shows that the mail had arrived in Auckland by 2pm on 12 April.
15,471 of the items flown to Auckland were boomerang covers to be returned to Australia; 12,299 by air (requiring a further 7d postage) and 3,172 by sea.
The National Library of Australia has a photograph with an advert describing how people could address such boomerang covers to themselves.

To Wellington and then Christchurch
12,285 items were flown by Sq. Leader J.L. Findlay in a RNZAF DH 80 Puss Moth to Wellington where 5,568 were off-loaded while a further 6,717 were flown on to Christchurch.
This is one of the covers off-loaded at Wellington where it was backstamped at 3 pm.
The cover has been signed by Ulm.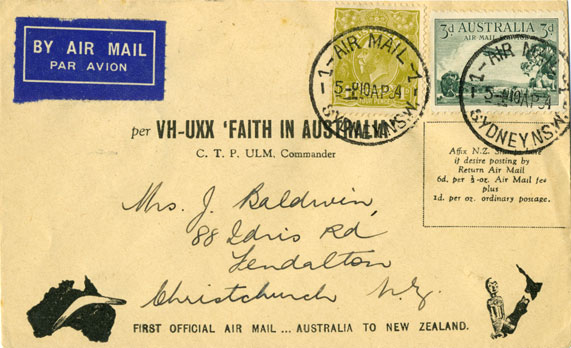 The next cover was flown on to Christchurch where it was backstamped at 5.30 pm.
Three different souvenir envelope designs were prepared by Ulm and an example of each is shown above. The envelopes were all available in two colours with the other colour shown below.

To Hastings
This cover is one of the 678 items flown to Hastings in a DH 60 Moth owned by the Hawkes Bay & East Coast Aero Club and flown by A.G. Gerrand.
It is backstamped Hastings at 2.15pm.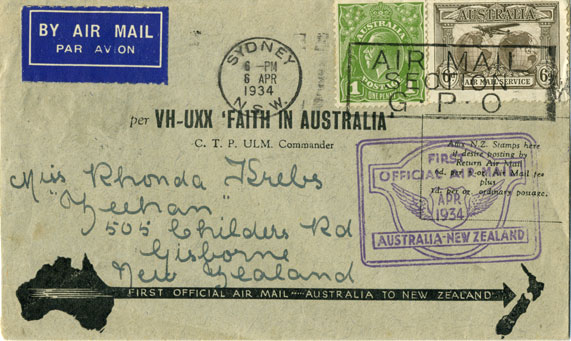 The next cover, addressed to Gisborne, was also flown to Hastings.
Covers to Gisborne were not backstamped at Hastings, but were taken straight to Napier where they were backstamped at 3pm.

Return flight, 14 April
The return airmail flight to Australia was on 14 April 1934, this time from Ninety Mile Beach, Kaitaia to Sydney. The Faith in Australia left at 4.08 am and arrived in Australia at 2.06pm local time (4.06 pm New Zealand time), setting a new record time for the crossing of 11 hours 58 mins.
The postage was again 7d, but made up this time of 6d airmail and 1d ordinary postage.
22,189 items were carried of which 12,299 had previously been flown on the Australia to New Zealand flight. A special handstamp was used as shown.
There are two postmarks, one in Auckland on 12 April showing where and when the cover was posted and a second dated 14 April at Kaitaia. A backstamp was applied on arrival in Sydney. The time is given as 3pm on 14 April.

Also flown Karachi - London
Five different Kaitaia postmarks were used. It can be seen that the AIA is more widely spaced in this cover than on the first. This cover also has a different Sydney backstamp.

It is addressed to England. From Sydney it would be carried to Karachi by surface and then flown on the Imperial Airways Karachi - London airmail service from 9 - 17 May which required the second 7d stamp [2].

Special Long Covers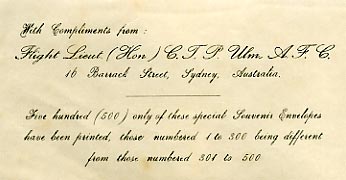 In addition to the ordinary souvenir covers, Ulm produced 500 special long covers signed by the crew: Ulm, Allan and Boulton. These were boomerang covers and were addressed to Ulm. Each cover was numbered: number 180 is shown below.
The envelope contained a compliments slip from Ulm which is shown on the right.
It has a Sydney postmark of 9 April, an Auckland backstamp of 12 April, a Kaitaia postmark of 14 April and a Sydney backstamp of 14 April.

Too late
This cover was flown on the first official Australia to New Zealand airmail and was delivered in Auckland on 12 April.
A New Zealand 7d airmail stamp was then added and the cover was posted again on 13 April so that it could be flown on the return flight on 14 April before being carried to the UK by surface mail.
However, it was posted too late and missed the flight. There are two Too Late cachets in the bottom right corner. The two 1d Australian stamps are not postmarked, presumably because the New Zealand airmail stamp more than paid the postage to Great Britain.
Such cachets are fairly rare on New Zealand covers. Several, including this one, are discussed in a Kiwi article [1].

Also flown in Australia
Mail was flown via Australian internal services prior to being flown trans-Tasman. Example covers include: Hobart - Melbourne and Brisbane - Sydney.
This cover is postmarked 2 April 1934 in Perth and the manuscript on the front states that it was flown on the first flight of the new unsubsidised Perth - Adelaide airmail service as well as being flown on the first official airmail from Australia to New Zealand. There is an Auckland backstamp of 12 April and a faint official cachet on the back.
The franking in Australian stamps is 1/1 which covers: 3d Perth-Adelaide, 7d trans Tasman and 3d registration fee.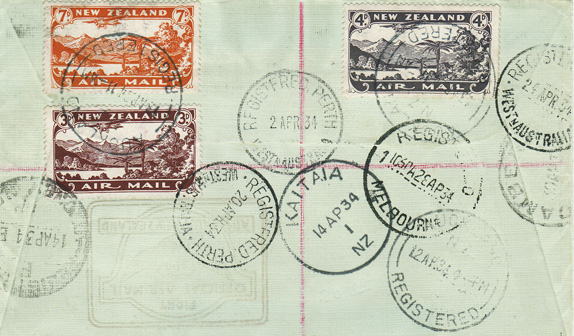 After delivery in Auckland, the cover was re-addressed back to Perth and a typescript added stating: Per Return flight NZ - Aust & Adelaide - Perth Air Service. The back of the cover has the set of three New Zealand airmail stamps postmarked 13 April, a Kaitaia postmark of 14 April, a Sydney backstamp of 14 April and a Perth backstamp of 20 April. The official trans - Tasman cachet is on the front. However, although it was flown back from New Zealand to Australia, the arrival date in Perth is a Friday suggesting that the routing instructions were not followed and it was sent to Perth by rail.
The cover had not finished its travels. It was re-addressed once again, this time to Camberwell in Victoria and there are further backstamps of 24 April in Perth, 28 April in Melbourne and 30 April in Camberwell.

---
All scans were made by the author. Information on this page is taken from:
Airmails of New Zealand, volume 2 (1986) compiled by Douglas A Walker, and The New Zealand Airmail Catalogue, (2nd Edition, 1994) by James Stapleton.
Both are published by the Air Mail Society of New Zealand
[1] "Too Late for Airmail" Marking - Follow Up, The Kiwi, vol 48, no. 2, pp 31-33, 1999.
[2] Aircraft Movements on Imperial Airways' Eastern Route, Vol 1, 1927 - 1937, Peter Wingent, Winchester 1999.