Attempted Jubilee Airmail
To commemorate the Silver Jubilee of King George V in 1935, Sir Charles Kingsford Smith planned a trans-Tasman airmail from Sydney to New Plymouth and a return from New Zealand to Sydney. Connection with the Australia - UK airmail would give the first official airmail from New Zealand to the UK. The trans-Tasman postage rate was 7d in each direction.
The plane was the Southern Cross which had made the original trans-Tasman flight in 1928. P G Taylor was co-pilot and J Stannage radio-operator. The flight was planned for 14 May, but was postponed due to bad weather and eventually left early on 15 May at twenty past midnight [3].
The Australian Stamp Monthly of June 1935 gives a breakdown of the mail sent [5]: Sydney: 21,927 ordinary, 977 registered; Melbourne 2,613 ordinary, 427 registered; Adelaide 896 ordinary, 226 registered; Brisbane 798 ordinary, 89 registered; Perth 124 ordinary, 18 registered; Hobart 88 ordinary, 4 registered; Launceston 58 ordinary, 34 registered; giving a total of 26,504 ordinary and 1,775 registered and a combined total of 28,279 items of mail flown. According to the Sydney Morning Herald on 14 May, the Sydney mail included 7,000 items which had been sent from New Zealand.
The flight
500 miles out from Sydney, one of the three engines was damaged and they were forced to return to Australia. To save weight, they dumped fuel, freight and 14 mail bags.
The port engine began to overheat and P G (Bill) Taylor, climbed out of the cockpit window and drained oil from the dead starboard engine into a thermos flask and from there into an attache case. He then climbed out on the other side and added the oil to the overheating port engine. This was repeated six times!
The saved mail
On return to Sydney, they found that 7 small bags of mail, containing 1000-1100 items, had not been dumped along with the rest of the mail. A partial breakdown of the mail saved was given in Australian newspapers: 1 bag Adelaide - Auckland with 85 ordinary, 8 registered items; 3 bags from Brisbane (1 to Auckland and 2 to Wellington) with 236 ordinary, 27 registered items; 1 bag from Launceston with 58 ordinary, 34 registered items; 2 bags from Melbourne (1 to Christchurch and 1 to Dunedin). I have not been able to find numbers for the saved Melbourne mail, but to give a total of of 1000-1100 items it would have to be around 550.
However, documents from the Brisbane Post Office Archive give a very different story and one interpretation is that only 163 ordinary and 2 registered items were lost from Brisbane and that 635 ordinary and 87 registered items were saved. That would reduce the amount of mail saved frm Melbourne to 150 [6].
The New Zealand Herald on 16 May reported that of the 14 bags that were dumped, 7 were from Sydney, 4 were from Melbourne and one each from Brisbane, Adelaide and Perth and so no mention of mail from Hobart.
It is often stated that the mail in the 7 small bags was late mail that had arrived during 14 May, but this seems only partially true as it was, after all, 20% of the non-Sydney mail. The mail in the smaller bags would be a combination of late mail and mail with less usual source - destination pairs such as mail from Launceston and mail from Melbourne to Christchurch and Dundedin.
Mail from Melbourne
One bag from Melbourne contained mail for Christchurch and the other for Dunedin. This cover to Timaru would have been in the Christchurch bag.
It is postmarked Shipmail Room, Melbourne on 12 May. The shipmail room was where overseas mail was handled. The letter is part of the late mail that had been flown from Melbourne to Sydney in a special plane on 13 May [1].
The saved mail was sent on 18 May by sea from Sydney on the Wanganella which arrived in Auckland on 22 May. The mail was then sent to Wellington by rail where it was backstamped with a special relief handstamp on 23 May. The presence of this backstamp is the only proof that a cover was flown and did not miss the flight.
As the airmail postage rate was only 7d, this cover is overfranked by 11d.
Mail from Adelaide
The next cover is from the bag that contained mail from Adelaide for Auckland. It is postmarked on 10 May in South Australia and again has the special Wellington relief handstamp. According to the News of Adelaide on 16 May, this bag contained 85 letters and 8 registered items.
However, it is a boomerang cover and, as well as Australian stamps, has New Zealand stamps to pay for the expected return airmail. (The NZ airmail stamps were sent from New Zealand to Australia and, for the first time, were on sale at selected Australian post offices on the first day of issue.)
Due to the failure of the outward flight, the return flight never took place. The waiting New Zealand mail was sent to Australia by sea arriving on 20 May. However, this cover did not arrive in New Zealand until 22 May.
As it is addressed to Auckland, it might be expected that it would be sent there where it would be up to the recipient whether or not it was posted to Australia.
However, the New Zealand stamps are postmarked on 23 May using the special Wellington relief handstamp and so the cover does not seem to have been sent to its Auckland addressee. I have not seen any previous reference to the use of the Wellington relief handstamp providing a postmark as well as a backstamp.
The cover was off-loaded from the Wanganella in Auckland on 22 May and sent by rail to Wellington where it was cancelled on 23 May and then sent back by rail to Auckland from where it was sent on the Wanganella on 24 May. The Wanganella arrived in Sydney on 27 May [4] which fits with the 29 May Adelaide backstamp.
It is franked at the correct rate of 7d in each direction.

Mail from Launceston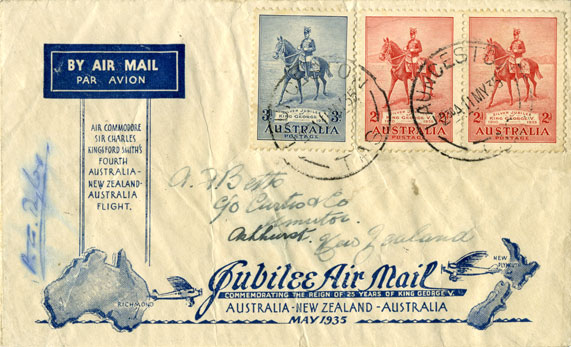 The mail from Launceston (Tasmania) was for Wellington. This rather crumpled cover is postmarked and backstamped at Launceston on 11 May. According to the Advocate newspaper in Tasmania on 16 May, the Tasmanian mail included 58 ordinary and 34 registered items from Launceston. It is not clear if this refers to the mail from Launceston that was saved.
It has the usual 23 May Wellington relief backstamp.
There is a very smudged autograph by P G Taylor on the left.
Special covers, printed in deep blue, were produced for the flight. They were printed on three different colours of envelopes; this one is on white while the cover below from Brisbane is printed on a blue envelope. Printings on envelopes described as Old Gold are also known.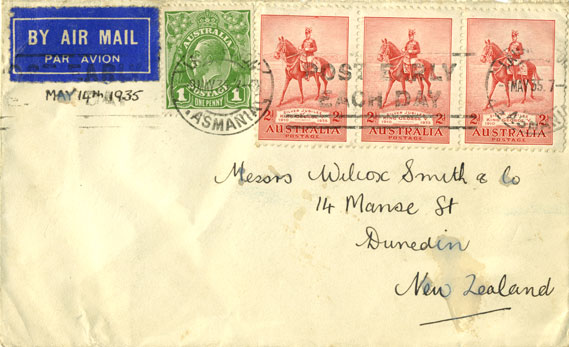 Although the literature states that the bag from Launceston contained mail for Wellington, this second cover from Launceston is addressed to Dunedin.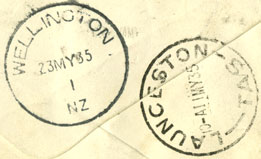 It is postmarked in Launceston on 9 May although there is also an 11 May Launceston backstamp along with the required Wellington backstamp of 23 May.

Mail from Brisbane
Two of the three saved bags from Brisbane were to Wellington and one was to Auckland. According to the further details given in the Courier-Mail of Brisbane on 17 May, 562 letters from Queensland were dumped while the saved mail was a bag to Auckland and Hamilton with 72 letters and 10 registered items and a bag to Wellington and Nelson with 155 letters and 16 registered items. (According to the documents from the Brisbane Post Office, the 16 is a typo and the correct number of registered items is 76 [6].) These bags had been dispatched from Brisbane on Saturday 11 May while a third bag with 9 letters and 1 registered item was dispatched by air mail on Monday 13 May.
However, an interpretation of the information in the Brisbane Post Office Archive is that all the mail to Wellington was saved. A further 367 items were in the Wellington bag of 11 May and a further 32 items in the bag of 13 May. That means that only 165 items from Brisbane were dumped [6].
The additional 367 items included the mail that was to be flown on the return flight and so would include the shown cover which is franked with 1s 2d as the intention was for it to be returned to Australia on the planned return flight.
It is postmarked in Ipswich, Queensland on 10 May and would have first been sent to Brisbane before being sent to Sydney to join the Jubilee Air Mail. As the return flight was cancelled, it was returned to Australia by sea. The Wanganella sailed from Auckland to Sydney on 24-27 May which fits with the Brisbane backstamp of 28 May The cover also has the required Wellington backstamp of 23 May.

Late Mail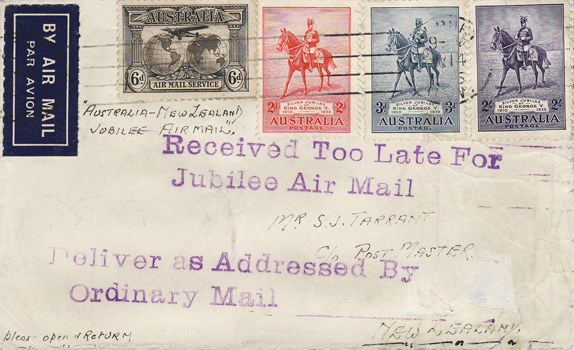 Mail continued to arrive after the Jubilee Air Mail had left. This cover is postmarked at Albury in Victoria on 14 May and backstamped in Sydney at 12 noon on 15 May.
Two large purple cachets were applied to show that the cover arrived too late and was not flown, but was to be delivered by ordinary mail.
The cover is grossly overfranked with 2s 11d in stamps, being the Australian Jubilee set plus a 6d airmail. The 2s 0d Jubilee stamp is quite a pricey item!
This is the actual cover that was shown in the article by Legg [3] many years before I purchased it. I have only seen two other examples of covers with these cachets.

Cancelled Return Flight
A return flight from New Zealand had been planned and would have provided the first through air mail service from New Zealand to the UK. The flight was cancelled and letters that had already been posted was sent to Australia by sea.
Postscript
A film showing a re-enactment of the transfer of oil was produced in 1946.
For his bravery in the Jubilee flight, P G Taylor was awarded the Empire Gallantry Medal which became the George Cross in 1940 [2]. Previously, during the First World War, he had been awarded the Military Cross. He was knighted in 1954 for his services to aviation.
Although Charles Kingsford Smith survived this flight, he was killed with J T (Tommy) Pethybridge several months later in November 1935 when his plane disappeared in the Bay of Bengal on a direct flight from Allahabad in India to Singapore. Charles Ulm had been killed with his crew in December 1934 on a flight from America to Hawaii. With their deaths ended the experimental trans-Tasman airmails.
However, P G Taylor carried on their tradition. He made the first flight from Australia to Africa in 1939 and the first flight from Australia to South America (Chile) in 1951. He died in 1966 at the age of 70.
This cover was carried by P G Taylor on his experimental flight to Valparaiso, Chile. It left Sydney on 14 March 1951 and is backstamped in Valparaiso on 26 March. The return flight left Valparaiso on 6 April and arrived back in Sydney on 21 April when this cover was backstamped.

---
All scans were made by the author. Information on this page is taken from:
Airmails of New Zealand, volume 2 (1986) compiled by Douglas A Walker, and The New Zealand Airmail Catalogue, (2nd Edition, 1994) by James Stapleton.
Both are published by the Air Mail Society of New Zealand
[1] N Eustis, The Australian Air Mail Catalogue, 7th Ed, 2002.
[2] A Gardiner, The Kiwi, vol 40, pp 99-100, November 1991.
[3] B Legg, Jubilee Airmail: A New Zealand Connection, Air Mail News, vol 36, pp 46-50, March 1993.
[4] Evening Post Wellington 1916-1945, Papers Past, available at: paperspast.natlib.govt.nz/cgi-bin/paperspast
[5] The Jubilee Tasman Flight, Australian Stamp Monthly, vol 6, no 6, pp 162-163, June 1935.
[6] N Donen, private communication