First Regular Tasman airmail (TEAL) April 1940
Tasman Empire Airways Limited (TEAL) inaugurated the first regular trans-Tasman airmail service from Auckland to Sydney on 30 April 1940. The plane was the Short S30 Empire flying boat Aotearoa and the flight took 9 hours.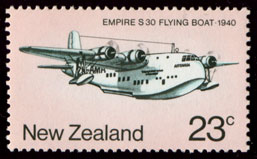 The Aotearoa, commanded by Capt. J.W. Burgess, had been flown from Southampton to Auckland on 16 - 28 August 1939, just before the outbreak of World War II on 3 September. No official mail was flown although some unofficial covers were carried.
Two flying boats were required to set up a regular trans-Tasman service and the second Empire flying boat, the Awarua, did not arrive until 3 April 1940. Meanwhile, the Aotearoa flew survey flights and an official airmail was carried on two flights from Fiji to Auckland in September and from Fiji and Tonga in October 1939.
TEAL was a joint venture of BOAC, Qantas Empire Airways and Union Airways of New Zealand and was subsidised by the three governments [1].

Start of regular service to Australia and UK
The airmail rate to Empire countries by Empire Air Services remained at 1s 6d while an additional 6d was required for foreign countries by Empire Air Services. Letters posted in the South Island to connect with a flight were flown on New Zealand internal services at no additional charge [7].
The first flight left Auckland at 6 am on Tuesday 30 April and landed in Sydney 9 hours later. Special covers were produced and a cachet was applied at Auckland. 40,000 letters were carried to Sydney of which more than half were carried on onward flights.
As there was a connection at Sydney with the regular Australia - UK service, this was also the start of a through New Zealand - UK regular airmail service.
This cover is postmarked in Wellington on 11 April and is addressed to the UK.
In order to expedite censorship, the public were requested to post first flight covers unsealed and they would then be sealed by the censor. That is the reason why many of the first trans Tasman covers, like this one, have not been resealed with censor tape.

The next cover to the UK is postmarked on 24 April in Auckland. It has been opened by the censor and re-sealed with censor tape.
The onward Sydney - Singapore flight was by Qantas while the Singapore - UK flight was by BOAC which had replaced Imperial Airways on 1 April, 1940.
The first through airmails left Sydney on flight SW237 on 1 May and arrived at Poole Marine Airport in Dorset, England on 12 May 1940 [2]. It was not backstamped on arrival.

The next cover to the UK is postmarked in Auckland on 27 April and is franked with an attractive combination of the Centennial Commemoratives.

It was not opened and resealed by the censors, but has a Passed by Censor mark on the back.
Capt. J W Burgess was in command of the flight and had a crew of 6 with 9 passengers [1].
Few covers have been identified as having been posted in Britain and flown on the first flight as the availability of the service was not made known in the UK until the issue of a Press Notice on 1 May, but I could not find the report in any issues of the The Times around that date. The National Air Communications Intelligence Summary 46 on 1 May reports the service [4] as does OMB Report 34 on 4 May [5]. The National Air Communications Intelligence Summary 46 was renamed Civil Aviation Intelligence Summary starting on the following week 8 May [4].

To Australia
The rate to the UK was 1s 6d while the rate to Australia was 5d.

Letters to Australia were backstamped 3pm 30 April at Sydney, but no backstamp was applied to letters destined for the UK.
The first flight was by the Aotearoa, a picture of which is shown on this cover.

Postcard to Australia
Postcards to Australia cost 3d. This example is of a 1d postcard uprated with 2d.
Mail for the flight closed in Dunedin, Christchurch, Wellington and Auckland at midnight on Friday 26 April so that the large mail could be handled and the commemorative cachets applied.
A lot of the mail for the flight was sent under cover from the rest of New Zealand to Auckland where, like this example, it was postmarked on 27 April [1].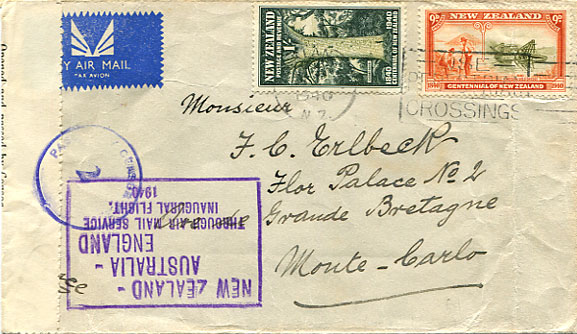 Mail to Monte Carlo
Mail could be sent to intermediate destinations. This cover would be off-loaded at Marignane airport near Marseilles on 11 May from where it would be taken by train to Monte Carlo.
According to Airmail Schedule No 6 published on 26 April 1940, the air mail rate to France was increased to 2s 3d to cover the cost of the trans-Tasman flight. However, although this cover is only franked with the pre trans Tasman rate to France of 1s 9d, it does not have any postage due markings.
The cost of air mail to British Empire countries was not increased with the introduction of the trans-Tasman service while there was an extra 6d on the rate to non-Empire countries [3].

Mail to USA
Mail for the USA could be flown to Britain and sent from there to the USA by sea. The rate was 1s 9d before the trans-Tasman service was introduced and it was then increased to 2s 3d.
This first flight cover to the USA is only franked with 2s 0d, but like the previous one to Monte Carlo has no postage due markings.
The airmail etiquette has been cancelled with two red parallel lines. This was applied in London to indicate the end of the air mail part of the route. It would arrive in UK on 12 May, but there is no indication when it would arrive in USA.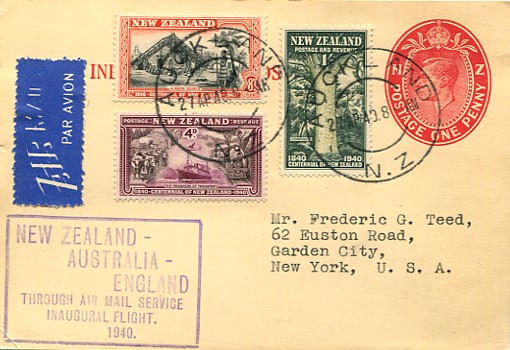 The rate was 4s 0d if the mail was also to be flown trans-Atlantic and half that for postcards.
This 1d postcard is franked in Auckland on 27 April and is franked with an additional 2s 0d and so is overfranked by 1d.
This mail arrived in UK on 12 May and there was a Heston - Lisbon survey flight on 14 May by DH 91 which connected with the FAM 18 Lisbon - New York service on 16 - 17 May [2].

Service from Australia
The return flight of the Aotearoa from Sydney to Auckland was the first flight in the regular service from Australia and was given the code SA1 [2]. The plane left Sydney at 4 am on the morning of Thursday 2 May and the flight took 8 hours [1].


The cover is postmarked in Sydney on 1 May, 1940 and is franked with 5d, the rate from Australia. The backstamps show that the cover arrived in Auckland on May 2 and in Russell on May 3.
According to the Evening Post on 24 April [6], arriving mail for 'southern points' would be dispatched by the Limited Express on the evening of arrival. From Wellington, the South Island portion would be flown, arriving at Christchurch at 1pm, Dunedin at 2.30pm, Blenheim at 4.30pm, Nelson at 12.30pm and Hokitika at 4pm.

This post card from Australia to New Zealand is postmarked on 30 April and is franked with the poscard rate of 3d. It was flown on the first return flight on 2 May.
No cachet was applied on the mail flown on the first return flight.
Mail from the UK could connect with this flight, but the only indication that this had happened is the Auckland backstamp. As the significance of the backstamp was not widely recognised, few covers from the UK have been preserved. The new trans-Tasman service was not announced in Britain until 1 May and so collectors there could not prepare special covers.

Ulm Card
The next example is a card addressed to Ernest Crome and, as a postcard, has franking of 3d. It is postmarked in Sydney on 1 May 1940 and, after being flown from Sydney to Auckland on 2 May, was backstamped at Palmerston North at 7.45 am on 3 May.
The card has been signed by the commander: Capt. J.W. Burgess, First Officer W.J. Craig and the rest of the crew of the Aotearoa. This was the same crew that had made the flight from New Zealand.
The interesting point about this card is that it was first flown across the Tasman by Charles Ulm in the Faith in Australia in December 1933. The first official trans Tasman airmail was then flown by Ulm on the return flight two months later in February 1934.

The cards were originally prepared by Ulm to help finance the 1933 flight. 300 cards were then obtained by Crome who sent them on various later flights.
The card has Ulm's signature together with new information added about the use of the card on its second flight across the Tasman from Australia to New Zealand.

Later Services
Second Service
The second trans-Tasman flight was by the Awarua which flew from Auckland to Sydney on 6 May and returned on 9 May. The mail that left the UK on SE 241 on 25 April arrived in Sydney on 6 May and would have connected with that flight.
Third Service
From New Zealand, 13 May
This cover to the UK is postmarked in New Zealand on 9 May 1940 and censored in Auckland (censor code 3).
It would have been flown on the third trans-Tasman flight on 13 May and would connect at Sydney with flight SW 241 from Sydney to Poole on 15 - 26 May.

Arrived NZ, 17 May
This cover is postmarked in England on 27 April 1940 and would be flown on SE 242 that left Poole on 28 April and arrived in Sydney one day late on 9 May.
Hence although it was scheduled to connect with the second trans-Tasman flight on 9 May, it would actually connect with the third.
The Awarua was delayed and did not leave Sydney until just before midnight on 16 May and, after flying during the night, arrived in Auckland at 9.35 on the morning of 17 May.
The air mail cover is franked with 2s 6d and so was double weight.

Fourth Service
From New Zealand, 22 May
This censored cover is postmarked in Wellington at 11 am on Saturday 18 May and is addressed to the UK. The trans-Tasman mail closed in Wellington at 12 noon on a Saturday. Hence the cover was in time to to be flown by TEAL on flight AS 4.
The weekly trans-Tasman service normally ran to time, but on this occasion it was two days late as the flight had been postponed due to bad weather over the Tasman Sea and was not flown until Wednesday 22 May [15].
It therefore missed the connection at Sydney with SW 243 on 22 May and was flown from Sydney on SW 244 on 25 May and arrived in Poole on 5 June. That was the second last through flight from New Zealand to the UK.

Arrived NZ, 23 May

This is a registered postcard postmarked in Locksbrook, Bath and again in Bristol on 6 May, the first day of issue of the GB Stamp Centenary set. It is franked with 11½d made up of 1d postal stationary together with the complete Centenary set of 6. That covered the postage rate for a postcard from UK of 7d together with a registration fee of 4d.
It would have been flown from Poole to Sydney on SE 245 from 9 - 20 May and then trans Tasman by Awarua on SA 4 on 23 May. That date fits with the backstamp in Mangatainoka (near Wellington) on 24 May.

Fifth Service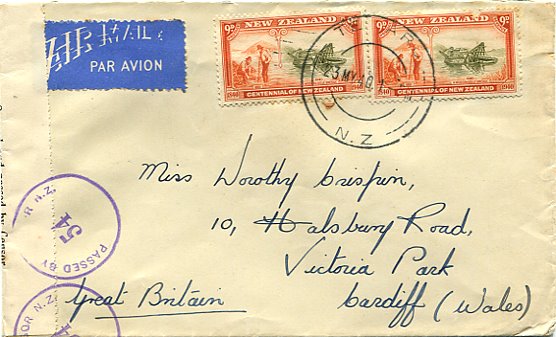 From New Zealand, 28 May
This was the last through airmail from New Zealand to UK before the Mediterranean was closed due to Italy entering the war on 10 June. It was flown from Auckland to Sydney on Tuesday 28 May to connect with the QEA / BOAC flight SW 245 that left Sydney on 29 May and arrived in Poole on 9 June [4].
This cover to Cardiff has a New Zealand postmark on 23 May and so would have been on that flight. It was censored in Wellington [6].

Arrived NZ, 30 May
This airmail cover is postmarked M.P.O. E.601 on 14 May 1940 and is franked with Egyptian stamps. The airmail rate to New Zealand was 10 mills per 20 grammes surface with a 30 mills per 10 grammes air mail surcharge [2]. It is franked with 70 mills and so this cover weighed more than 10 grammes.
The cover would have been sent on SE 247 that flew Alexandria - Sydney on 20 - 28 May and then trans Tasman on SA 5 by Awarua on 30 May.
It is addressed to Christchurch with May 31, 1940 in manuscript on the back, presumably indicating when it was delivered in Christchurch after being sent on the overnight express to Wellington on 30 May and flown from Wellington on Friday 31 May.

Sixth Service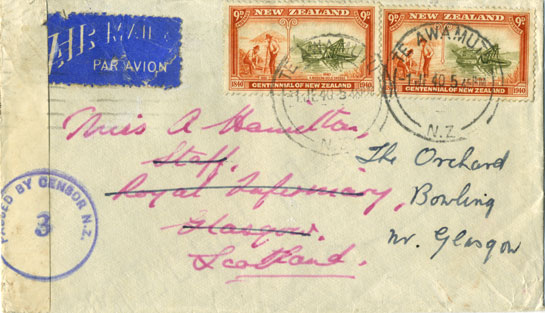 From New Zealand, 3 June
This cover is postmarked in Te Awamutu (near Auckland) at 5.25pm on Saturday 1 June and opened and passed by the censor in Auckland. It was redirected in Glasgow on 10 August.

The trans-Tasman mail closed in Auckland at midnight on Saturdays [6] and so this cover would have been posted in time to have been flown from Auckland to Sydney on Monday 3 June and then on flight SW247 that left Sydney on 5 June. That flight reached Karachi on 12 June, but did not progress any further and the mail would have been sent to Bombay and from there to the UK by sea.
The cover was 71 days in transit.

Seventh Service
From New Zealand, 10 June
The next cover is postmarked in Auckland on 7 June and so had just started its journey when Italy entered the war. The Trans-Tasman service continued and so there was no problem in getting to Australia on the flight of 10 June.
It is then likely to have been flown on SW 249 on 12 June to Darwin, but unloaded there and returned south before being sent to the UK by sea. It had arrived in London by 8 August as it was redirected on that date.

The cover was 63 days in transit. It was redirected to Lieutenant Hilliard, a RNZNVR officer who was the commander of HMS Blackthorn which was a minesweeping trawler.

Eighth Service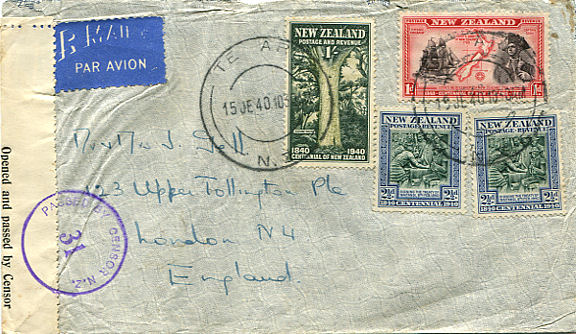 From New Zealand, 17 June
The sender clearly intended this cover to be sent on the 8th Trans Tasman service on 17 June which connected with the first Horseshoe Route service on 19 June.
However, the Empire Air Service to the UK was suspended in New Zealand on 14 June and, although the Horseshoe Route was set up very quickly, the first official dispatch from New Zealand on the route was not until 23 July. However, letters were still posted by the public for that service after 14 June.
This cover is postmarked in New Zealand on 15 June 1940 and, as the New Zealand Post Office had decided that air mail for the UK at the 1s 6d rate was to be sent by sea, it would not have been flown trans Tasman and probably was sent to the UK via the Pacific and America.

Arrived NZ, 20 June
This cover to New Zealand is postmarked on 31 May and again in London on 1 June 1940. As the service to Australia from the UK was twice weekly on Sundays and Thursdays [3], it may have been on flight SE 252 that left Poole on Sunday 2 June and arrived in Sydney on 15 June.
Alternatively, it may have been flown on flight SE 253 which left on Thursday 6 June.
As these services had crossed the Mediterranean before Italy entered the war, they continued and arrived in Sydney on 17 June [6]. Mail from both SE 252 and SE 253 was flown trans - Tasman on SA8 on 20 June.
On 19 June 1940, the Niagara was sunk by a mine shortly after leaving Auckland. As a precaution, the ferry services across the Cook Strait were cancelled and ordinary surface mail was flown between Wellington and the South Island on emergency flights by Union Airways. However, air mail from UK to the South Island, in this case Dunedin, was normally flown from Wellington by air on the Monday, Wednesday or Friday service. Hence this cover would have been flown on the normal internal air mail service although on the same day as the Emergency Flight from Wellington to Christchurch on Friday 21 June 1940.

Ninth Service
Last through flight from UK, arrived NZ, 25 June
The last through flight (SE254) left the UK on 9 June. It was flown from Ajaccio to Corfu on 10 June and to Alexandria on 11 June and so was out of the danger area when the service was suspended. That flight had been diverted round Italy on its way to Alexandria. Its route was Poole - Marseilles - Ajaccio (Corsica) - Bizerta (Tunisia) - Malta - Corfu - Athens - Suda Bay (Crete) - Alexandria and it arrived in Sydney on 20 June [2].
This registered cover postmarked in London on 7 June would have been on this flight. Although it is registered, it has no transit datestamps.
It was flown trans-Tasman on 25 June. That service was flown two days early on New Zealand Government orders [6].

---
All scans were made by the author.
[1] Airmails of New Zealand, volume 2, D A Walker, 1986, Air Mail Society of New Zealand
[2] Bridging the Continents in Wartime: Important Airmail Routes 1939-45, H. E. Aitink and E. Hovenkamp, SLTW, Enschede, 2005.
[3] Airmails of New Zealand, volume 3, R.M. Startup, 1997, Air Mail Society of New Zealand
[4] Extracts from the Air Ministry Civil Aviation Reports Summaries, compiled by P. Wingent, West Africa Study Circle, 2010.
[5] Overseas Mails Branch Weekly Reports Nos. 17-68, 1940, POST 56/76, Royal Mail Archive.
[6] Evening Post Wellington 1916-1945, Papers Past, available at: paperspast.natlib.govt.nz/cgi-bin/paperspast
[7] Startup, RM, New Zealand Overseas Airmail Postage Rates, 2012.