Empire Airmail Scheme, 1938-39
The aim of the Empire Air Mail Scheme (EAMS) was to provide regular connections between the countries of the British Empire at the very low postal rate of 1½d per half oz. As this was an all-up service, an air mail label was not needed.
The first stage of the EAMS, between the UK and South Africa, had started on 29 June 1937. That was commemorated by special labels produced at the London Stamp Exhibition and shown on the right. The second stage to Singapore started on 23 February 1938.
The third stage to Australia and New Zealand started on 26 July 1938. From that date all first class mail leaving New Zealand for Empire countries was part of the Empire Air Mail Scheme.
Short S23 Empire Flying Boats had been introduced to handle the increased postal load generated by the scheme with the first flight from Sydney on 5 July. The Sydney to Singapore leg was operated by Qantas with the rest of the journey by Imperial Airways. The New Zealand to Australia leg was still by sea.
Mail from the UK still entered Australia at Darwin, but the route within Australia was now changed significantly and was to Sydney via Groote Eylandt, Karuma, Townsville, Gladstone and Brisbane. There were now three flights a week leaving Southampton on Saturday, Wednesday and Friday and arriving in Sydney 10 days later on Tuesday, Saturday and Monday. The flights from Sydney left on Tuesday, Thursday and Saturday and arrived in Southampton 10 days later on Thursday, Saturday and Monday [2].
The changes in the Australian feeder services are described by Legg [3].

First Flight from New Zealand
The last sea-mail at the 1d rate from New Zealand to the United Kingdom left Auckland on 25 July and arrived in London on 18 August, taking only 24 days. It was sent on the SS Monterey via the USA and, as it was the first sea-mail for almost a fortnight, consisted of 100,000 items. The last air mail at the pre-EAMS rate left Auckland for Sydney on the Niagara, also on 25 July.
To UK
From 26 July, mail was accumulated in New Zealand and although the Awatea left Auckland for Sydney on 1 August, it did not carry any EAMS mail. It appears the the New Zealand Post Office wished to ensure that the first EAMS mail did not overtake the last sea-mail.
Around 122,000 items were sent to Sydney from Wellington on the Wanganella on 4 August and around 13,500 from Auckland on the Mariposa on 5 August [1]. Both ships arrived in Sydney on 8 August and the mail was flown from Sydney on 9 August, arriving in the UK on 18 August.
Despite the fact that the flight from Australia on 9 August was the first in the new thrice weekly service, the mail was not backstamped on arrival in the UK.
The chief pilot was G U (Scotty) Allan, famous for his part in the first all-Australian airmail to the UK in 1931 and as Ulm's co-pilot in the first trans-Tasman airmail in February 1934.
A 1½d value of the George VI definitives was issued on 26 July 1938 for this new service. First day covers are shown.
To Egypt
This cover is addressed to Alexandria. While the first flight arrived in Alexandria on 16 August, the cover is backstamped on 21 August. It appears that the quantity of mail posted for the first flight was so large that some of the mail was offloaded between Singapore and Karachi and had to wait for a later flight [1].

To Southern Rhodesia
The next example was flown from New Zealand to Southern Rhodesia. The connection with the Imperial Airways African service was made at Alexandria in Egypt where the mail for Africa left on 18 August.
This cover was flown by IA to Beira in Mozambique where it arrived on Sunday 21 August. It was then flown by Rhodesia and Nyasaland Airways (RANA) to Bulawayo via Salisbury and is backstamped at Bulawayo at 3.30pm on 22 August. Interestingly, Walker [1] reports that the Bulawayo mail was not backstamped.

To South West Africa
The next example was flown from New Zealand to South West Africa. Although the mail for Egypt was delayed and did not arrive until 21 August, the African mail connected at Alexandria on 18 August.
The mail for South West Africa was flown by IA to Laurenco Marks in Mozambique where it arrived on 21 August. From Laurenco Marks it was flown by South African Airways first to Germiston Airport in Johannesburg on 22 August and from there to Windhoek on 24 August.
Before the introduction of the EAMS, the cost of the service to Southern Africa was 2s 9d.

First Flight to New Zealand
From UK
The first airmail for New Zealand at the new rate left Southampton on July 28. Due to the size of the mail two flying boats, Calypso and Cameronian, were required to carry the mail [2].
The cachet on the cover was applied privately and is a copy of the logo used on the official Post Office brochure.
The mail on the Cameronian was transferred to the Capella in Alexandria on 29 July and the Capella then flew to Sydney arriving a day late on 6 August with the mail for New Zealand. The Calypso continued on from Alexandria, but had engine trouble in Bima in the Dutch East Indies. The mail was picked up there by the Cameronian which arrived in Sydney on 9 August.
The mail missed the connecting trans-Tasman steamer Awatea which left on 5 August and was sent from Sydney to Auckland on the cargo ship Kairanga on 6 - 13 August. As it did not arrive until late on 13 August, mail was not delivered in Auckland until Monday 15 August while mail for Wellington was sent on the overnight express train on 14-15 August and was also delivered on 15 August. Mail was not delivered in Dunedin until 16 August [1].

From UK and Return
This cover was sent on the first EAMS service to New Zealand with instructions that it should then be returned to the UK.
It is postmarked in Wellington on 15 August which fits with the arrival date in Auckland late on 13 August. It has a handstamp stating that it was delivered in Liverpool on 3 September. That suggests that it was flown on service SW 7 that left Sydney on 23 August that arrived in Southampton on 2 September.

From South Africa

This cover is postmarked 22 July in Greytown (Natal) and would be flown from Durban on 24 July to Alexandria. There was plenty of time to join, on 29 July, the flight that had left Southampton on 28 July and be flown from Alexandria on the same flight as the previous cover.
The cover is backstamped at Waihi on 18 August. However, Waihi is only 150 km from Auckland where the first EAMS mail arrived on 13 August. Similarly, a registered cover from South Africa shown in Walker [2] is backstamped in New Zealand on 19 August. That suggests the mail from South Africa did not connect at Alexandria with the first EAMS flight.
When Pan American started their trans-Atlantic route in May 1939, they accepted mail for New Zealand. It connected with the Empire Airmail Scheme in London.

Crash of the Calpurnia, 1938
Flying was still dangerous and there were several crashes from which covers were salvaged. The one from which the largest number of covers is still available is the crash of the Calpurnia in Iraq on 27 November 1938.
On the 23 and 24 November 1938, Short S23 Empire flying boats left the UK for Alexandria where Australian and New Zealand mail from both flights was loaded on the Empire flying boat Calpurnia.
The flight from Alexandria was to Tiberias on the sea of Galilee and from there to Lake Habbaniyah near Baghdad. On 27 November, in the dark and during a sandstorm, the Calpurnia crashed on landing in Lake Ramadi (12 miles from Lake Habbaniyah) killing the four flight crew: pilot Captain Attwood, First Officer Spottiswood, Radio Operator Bayne-Rees and Flight Clerk Ubee. Two passengers and the stewardess survived [7].
The RAF retrieved a large part of the mail from the water including 60 of the 69 mailbags for New Zealand. An attempt was made to dry the mail before it was sent to Sydney. The New Zealand mail was sent on to Auckland where it was dried further.
Great efforts were made to deliver the mail and to decypher washed out handwriting. Several different cachets were applied in New Zealand: at Auckland, Christchurch and three at Wellington. The example cover has one of the Wellington cachets.
The cover was posted in Ireland and has a 21 November postmark. It would have been carried to Southampton to join the Imperial Airways flight on either 23 or 24 November.
The first mail from the flight arrived in Auckland on 19 December with further mail arriving over the next three weeks. A manuscript on the back states that the above cover was received in Christchurch on 31 December.
Many of the covers had the stamps washed off and some New Zealand post offices applied postage due markings which was against UPU regulations [7].
Later Overseas Mail
Mails to non-Empire destinations were not part of the EAMS and so cost a great deal more.
Netherlands October 1938
This cover is postmarked on 1 October 1938, the first day of issue of the 1938 Health stamps.
It is addressed to the Netherlands and is franked with 1/11 instead of the required 2/- and so has a T 20 centimes handstamp indicating how much to pay in postage due. That corresponds to 2d to pay, i.e. that the cover is underfranked by 1d.
The rate to Holland had been 1s 9d in 1935.
A new winter timetable had been introduced at the beginning of October [2].

USA June 1939
This cover is postmarked in Napier, New Zealand on 2 June 1939 and is addressed to the USA with routing instructions Australia - England. The route was sea to Sydney, Sydney to UK by air and UK to USA by sea. From October 1935 until March 1938, the rate was 1s 6d, but was then increased to 1s 9d [11].
It would have been sent trans Tasman from Auckland on the Awatea on 6 June arriving in Sydney on 9 June and then flown on the flight from Sydney on 10 June, arriving in Southampton on 19 June.
Mail that had been flown on the previous flight from Sydney on 8 June was on the Centurion that sank on the Hooghly River, Calcutta on 12 June [2]. The mail from New Zealand was submerged and the salvaged mail has special handstamps.
Once the PanAm trans-Atlantic airmail started, mail on this route could also be flown trans-Atlantic from Marseilles at a total cost of 3s 6d [4].

Italy, July 1939
The rate to Italy was 1s 9d even though Rome was on the IA route from Australia to UK and the Empire Airmail Scheme meant that the cost to the UK was only 1½d.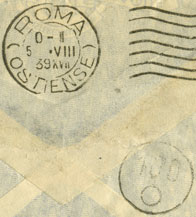 This cover is addressed to Rome. It is postmarked on 21 July 1939, has a Rome backstamp on 5 August and would be flown on the flight that left Sydney on 27 July and was scheduled to arrive in Rome on 4 August.
I am not sure of the meaning of the 100 O backstamp.

From Dutch East Indies, February 1939
This commercial cover is postmarked in Batavia on 1 February 1939 and is addressed to Auckland. It is correctly franked with 25c made up of 10c air mail fee plus 15c surface postage [10].
It would have been flown by either KNILM or Qantas to Australia. The KNILM route had been set up the previous year.
Although it has the routing instructions By Air to Australia and onward Air transmissions, there was no air service to New Zealand from Sydney.

Last Flights before World War II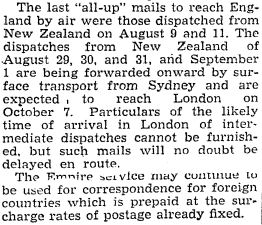 With the outbreak of war on 3 September 1939, the Empire Air Mail Scheme was immediately suspended and postage rates returned to their earlier levels of 1s 6d from New Zealand to the UK and 1s 3d from the UK. There are, however, conflicting accounts of what happened to the last few flights on the EAMS.
Walker quotes the New Zealand Postmaster-General as saying on 4 September that the last mail flown all the way from Australia to the UK on the EAMS left New Zealand by sea on 9 and on 11 August and that airmail still in transit on 3 September completed its journey by sea [1].
The report shown here from the Evening Post of 5 September 1939 [8] only states that the PostMaster-General expected that this mail would no doubt be delayed en route.
Aitink & Hovenkamp [5] list flights SW 161 to SW 168 leaving Sydney on 17, 19, 22, 24, 26, 29, 31 August and 2 September as completing the journey by air which suggests that the New Zealand Postmaster-General was being unduly pessimistic.
This is supported by Legg [6] who shows a cover postmarked in Melbourne on 30 August and addressed to Germany which has an Athens transit mark on 9 September which date fits with SW 167.
Postmarked in New Zealand 5 August
This cover is postmarked on 5 August in Waitara (near New Plymouth). It was carried on the Awatea from Wellington to Sydney on 9-12 August [8] and then flown on SW 160 which left Sydney on 15 August and arrived in the UK on 24 August. It is franked with 3d and so was overweight.
Later connections from New Zealand
There was a gap of 10 days before the Maunganui left Wellington on 19 August for Sydney arriving on 23 August to connect with SW 164 leaving Sydney on 24 August with mail due in London on 2 Sep.
There were then several connections quite close to each other. The Maetsuycker left Wellington on 21 August with mail due in London on Sep 4; the Monowai left Auckland on 22 August, due Sydney August 26 with mail due in London on 7 Sep [8]. Despite what was said by the New Zealand Postmaster-General, these dispatches appear to have been flown from Sydney to the UK.
Flight from Sydney on 2 September
According to The Argus of Melbourne on 4 September [9], flight SW 168 from Sydney on 2 September was recalled from Gladstone in Queensland and the mail flown from Sydney to Melbourne on 3 September before being sent to Britain by sea.
Aitink & Hovenkamp [5] show this flight as completing the journey to UK by air while Legg states that the flight was recalled from Townsville and that the mail was flown on flight SW 169 on 6 September [6].

New Zealand mail held up in Sydney and sent by sea
The Maunganui left Auckland August 29 and was due in Sydney on 2 September; The Kaituna left Dunedin on 30 August and was due in Sydney on 3 September; and the Wanganella left Wellington on August 31 and was due in Sydney on 4 September. The EAMS mail was sent by sea from Sydney.
After 28 August, the Evening Post stopped giving details of overseas dispatches.

---
All scans were made by the author. Information on this page is taken from:
[1] Airmails of New Zealand, volume 2 (1986) compiled by Douglas A Walker, Air Mail Society of New Zealand
[2] Aircraft Movement on Imperial Airways' Eastern Route, vol 2 1937-39 Peter Wingent, Winchester 2005.
[3] W Legg, Landplanes v Flying-boats, Air Mail News, vol 35, pp 10 - 18, 1992.
[4] R P Odenweller, The 1935 Pictorial Issues and Associated Rates with Dates of Printing of Varieties Part 2: Overseas Postage Rates and Notable Events (1932 - 1939), The Kiwi, vol 53, pp108 - 111, September 2004.
[5] Bridging the Continents in Wartime: Important Airmail Routes 1939-45, H. E. Aitink and E. Hovenkamp, SLTW, Enschede, 2005.
[6] W.H. Legg, Early Wartime Airmails, Air Mail News, vol 46, pp 197-204, November 2003.
[7] Sanford K.C., Air Crash Mail of Imperial Airways and Predecessor Airlines, published by The Stuart Rossiter Trust Fund, 2003.
[8] Evening Post Wellington 1916-1945, Papers Past, available at: paperspast.natlib.govt.nz/cgi-bin/paperspast
[9] Australian Newspapers 1803-1954, Trove, National Library of Australia
[10] Air Mail Operations During World War II, T H Boyle, American Air Mail Society, 1998.
[11] New Zealand Overseas Airmail Postage Rates, R M Startup, Mowbray Collectables & Air Mail Society of New Zealand, 2013.