ANA and New England Airways
From 1 January 1930, Kingsford Smith and Charles Ulm's ANA flew a Brisbane - Sydney service. This was extended to Melbourne on 1 June 1930 and to Tasmania on 1 January 1931 with the first air mail to Tasmania being on 1 May 1931. Their services ceased on 26 June 1931.
New England Airways started an airmail service between Sydney and Brisbane on 24 November 1931. New England Airways was renamed Airlines of Australia in October 1935.
Australian National Airways (ANA)
Brisbane - Sydney, January 1930
From 1 January 1930, Kingsford Smith and Charles Ulm's ANA started a Brisbane - Sydney service.
The shown cover was postmarked in Sydney on 31 December and flown from there to Brisbane on the first flight. The pilot and co-pilot were Kingsford Smith and Scotty Allan.
As a registered air mail cover it is franked with 7½d.

Melbourne - Sydney and return, June, 1930
From 1 June 1930, the service was extended to include a daily service in each direction between Melbourne and Sydney.
This cover to New Zealand is postmarked in Melbourne at 4.30 am on 5 June 1930 and has a Sydney backstamp at 1pm later the same day. It was therefore flown on the fifth scheduled flight. (Although the Melbourne - Sydney flight of 3 June had to turn back due to bad weather and the mail was sent by rail.)
The first trans Tasman sailing to connect with any of the flights from Melbourne was the Ulimaroa on Friday 6 June arriving in Auckland on 10 June [2]. Hence this cover arrived in New Zealand on the same steamer as the mail flown on the first flight on 1 June.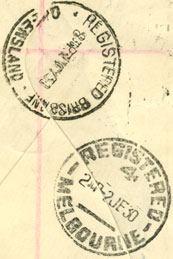 This registered cover was flown from Brisbane to Melbourne. It is postmarked at Brisbane late on 31 May 1930 and so would have been flown to Sydney on 1 June and then flown on the second Sydney - Melbourne flight on 2 June. It is backstamped 2 June.
Registered letters should always be handed in at a post office. However, it seems that this cover was posted in an ordinary letter box and then picked out as having been intended for registered post. That is the reason for the IRREGULARLY POSTED cachet [1].

(New Zealand) - Sydney - Melbourne, July, 1930
The first dispatch of mail from New Zealand to be flown on the Sydney - Melbourne service was dispatched on 4 July 1930.
This cover is postmarked 11 July in Te Aro, Wellington and although it has no routing instructions, it has an airmail etiquette, is correctly franked with 4d and is addressed to Ballarat which is near Melbourne. It appears to be a genuine commercial cover rather than being philatelically inspired.
The mail for the Tahiti closed in Wellington at 2pm on 11 July, the time of this cover's postmark. It sailed Wellington - Sydney on 11 - 15 July.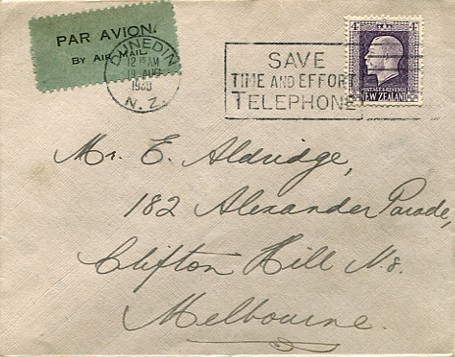 Cover postmarked in Dunedin on 19 August 1930 and addressed to Melbourne. Again there are no routing instructions, but it has an Air Mail etiquette and has the correct franking of 4d for sea to Sydney and the then air from Sydney to Melbourne.
It appears to be a genuine commercial use of the service.
The mail closed in Dunedin at 7a.m. on 20 August and connected in Auckland with the Ulimaroa which sailed to Sydney on 22-26 August.
The Sydney - Melbourne air mail service left Mascot Aerodrome, Sydney at 8.30 a.m. and arrived at Essendon Aerodrome, Melbourne around 2 p.m. It operated 7 days a week.

Later flights to/from Brisbane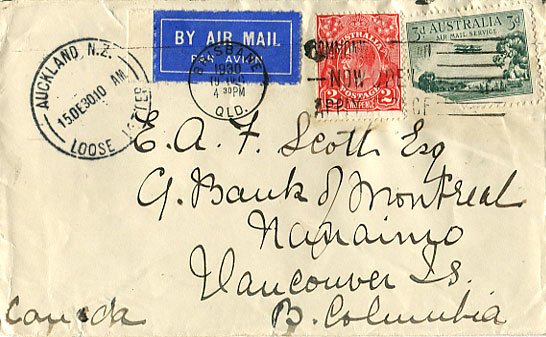 Brisbane to Canada via New Zealand by sea, December 1930
This cover is postmarked at 4.30 pm in Brisbane on 10 December 1930 and is addressed to Canada. It is franked with 5d to cover the internal Australian air mail service and would be flown from Brisbane to Sydney on 11 December and sent from there by sea on the Aorangi.
Surface mail for the Aorangi closed in Brisbane at 8.15 am on 10 December, but by using the Brisbane - Sydney air mail, articles could catch up if posted by 7 am on 11 December [2].
From the New Zealand view, the interesting point is that it has an Auckland Loose Letter transit mark on 15 December.
The Aorangi left Sydney for Vancouver at 4 pm on 11 December and arrived in Auckland on 15 December. It looks like this letter had been put with the New Zealand instead of the Canadian mail and that this was discovered when the mail was handled in Auckland. As the Aorangi did not leave Auckland until 16 December, the 15 December transit mark indicates that the mistake was discovered in time for the cover to be put back on board. The Aorangi arrived in Vancouver on 2 January 1931.

Mail from New Zealand, January - February 1931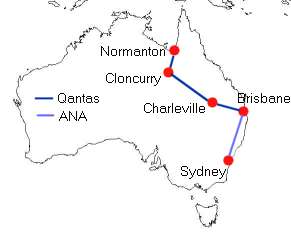 To mark the 10th Anniversary of New Zealand's first daily air mail service (between Christchurch, Ashburton and Timaru), a special envelope was produced and signed by Capt. Euan Dickson who had been the pilot on the original service.
The covers were all postmarked on 31 January 1931 in Christchurch, but as there was no air mail service at that time in New Zealand, they were sent to Sydney by sea to be flown by Qantas from Cloncurry to Normanton.
As the 4d postage was sufficient for all Australian airmail services, it is likely that they were flown from Sydney to Brisbane by ANA and then from Brisbane to Normanton via Cloncurry by Qantas. They were backstamped on arrival in Normanton on 18 February.

to New Zealand, March 1931
This cover is addressed to New Zealand from Cloncurry and would be flown by Qantas from Cloncurry to Brisbane and by ANA from Brisbane to Sydney.
It is franked with the Kingsford Smith commemorative stamps, but is postmarked in Cloncurry on Sunday 16 March which is 3 days before their issue on Wednesday 19 March. The most likely explanation is that it is a mistake in the date stamp (9 inverted to be 6) especially as the date on the Brisbane backstamp has been rubbed out. It presumably showed a date on or after 19 March. The reason for this conclusion is that I have been shown another cover from Cloncurry with the 16 March datestamp in which the Brisbane backstamp has been cut out.
The cover is backstamped in Christchurch on 31 March.

Extension to Tasmania, May 1931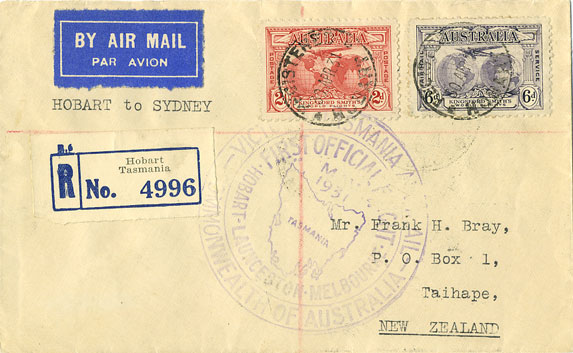 In January 1931, ANA extended their passenger service to include a three times a week service from Melbourne to Hobart (via Launceston) in Tasmania, but mails were not flown until 1 May.
The first airmail flight was due to leave Hobart on 1 May, but due to bad weather, the incoming plane did not proceed beyond Launceston. The mail on 1 May was therefore taken by car from Hobart to Launceston and flown to Melbourne from there. A large cachet was applied to the covers.
This registered cover is postmarked in Hobart on 30 April and is one of the small number addressed to New Zealand. After being taken by car from Hobart to Launceston, it was flown from there to Melbourne and then flown from Melbourne to Sydney. The journey to New Zealand was then by sea.
On the back, it has a Hobart registered postmark on 30 April and a Melbourne datestamp on 1 May. However, the Sydney backstamp is not until 5 May. Presumably the reason is that the service to Melbourne was late due to the car journey and so missed the expected connection. It was then backstamped in Taihape, New Zealand on 13 May.

The next cover was flown on the first service from Melbourne to Hobart on 2 May. A similar cachet was applied as on the first flight to Melbourne, but with the route in reverse order.

Melbourne to New Zealand, May 1931
This cover is addressed to New Zealand from Melbourne and is postmarked on 11 May, shortly after the extension of the service to Tasmania. It would be flown by ANA from Melbourne to Sydney and then sent by sea to New Zealand.
The plane used on these services was the Avro Ten. The 1928 trans-Pacific and trans-Tasman flights of Kingsford Smith and Ulm had been in the Fokker FVII trimotor Southern Cross. The British firm A.V. Roe obtained a license to build the Fokker FVII for sale in the British Empire as the Avro Ten. Australian National Airways bought five which they named the Southern Cloud, Star, Sky, Moon and Sun.
The Southern Cloud disappeared between Sydney and Melbourne on 21 March, 1931 and the wreckage was not found until 1958.
Australian National Airways services between Brisbane, Sydney, Melbourne and Hobart ceased on 26 June 1931.
The Southern Sun started the All Australian Airmail to the UK in November 1931, but crashed in Malaya and never flew again. The Southern Star continued the flight, but after its return to Australia, ANA ceased operations.
The Southern Moon was bought by Ulm, redesigned and renamed the Faith in Australia in 1933. It carried the first official airmail between New Zealand and Australia in February 1934. The Southern Star was bought by Hart Aircraft Service and was used once more to fly mail between Melbourne and Tasmania.

New England Airways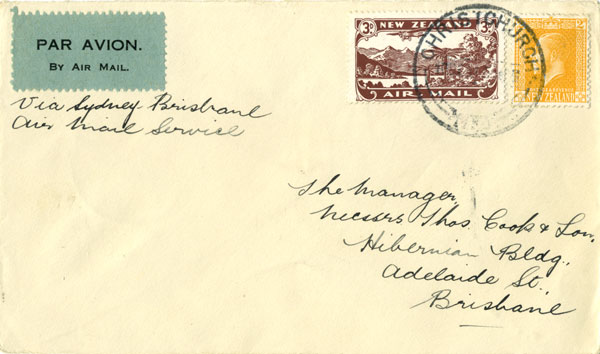 With the ANA service having ceased, New England Airways started a Sydney - Brisbane service on 24 November 1931.
The first New Zealand acceptances for the New England Airways service left Wellington for Sydney by sea on 11 December 1931. They were then flown by a Ryan monoplane from Sydney to Brisbane on 17 December.
This cover is postmarked Christchurch on 10 December and is one of only 10 New Zealand covers carried on the first acceptance to Brisbane and was backstamped at Brisbane on 17 December.

Also flown trans-Tasman
This next cover was flown from Brisbane to Sydney by New England Airways before being flown on the first official trans-Tasman airmail from Australia to New Zealand in April 1934.
It is postmarked in Brisbane on 27 March and there is an arrival backstamp in Sydney on 28 March. It was flown from Sydney on 11 April, arriving in New Plymouth on 12 April. It was then flown to Auckland where it was backstamped on 12 April.

Flown Mackay - Sydney?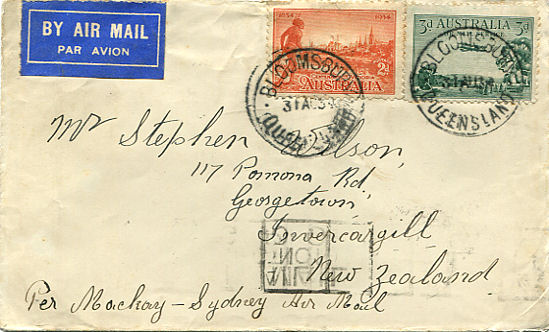 This cover is postmarked in Bloomsbury, Queensland on 31 August 1934 and is addressed to Invercargill in New Zealand.
It has the routing instructions Per Mackay - Sydney Air Mail. A Townsville - Mackay - Rockhampton - Maryborough - Brisbane service had been set up by Qantas in May 1931, but had been discontinued in September 1931. I cannot find a reference to it having been restarted by August 1934.
The Brisbane - Sydney leg would be flown by New England Airways. There is a 3 September Sydney transit mark and would be sent from there to New Zealand by sea.

---
All scans were made by the author. Information on this page is taken from:
Airmails of New Zealand, volume 2 (1986) compiled by Douglas A Walker, and The New Zealand Airmail Catalogue, (2nd Edition, 1994) by James Stapleton. Both are published by the Air Mail Society of New Zealand
[1] The Postage Stamps of New Zealand Vol 3, published by the Royal Philatelic Society of New Zealand , 1955.
[2] Australian Newspapers 1803-1954, Trove, National Library of Australia