NZ - Tasmania, 1931 - 1934
There were several services between Melbourne and Tasmania and there were acceptances for them both from and to New Zealand. The first was with the short-lived ANA service in 1931. Services were then started by Hart Aircraft Service and Matthews Aviation in 1933 and by Holyman's Airways in 1935.

Australian National Airways (ANA), May 1931
Kingsford Smith's Australian National Airways (ANA) had started a passenger service between Melbourne and Launceston in January 1931 which was extended to Hobart in March [1]. They were given a contract to carry official airmail on this route from 1 May.
Mail on the first experimental Imperial Airways flight from the UK to Australia was flown from Sydney to Melbourne by ANA in the Southern Star on 29 April. The Southern Star, piloted by Eric Chaseling, then flew to Tasmania on 30 April ready to fly the first official airmail from Tasmania on 1 May. However, the mail for Tasmania from the experimental Imperial Airways flight was still on board and so it is actually the first official airmail to have been flown to Tasmania rather than the flight on 2 May [1].
Due to bad weather, the flight on 30 April did not proceed beyond Launceston. The mail on 1 May was therefore taken by car from Hobart to Launceston and flown to Melbourne from there in the Southern Star. A large cachet was applied to the covers.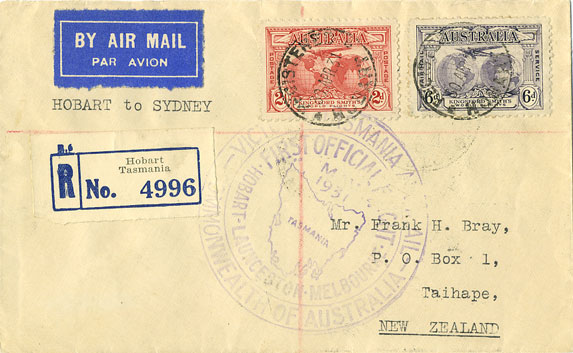 This registered cover is postmarked in Hobart on 30 April and is one of the small number addressed to New Zealand and flown from Tasmania to Melbourne on 1 May. After being taken by car from Hobart to Launceston, it was flown to Melbourne and then flown from Melbourne to Sydney. The final leg of the journey to New Zealand was by sea.
On the back, it has a Hobart registered postmark on 30 April and a Melbourne datestamp on 1 May. However, the Sydney backstamp is not until 5 May. Presumably the reason is that the service to Melbourne was late due to the car journey and so missed the expected connection. It was then backstamped in Taihape, New Zealand on 13 May.
There were no acceptances from New Zealand on the first flight from Melbourne on 2 May and the first acceptance of 8 letters left New Zealand on 15 May. The ANA service did not last long and, like all other ANA services, was terminated on 26 June 1931.

Launceston - Flinders Island
A twice-weekly service between Launceston and Whitemark on Flinders Island operated by Captain L McKenzie Johnson was started on 7 June 1932. The first acceptance from New Zealand was on 28 June.
Hart Aircraft Service
On 22 August 1933, Hart Aircraft Service started a weekly airmail service between Melbourne and Launceston (Tasmania) via Whitemark (Flinders Island). Mail addressed to New Zealand was carried on the return flight on 23 August.
The first acceptance of mail from New Zealand was on 2 September and was flown from Melbourne on 12 September.
25 covers were flown to Whitemark and the shown cover is one of 20 flown to Launceston. Both groups were backstamped on arrival on Tuesday 12 September. The rate was 1d plus an airmail fee of 3d.
The plane used was the Avro 10 Southern Star which had been purchased from ANA and renamed Tasman.

Matthews Aviation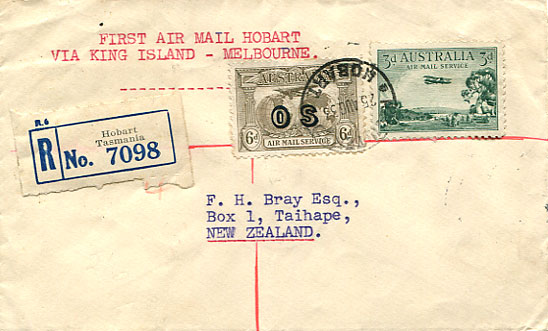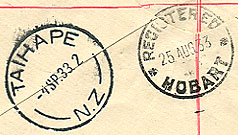 On 25 August 1933, Matthews Aviation started a Melbourne - Launceston service. This cover, addressed to New Zealand, was carried on the first return flight from Launceston on 26 August. It is postmarked in Hobart on 25 August and backstamped in Launceston and Melbourne on 26 August and in Taihape on 4 September.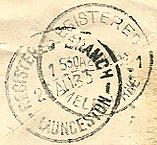 According to Walker, only 30 letters were flown on the first flight and none have been reported addressed to New Zealand. This may therefore be the only cover to New Zealand.
The cover is registered and is franked with 9d. The internal Australian air fee was 3d while the surface fee was 2d, leaving 4d for the registration fee.
The intention had been to operate via King Island in the Bass Strait which is the reason for the routing instructions: Hobart via King Island - Melbourne. However, the airfield at Currie, King Island was not ready in time and so the early services went directly between Launceston and Melbourne. From October 1933, the service operated via King Island with the first service from Melbourne on 13 October and the first return flight from Launceston on 14 October.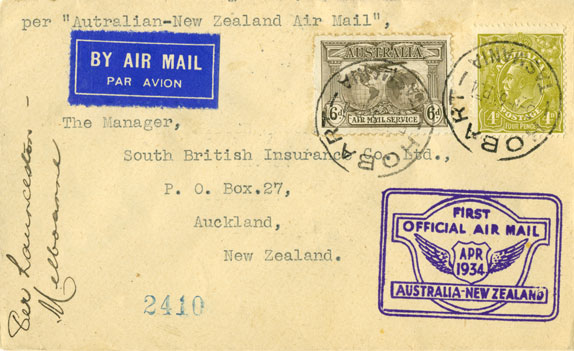 Also flown trans Tasman, April 1934

This cover is postmarked in Hobart on 5 April 1934 and backstamped in Launceston on Friday 6 April. It is franked with 10d: 7d to cover the trans-Tasman flight plus 3d for internal Australian airmail. It was flown from Launceston to Melbourne before being flown on the first official trans Tasman fight from Sydney to New Plymouth on 11 -12 April.
As the Hart service from Launceston was on a Wednesday and the Matthews service was on a Saturday, this cover would have been flown by Matthews Aviation on Saturday 7 April.

Holyman's Airways
On 7 October 1935, Holyman's Airways began an airmail service between Hobart and Sydney via Melbourne and Canberra.

---
All scans were made by the author. Information on this page is taken from:
Airmails of New Zealand, volume 2 (1986) compiled by Douglas A Walker, and The New Zealand Airmail Catalogue, (2nd Edition, 1994) by James Stapleton. Both are published by the Air Mail Society of New Zealand
[1] A G Mathieson, The Early Air Services across the Bass Strait, Air Mail News, vol 25, no 115, pp 4-12, Autumn 1982.