Kingsford Smith and Ulm
On 19 March 1931, Australia issued a set of stamps to commemorate Kingsford Smith's World Flights.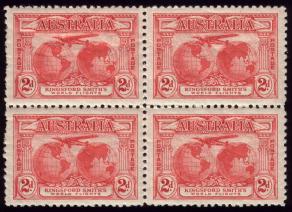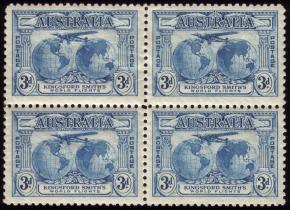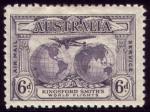 His 1928 flights included the first trans-Pacific flight from the USA to Australia, the first trans-Tasman flight from Australia to New Zealand and the first flight in the reverse direction from New Zealand to Australia. In 1929, he flew from Australia to California via Great Britain which, together, with his 1928 trans-Pacific flight meant that he had flown round the world.
Charles Ulm was co-pilot on these flights. Their plane was the Fokker monoplane Southern Cross and it is depicted flying over two hemispheres.
They formed a company, Australian National Airways (ANA), that flew a regular service between Brisbane and Sydney.
The 1d and 2d stamps have POSTAGE inscribed vertically at the left and right while the 6d was an airmail stamp and is inscribed AIR MAIL SERVICE.
This cover is franked with the 1d and 2d values is postmarked in Cloncurry 3 days before the date of issue, but this is likely to be due to a mistake in the datestamp which is discussed further here.
The example cover contains all three values and was flown on the first official airmail from Australia to England in 1931. The Darwin to Burma leg was flown by Kingsford Smith and G U (Scotty) Allan.
Charles Kingsford Smith was knighted in 1932.
The following external link is to many examples of Kingsford flight covers

USA - Australia flight
In 1978, Australia issued a miniature sheet to commemorate the 50th anniversary of the trans-Pacific USA - Australia flight by Kingsford Smith and Ulm.
The 1928 USA - Australia flight was via Fiji which also issued commemorative stamps in 1978.
Trans-Tasman flights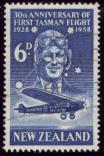 Kingsford Smith
In 1958, both Australia and New Zealand commemorated the 30th anniversary of the first trans-Tasman flight in 1928 by Kingsford Smith and Ulm using a stamp with a common design showing Kingsford Smith and the Southern Cross.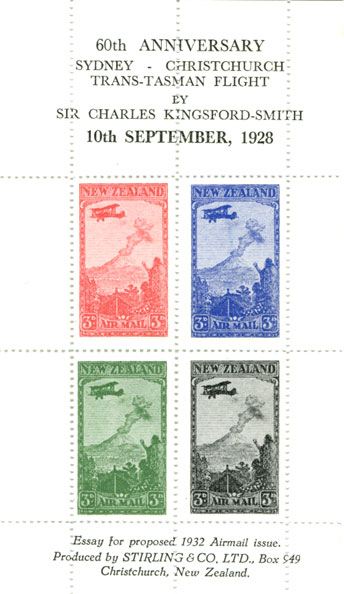 There have also been Cinderella issues such as the ones by Stirling & Co. in 1988 to commemorate the 60th Anniversary of the flight from Australia to New Zealand in September 1928 and the return flight to Australia in October 1928.
Both these issues show an essay for a proposed New Zealand airmail issue in 1932. Another essay is shown in the Cinderella commemorating the 60th anniversary of the flight between Hokitika and Okuru in 1932.

The Southern Cross and the Faith in Australia are both shown in another 1988 Cinderella miniature sheet, this time by the Air Mail Society of New Zealand as part of their exhibition in Christchurch.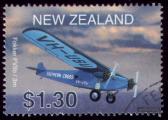 The Southern Cross was also shown in a 2001 issue by New Zealand Post.

Ulm
In 1984, Australia commemorated the 50th anniversary of the first official trans-Tasman airmail and the first flight from Australia to New Guinea; both flights were made by Charles Ulm and G U Allan in the Avro Ten Faith in Australia.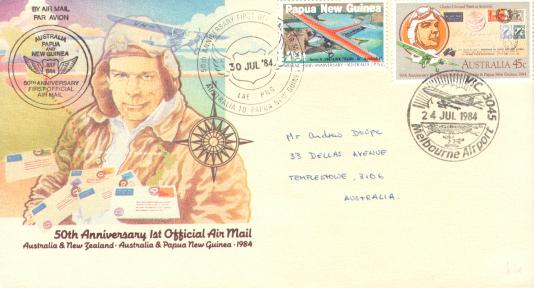 The Australia to New Guinea flight was also commemorated by Papua New Guinea with an issue showing Faith in Australia
To commemorate the anniversary, boomerang covers were flown from Melbourne to Lae in Papua New Guinea and return with both Australian and Papua New Guinea stamps.

Biographic Notes
Charles Ulm was killed with his crew in December 1934 on a flight from America to Hawaii.
Charles Kingsford Smith was killed with Tommy Pethybridge in November 1935 when his plane disappeared in the Bay of Bengal on a direct flight from Allahabad in India to Singapore.
G U Allan joined Qantas in 1934 and went on to take part in many of their inaugural flights. He became a Wing Commander in the RAAF during the Second World War, a Commander of the British Empire (CBE) in 1957 and retired from Qantas in 1961 as Deputy Chief Executive and Deputy General Manager. He died in 1996 at the age of 96.
---