Halfpenny Newspaper Stamp
The postage rate for newspapers was reduced to ½d from 1 January 1873 and so a halfpenny stamp was required.
It was designed by John Davies. The die was made in Melbourne and the stamps were surface printed by the Government Printer in Wellington.
First issue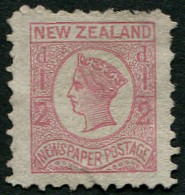 The first issue was on the paper used for the revenue stamps and had a large NZ watermark which appeared 100 times. As the newspaper stamp was a lot smaller than the revenue stamps, the sheets contained 240 stamps in 20 rows of 12. There was therefore no registration between the stamps and the watermark and partial and no watermark varieties are the norm.
The colour of the stamps was a dull rose and the perforation was 10, 12½ or a compound of these.
Small star watermark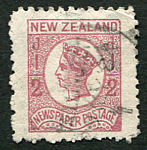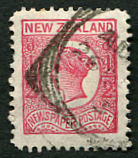 From 1875, the stamps appeared on paper with a small star watermark in which there was proper registration. The perforation was either 12½ or nearly 12.
The shade for most of the issue remained a dull rose although the last printings were in a much brighter colour.
NZ and star watermark
In 1892, the stamps were issued with the NZ and star watermark. The perforation was 12½ and the colour was bright rose.
In 1895, a halfpenny stamp was added to the ordinary definitive issue and so there was no longer a need for a special newspaper stamp.
Special stamps to prepay carriage of newspapers by rail were issued from 1890 to 1925.
Newspaper Wrappers
Newspaper wrappers were first issued in 1878. The first issue was on white unwatermarked paper while in 1881 the paper was changed to cream watermarked paper. Conditions for use of the wrapper were printed in four lines within a rectangle.
In 1889, the wrapper was changed so that the inscription was in a wavy border. In 1892, the wrapper was changed again so the inscription now included the phrase WITHIN NEW ZEALAND.
The reason the paper in the scan of the 1892 wrapper looks less cream is that it was scanned with a black backing to show up the watermark.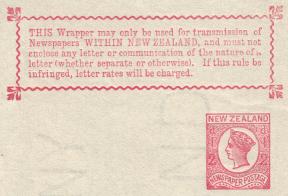 In March 1903, the wrappers were again changed and now had the head of Edward VII.

---
The above information is taken from The Postage Stamps of New Zealand Vol 1, published by the Royal Philatelic Society of New Zealand in 1938. All scans were made by the author.