1874 First Side-Face Issue
After the glories of the Chalon heads, New Zealand's second postal issue was rather an anti-climax.
The stamps
Six stamps were issued, each with a portrait of Queen Victoria, in the denominations 1d, 2d, 3d, 4d, 6d and 1/-. A ½d newspaper stamp had been issued the year before.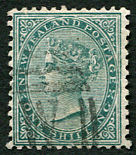 The plates were produced by De La Rue & Co and only one plate was used for each value. Each plate had 240 impressions, divided into 4 panes of 60.
The stamps were surface printed at the Government Printing Office in Wellington and issued on 2 January 1874.
The paper was watermarked NZ and star although a small printing of the 1d and 2d was made in 1875 on large star watermark.
Initially, the stamps were mostly line perforated 12½ although some of each value were perforated 10 x 12½. From 1878, they were comb perforated 12 x 12½. As the last printing of the 3d was in 1874, it does not appear with that perforation.
The stamps were replaced in 1882 by the second side-face issue.
2/- and 5/-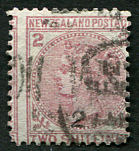 On 1n July 1878, 2/- and 5/- stamps were issued. The dies were engraved by Bock and Cousins of Wellington and the plates were made at the Government Printing Office in Wellington where they were printed. They were in sheets of 120, organised as two panes of 60.
There was only one printing of about 47,000 stamps of each value. They were printed on the same paper as the 1874 issue and the perforation was 12 x 12½. However the spacing of the impressions did not fit this perforation head and so many of the stamps are badly centred as in the illustrated 2/- example.
Most of the stamps were used fiscally and they were replaced in 1882 by the new fiscal stamps.

Overprinted Specimen
The stamps exist overprinted Specimen both in the original colours and, with the 1d, 2d, 3d, 4d and 6d in other colours such as this example of the 2d in blue.

---
The above information is taken from The Postage Stamps of New Zealand Vol 1, published by the Royal Philatelic Society of New Zealand in 1938. All scans were made by the author.