1874 First Side-Face Covers
From 1870, the usual route from New Zealand to the UK was via San Francisco, except for an interruption in 1873. The postal rate to the UK was 6d per ½oz.
From 1875 - 1885, The Pacific Mail Steamship Company operated the trans-Pacific route [2].
The topic of this page was started with Chalon covers which are shown at New Zealand to/from UK and continued with second sideface covers at Second Side-Face Covers.
Route via Fiji, 1875 - 76
In the first eighteen months, the route from San Francisco was alternatively to Sydney or Auckland via Fiji and Honolulu with a branch route from Fiji dealing with mail to Auckland or Sydney when it was not the main destination.
This cover is postmarked 10 March 1876 in Nelson. It joined the Granada which had sailed from Port Chalmers on 8 March and Auckland on 13 March arriving in Fiji on 18 March where it waited for the mail from Australia. It departed Fiji on 22 March arriving San Francisco on 11 April.
It was then railed across America on the trans-Continental railroad that had been opened in 1869 before being carried on the Cunard ship Bothnia leaving New York on 19 April and arriving in Liverpool on 30 April. It has a red London receiving mark of 1 May. It was therefore 52 days in transit.

Auckland - Honolulu - San Francisco 1876 - 1885
From late 1876, the route was Sydney - Auckland - Fiji - Honolulu - San Francisco.
The first cover has an indistinct Christchurch postmark of 29 March 1879. It was carried by the Australia from Auckland to San Francisco from 1 -23 April.

It was then railed to New York and carried by the White Star Line ship Adriatic to Liverpool. It left New York on 1 May, arrived Queenstown (Cork) on 10 May and Liverpool on 11 May.
It has an interesting red Paid Liverpool U.S. Packet receiving mark dated 11 May and a faint Glasgow receiving mark on 12 May. It was therefore 43 days in transit.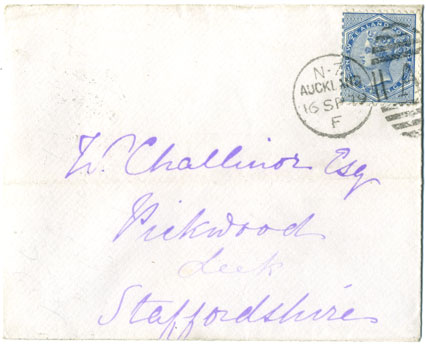 The next cover is postmarked in Auckland on 16 September 1879 and is addressed to Leek in Staffordshire, UK. It does not have routing instructions, but the postmark dates correspond to the route being via San Francisco.

The Zealandia left Auckland on 16 September and arrived in San Francisco on 8 October. Mail was then carried from New York to Liverpool on 17 - 27 October on the Inman ship City of Montreal.
The backstamp shows that the cover arrived in Stoke-on-Trent on October 28 and in Leek on October 29. It was therefore 43 days in transit.
The Pacific Mail Steam Ship Company ran the service between Auckland and San Francisco until November 1885 and from 1886 it was run by the Oceanic Steamship Company.

via Brindisi
Although the main route from New Zealand to the UK was via USA, the P&O route via Suez continued. Rather than being sent by sea all the way, since 1857 mail could be speeded up by being sent via Marseilles. From 1866, mail could also be sent via Brindisi although that route was little used until the Franco-Prussian War closed the route via Marseilles in late 1870.
The rate from New Zealand to the UK via Brindisi was initially 1/3, but was reduced to 9d in January 1871. It was increased to 10d in September 1871, but reduced again to 9d in January 1873 [1]. It was further reduced to 8d in July 1876 and to 7d in February 1880. From January 1880, the all sea mail route from Southampton was ended and mail all went via Brindisi.
This cover is an example of the 8d rate. It is postmarked in Christchurch on 5 May 1877 and is backstamped in London on 2 July. The mail for Australia left Lyttelton (the port of Christchurch) on the Arawata on 5 May and arrived in Melbourne on 13 May. It then left Melbourne on 15 May on the Tanjore and arrived in Ceylon on 6 June. It went on the Bokhara from Ceylon to Suez on 7 - 24 June and on the Pera from Alexandria to Brindisi on 25 - 29 June. That fits in well with the date of 2 July on the London backstamp.
The Bokhara continued through the Suez Canal and was at Alexandria on 26 June, Malta 30 June and Southampton on 9 July. The route via Brindisi had therefore sped the mail by a week.

From Australia

This cover is postmarked on 23 November 1876 in St Kilda, Victoria and has a Melbourne backstamp later that day. It is franked with 2d. The rate between Australia and New Zealand had been reduced from 3d to 2d in January 1874.
It was carried from Australia to New Zealand by sea and has a Dunedin arrival stamp on 1 December, 8 days after the Melbourne backstamp.
The Albion left Melbourne on 23 November and sailed via Hobart Town (25 November) and the Bluff (30 November) to arrive at Port Chalmers (the port for Dunedin) on 1 December.

---
The above information is taken from:
Australia New Zealand UK Mails to 1880: Rates Routes and Ships Out and Home, Colin Tabeart, Fareham, 2004.
The Postage Stamps of New Zealand Vol 3, published by the Royal Philatelic Society of New Zealand in 1955.
[1] The Postage Stamps of New Zealand Vol 7, Royal Philatelic Society of New Zealand , 1988.
[2] N.Z. Marine Post Offices 1864-1907, The Mail Coach, vol 9, part 8, pp152-159, April 1973.
All scans were made by the author.