Hawkes Bay Earthquake 1931, Emergency Flights
On 3 February 1931 there was a devastating earthquake in the Hawkes Bay area killing 161 people in Napier, 93 in Hastings and 2 in Wairoa. As the road had been badly damaged, special emergency flights took place to carry emergency medical supplies although mail was also carried. Mail was carried between Wellington and Hastings, Gisborne and Hastings, between Hastings and Feilding and Hastings to Auckland [1].
From Earthquake Area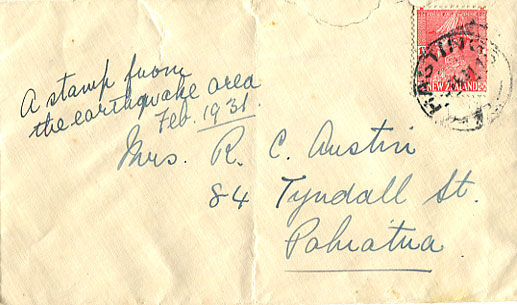 This cover is postmarked in Hastings although the date in February 1931 is not clear. It is inscribed with the text: A stamp from the earthquake area, Feb. 1931 and is addressed to Pahiatua which is half way between Hastings and Wellington.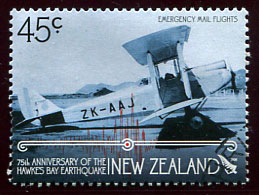 Pahiatua is quite near Feilding and on 5 February, Flt. Lieut. Burrell flew the mail that had accumulated in Hastings since 3 February to Feilding from where it was distributed. It is possible that this cover was flown on that flight.
Some covers were signed by the pilot and were hand-stamped withe the cachet Emergency Earthquake Air Mail. According to [2], all known covers on the various emergency earthquake flights are addressed to the stamp dealers Verne, Collins & Co. or to R.Collins. It is clear that they applied the emergency earthquake cachets and may even have organised the pilots' signatures. Mail that did not pass through the hands of Verne, Collins does not have the emergency earthquake cachet.
More information has recently come to hand with the sale of the Len Jury collection [3]. Apparently covers marked 'Earthquake Area' could be sent postage free until 16 February. The sale catalogue shows four such covers. Unfortunately, the information about free postage does not seem to have been widely circulated and I have been unable to find any such report in contemporary newspapers. Hence the sale catalogue shows a further four unstamped covers that have To Pay handstamps. As none of these covers had passed through the hands of Verne, Collins, they have neither the emergency earthquake cachet nor the pilot's signature.
One of the stamps in the 75th Anniversary Issue in 2006 commemorates the emergency mail flights.

Postscript
On 8 February, Ivan Knight, the managing director of Dominion Airlines crashed and was killed on one of the emergency flights while flying the Desoutter monoplane. As a result, Dominion Airlines ceased operations.

---
All scans were made by the author.
[1] Airmails of New Zealand, volume 1 , compiled by Douglas A Walker, 1955 Air Mail Society of New Zealand.
[2] New Zealand Airmail Catalogue, James Stapleton, (3rd Edition edited by Mike Shand, 2009), Air Mail Society of New Zealand.
[3] New Zealand Len Jury Catalogue, Spink, 7 October 2015.