Entry of Italy to World War II: June 1940
Less than six weeks after the inauguration of the complete airmail route between New Zealand and the UK on 30 April 1940, the route was broken. After Italy entered World War II on 10 June 1940, mail could no longer be flown between Egypt and the UK via the Mediterranean.
All Empire air services were suspended on 11 June [1]. According to [2]: '... the air mails which were already en route will have been "dumped", as necessary, at certain points for onward conveyance by surface route.' However, that statement only applied to airmail which had yet to cross the Mediterranean.

Last through airmails from New Zealand, May 1940

Flown to Palestine on two last flights
This cover is postmarked in Napier on 21 May and is addressed to the 1st Australian General Hospital, Palestine which was situated in Gaza. It was opened by the censor (No 59) in Wellington [6].
It would have been flown from Auckland to Sydney on flight AS 5 on 28 May to connect with the QEA / BOAC flight SW 245 that left Sydney on 29 May. That was the last flight that was flown through to the UK before Italy entered the war. It has a Calcutta Not Opened By Censor A 16 mark and a Calcutta transit mark on 4 June which fits with the arrival there of SW 245 on 3 June [4] and means that the cover was unloaded there although the reason is unclear.
It may then have been flown on the last BOAC landplane service CW 224 that left Calcutta on 4 June and connected with the CW 224 flying boat service in Karachi on 6 June and unloaded in Alexandria on 7 June [4].
The cover has a major crease that occurred after the application of the Wellington censor mark, but before the Calcutta Not Opened By Censor mark. The crease seems to have resulted from poor application of the New Zealand censor tape.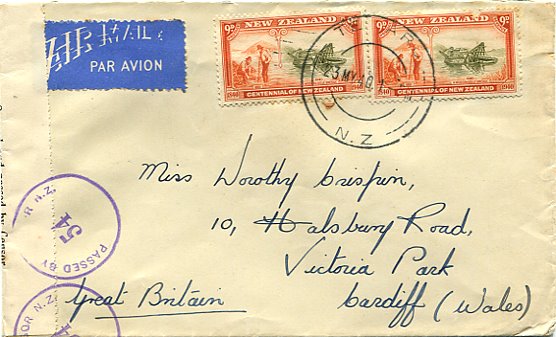 Flown to UK on last through flight from Auckland on 28 May
The last through airmail from New Zealand was flown from Auckland to Sydney on Monday 28 May to connect with the QEA / BOAC flight SW 245 that left Sydney on 29 May and arrived in Poole on 9 June [4].
This cover to Cardiff has a New Zealand postmark on 23 May and so would have been on that flight. It was censored in Wellington [6].
As is typical of war-time airmails, the cover has no transit or arrival marks although I have seen the scan of another cover flown on that flight that was re-directed in London on 10 June.

Through airmails to New Zealand, June 1940
From UK, 1 June
This cover to New Zealand is postmarked on 31 May and again in London on 1 June 1940. As the service to Australia from the UK was twice weekly on Sundays and Thursdays [3], it may have been on flight SE 252 that left Poole on Sunday 2 June and arrived in Sydney on 15 June.
Alternatively, it may have been flown on flight 253 which left on Thursday 6 June and arrived in Sydney on 17 June [4]. In both cases, it would then have been flown trans - Tasman on SA8 on 20 June.
On 19 June 1940, the Niagara was sunk by a mine shortly after leaving Auckland. As a precaution, the ferry services across the Cook Strait were cancelled and ordinary surface mail was flown between Wellington and the South Island on emergency flights by Union Airways. However, air mail from UK to the South Island, in this case Dunedin, was normally flown from Wellington by air on the Monday, Wednesday or Friday service. Hence this cover would have been flown on the normal internal air mail service although on the same day as the Emergency Flight from Wellington to Christchurch on Friday 21 June 1940.

Last through flight from UK, 9 June
The last through flight (SE254) left the UK on 9 June. It was flown from Ajaccio to Corfu on 10 June and to Alexandria on 11 June and so was out of the danger area when the service was suspended. That flight had been diverted round Italy on its way to Alexandria. Its route was Poole - Marseilles - Ajaccio (Corsica) - Bizerta (Tunisia) - Malta - Corfu - Athens - Suda Bay (Crete) - Alexandria. It arrived in Sydney on 20 June [4] and was flown trans-Tasman on 25 June.
This registered cover postmarked in London on 7 June would have been on this flight. Although it is registered, it has no arrival datestamps.
A cover, postmarked on 10 June in Hungary, addressed to New Zealand and flown on that flight is described in [5]. It has a Sydney backstamp on 20 June and a Piripaua (Gisborne) receiving mark on 28 June.

From Southern Rhodesia
Although the following registered cover from Southern Rhodesia to Wellington has no airmail etiquette and is insufficiently franked, the dates on the postmark and transit marks clearly show that it was flown from Southern Rhodesia to New Zealand. The only way to get from Southern Rhodesia to Australia in 14 days was by air and even then that required very good connections.
It is postmarked in Salisbury, Southern Rhodesia on 3 June, 1940. Its likely route was Salisbury to Beira by Southern Rhodesian Air Services where it would connect on 5 June with BOAC flight DN 276 which arrived in Alexandria on 8 June [4]. (That was the last through flight from Durban to the UK.)
It would then connect with the Eastern Route service SE 253 which left Alexandria on 9 June [4]. That service arrived in Darwin on 15 June and the cover has a very faint Darwin N.T. transit dated 15 June). SE 253 arrived in Sydney on 17 June and the cover has a Sydney registered post transit mark on 17 June and a Sydney AIR backstamp on 18 June.
The connection would then be with the TEAL service SA 8 on 20 June.
It has Out 21/6/40 in manuscript on the front which presumably refers to when its contents had been dealt with by the firm.

Airmail from New Zealand in transit on June 11
Mail for Europe from New Zealand which had not yet reached the Mediterranean on 11 June was dumped and continued its journey by sea [2].
According to the Australian Posts and Telegraphs Department statement reported in the Sydney Morning Herald of 15 June 1940 [14], mail from Australia (and hence New Zealand) was held up as follows: SW 246 left Sydney on 1 June and was held up in Egypt; SW 247 left Sydney on 5 June and was held up in India (Karachi [4]); SW 248 left Sydney on 8 June and was held up in Singapore; SW 249 left Sydney on 12 June and the mail for Europe was unloaded in Darwin before being returned.
Mail for Britain from SW 246 that was held up in Egypt was flown on a repositioning flight to Durban and arrived in Britain on 12th July [19]. Mail from the other flights continued their journey by surface.
Mail from New Zealand did not connect with SW 246 or SW 248.

SW 247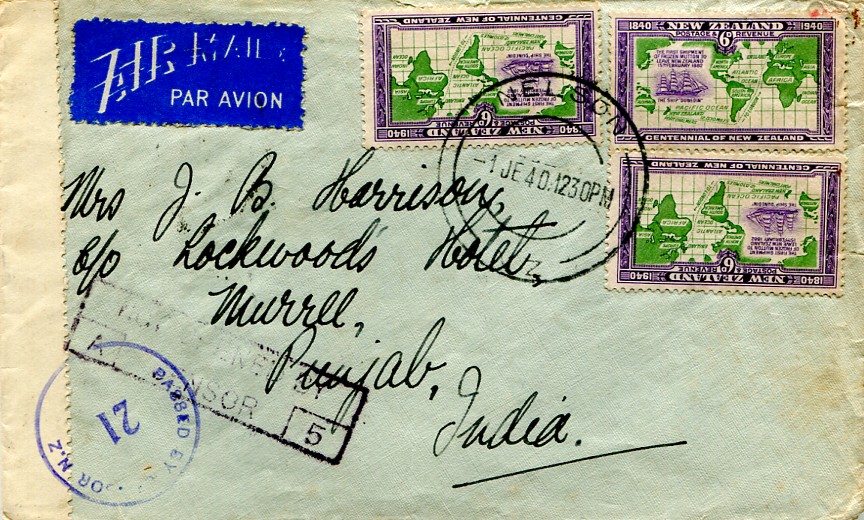 This cover to Muree in the Punjab is postmarked in Nelson at 12.30pm on Saturday 1 June and was opened and passed by the censor in Auckland.
The trans-Tasman mail closed in Auckland at midnight on Saturdays [15] and so this cover would have been posted in time to have been flown from Auckland to Sydney on Monday 3 June and then on flight SW247 that left Sydney on 5 June.
That flight arrived in Calcutta on 11th June where this cover was off-loaded. It has a Calcutta transit on 12 June and a Muree arrival backstamp on 15 June. It therefore progressed to its destination as normal.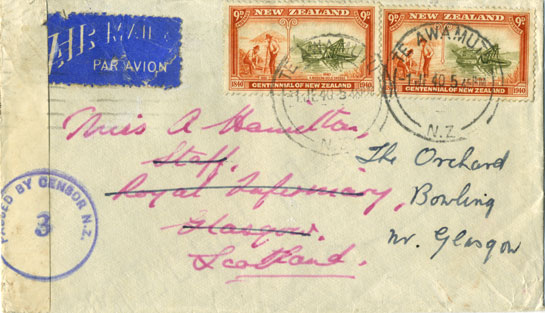 The next cover is postmarked in Te Awamutu (near Auckland) at 5.25pm on Saturday 1 June and opened and passed by the censor in Auckland. It was flown on the same services as the previous cover and the flight reached Karachi on 12 June, but did not progress any further.
The mail was dumped, sent to Bombay and from there to the UK by sea. This cover was redirected in Glasgow on 10 August.
The cover was 71 days in transit.

SW 249
This cover is postmarked on 5 June in Wellington and would be flown to Sydney on the trans Tasman service of 10 June.
It would then have been flown on SW 249 which left Sydney on 12 June just after Italy had entered the war.
The mail for the UK and western Europe was unloaded from SW 249 in Darwin on 13 June and returned south to Melbourne before being sent to the UK by sea. The service continued with the remaining mails.

The next cover is postmarked in Auckland on 7 June and so would have been flown on the same services as the 5 June cover. It was redirected after it arrived in London and as the redirection datestamp is 8 August, we have an indication of when this mail arrived in the UK. The cover was 63 days in transit.

The redirection was to Lieutenant Hilliard, a RNZNVR officer. While this cover was in transit, the addressee, Lt Hilliard RNZNVR was promoted to Lt. Cdr on 19th June and made commander of the minesweeping trawler HMS Blackthorn on 23rd July 1940.

Posted after 10 June 1940
As mail could not be flown through the Mediterranean, the Horseshoe Route was quickly set up. Mail was flown from Auckland to Sydney and from there by the normal Eastern Route via Singapore and India to Cairo. From Cairo, it was flown to Durban in South Africa and from there to the UK by sea.
The first dispatch from the UK for the Horseshoe Route left by sea on 19 June on the Arundel Castle. It connected at Durban with the fourth Horseshoe flight that left Durban on 10 July and arrived in Sydney on 24 July [3].
However, there were alternative routes for airmail, examples being [8]:
On June 15 and again on June 18, air mail for Australia and New Zealand was flown to Lisbon and from there on 16 and 19 June to New York [4]. It was then flown to San Francisco from where it was to be sent by sea on 25 June on the S.S. Monterey which was due in Auckland on 12 July and Sydney on 15 July [2].
On June 21, mail for Australia and New Zealand was sent by sea.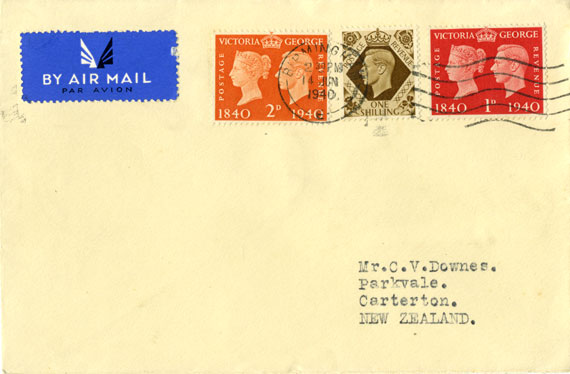 UK to New Zealand via USA, 14 June
This cover was posted on 14 June 1940 and according to Walker [1] was carried on the first dispatch from the UK to be flown from Durban on the Horseshoe Route. It is addressed to the same person as the cover shown by Walker.

However, it is backstamped at Carterton in New Zealand on 16 July and so arrived in New Zealand too soon to have been flown by the Horseshoe Route [3].
Therefore the cover was flown to Lisbon on 15 or 18 June [2, 8] in a DH 91 and then flown trans-Atlantic to New York and from there to San Francisco. It completed its journey across the Pacific by the steamer S.S. Monterey due to arrive in Auckland on 12 July. That gives it plenty of time to be in Carterton by 16 July.
I have seen a scan of a cover posted in London on 11 June 1940 and sent by surface mail which was forwarded from Perth, Western Australia on 22 July. As the airmail sent via the USA arrived in Sydney on 15 July and the first Horseshoe service from the UK did not arrive in Darwin until 22 July [4] this demonstrates that sending mail by air at this time gave little or no advantage over surface mail.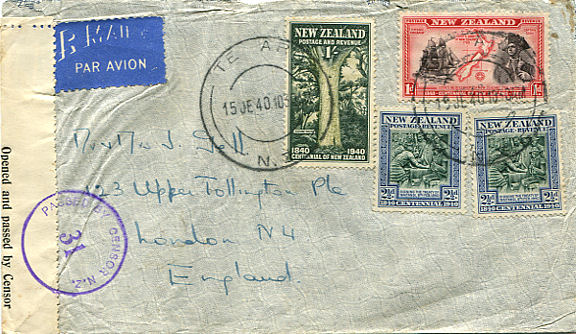 New Zealand to UK, 15 June
The Empire Air Service to the UK was suspended in New Zealand on 14 June. Although the Horseshoe Route was set up very quickly, the first official dispatch from New Zealand was not until 23 July and arrived in the UK on 5 September [18]. However, letters were still posted by the public for that service after 14 June.
This cover is postmarked in New Zealand on 15 June 1940 and is franked with 1s 6d. The sender clearly intended it to be sent via Australia. If it had been sent on the trans-Tasman flight of 17 June then it would have been on the first Horseshoe Route service on 19 June.
However, as the New Zealand Post Office had decided that air mail for the UK at the 1s 6d rate was to be sent by sea, it would not have been flown to Australia and probably travelled to the UK via the Pacific and America.

Cancelled To Pay
In the meantime, alternative routes between the UK and New Zealand were available [10]. The advised route was now by sea to Honolulu from where mail would be flown to New York followed by sea to the UK. The cost of this service was 1s 9d while, if it was also to be flown from New York, the rate was 4s 0d [9].
This cover is postmarked in Cromwell on 18 June 1940 and passed by the censor in Dunedin. It has franking of 1s 3d and the intended service is not clear. There was a 1s 3d rate to USA via Panama which was meant to have the routing instructions Canal Zone - USA. The route was by sea to the Panama Canal followed by air to Miami and New York [11,12]. It is possible that the intention was to go on this route to New York and then go from New York to UK by sea.
However it was deemed to be deficient in postage and has a To Pay handstamp of 120 centimes which means that there was 12d to pay, i.e. that it was underfranked by 6d. That indicates that the expected rate was 1s 9d, i.e. the rate via Honolulu.
However, the To Pay handstamp has been very effectively cancelled (obliterated?) by a circular handstamp with wavy lines. The most likely conclusion is that a decision was subsequently made for it to be sent to the UK by sea for which it had more than sufficient postage.
The trans-Pacific Pan American service between Auckland and San Francisco was started on 20 July which was before the first Horseshoe dispatch from New Zealand. The PanAm service gave a fast, if expensive, through airmail service to the UK.

Ala Littoria, late June 1940
Before 10 June 1940, air mail from Greece to Britain would be sent by BOAC. However, other European companies also flew Mediterranean services.
The Italian airline Ala Littoria had a service from Rome to Basra via Brindisi, Athens, Rhodes, Haifa and Baghdad and a service from Rome to Italian East Africa via Syracuse, Benghazi, Cairo, Wadi Halfa, Khartoum and Asmara. These services were terminated on 10th June, but CAIS 54 on 10 July reported that the Rome – Brindisi – Athens - Rhodes service had been restarted although it does not say when. It was suspended again on 26th October just before the invasion of Greece by Italy on 28th October 1940.
Ala Littoria also had a Rome – Lisbon service via Sardinia, Barcelona and Madrid which enabled a connection from Athens and Rome with the Pan American Transatlantic air mail service from Lisbon [16].

This cover is postmarked Thessaloniki (Salonica) on 23rd June 1940 and is addressed to England where it was opened by the censors. It has Jusqu'a Lisbonne under the Par Avion etiquette and has transit marks on the back in Athens on 24th June and in Lisbon on 29th June. It is franked with 26 Drachmas which is the same as the rate for Athens – Lisbon – USA.
The dates show that it must have been flown from Athens to Rome and then from Rome to Lisbon by Ala Littoria, completing its journey to the UK by surface.
Although Italy had declared war on Britain two weeks before this cover was posted, the Italian airline was still flying mail addressed to Britain as it came from a neutral country.
It does show that although the air route through the Mediterranean was closed to BOAC, it was still available to airlines of axis countries.

---
All scans were made by the author. Information on this page is taken from:
[1] Airmails of New Zealand, volume 2, D.A Walker, 1986, Air Mail Society of New Zealand
[2] Confidential Overseas Mails Branch Report No. 40, 15 June, 1940, POST 56/76, Royal Mail Archive.
[3] Aspects of the Horseshoe Route, W.H. Legg, Air Mail News, vol 45, no 177, pp 44 - 53, May 2002.
[4] Bridging the Continents in Wartime: Important Airmail Routes 1939-45, H. E. Aitink and E. Hovenkamp, SLTW, Enschede, 2005.
[5]Airmail Hungary to New Zealand June 1940, R Lee and J Kennet, New Zealand Air Mail News, no 672, pp 4-5, August 2007.
[6] The Postal History of World War II Mail between New Zealand and Switzerland, R.M. Startup and C.J. LaBlonde, 2005.
[7] Hong Kong Airmails 1924-1941, D. Crewe, Hong Kong Study Circle, 2000.
[8] Confidential Overseas Mails Branch Report No. 41, 22 June, 1940.
[9] A Problem Airmail Cover, A.P. Berry, The Kiwi, vol 46, pp 95-96, September 1997.
[10] Alternatives to the Horseshoe Route in June and July 1940, R. Clark, The Kiwi, vol 58, pp 42-47, March 2009.
[11] The 1935 Pictorial Issues and Associated Postal Rates with Dates of Printing of Varieties: Part2 Overseas Postage Rates 1932-1939, R.P. Odenweller, The Kiwi, vol 53, pp 108-111, September 2004.
[12] Airmails of New Zealand, volume 3, R.M. Startup, 1997, Air Mail Society of New Zealand
[13] Answer 251 to: When did the first "true" Horseshoe Route Covers leave Sydney?, Air Mail News, vol 44, no 176, pp 245 - 251, February 2002.
[14] Australian Newspapers 1803-1954, Trove, National Library of Australia
[15] Evening Post Wellington 1916-1945, Papers Past, available at: paperspast.natlib.govt.nz/cgi-bin/paperspast
[16] Air Mail Operations During World War II, T.H. Boyle, American Air Mail Society, 1998.
[17] Extracts from the Air Ministry Civil Aviation Intelligence Reports Summaries, P. Wingent, West Africa Study Circle, 2010.
[18] Further Aspects of the Horseshoe Route: a New Zealand Perspective, R. Clark, Air Mail News, vol 53, no 211, pp 179-184, November 2010.
[19] African Repositioning Flights in June 1940, R. Clark, Air Mail News, Vol. 57, no 226, pp 20-24, August 2014.