Survey flights between New Zealand, Fiji and Tonga, 1939
The Short S30 Empire flying boat Aotearoa, commanded by Capt. J.W. Burgess, was flown from Southampton to Auckland on 16 - 28 August 1939, just before the outbreak of World War II on 3 September. No official mail was flown although some unofficial covers were carried.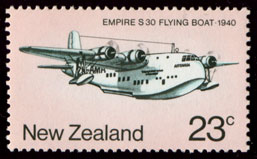 The aim was to set up a regular trans-Tasman service between Australia and New Zealand, but that required two flying boats and the second Empire flying boat, the Awarua, did not arrive until 3 April 1940.
Meanwhile, the Aotearoa flew survey flights. It flew from Auckland to Suva, Fiji on 7 September 1939. No official airmail was carried. However, on the return journey to Auckland on 10 September, an official airmail of around 500 letters was carried to each of New Zealand and Australia.
A second flight was made in the following month. The Aotearoa flew from Suva to Nukualofa in Tonga on 21 October and from Nukualofa to Auckland on 23 October. Approximately 2000 letters were flown to Auckland from Suva and 250 from Nukualofa.
From Fiji, September 1939
It seems that the mail flown from Suva to Auckland on 10 September was just the waiting ordinary mail and so little publicity was given, no special cachet was applied and the mail was carried at the normal surface rate. Most of the mail was not recognised as having been flown on this flight and so few covers have been preserved.
This was the first external airmail from Fiji.
According to the Airmails of New Zealand, Vol 2 , the mail was not backstamped on arrival in Auckland. However, this cover has an Auckland backstamp at 5pm on 10 September.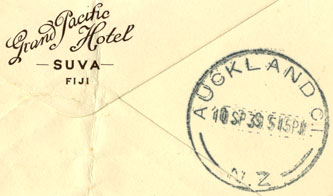 The manuscript on the front of the cover makes it clear that it was posted specially rather than being mail waiting for dispatch.
As the envelope bears the crest of the Grand Pacific Hotel in Suva, the sender would have been in a good position to have found out about the special airmail at the last moment which would account for its relatively late postmark of 3pm on 9 September.
From Nukualofa, Tonga October 1939
The flight from Nukualofa to Auckland took place on 23 October.
Most of the 250 items of mail flown from Nukualofa was mail waiting to be sent by surface and so have no special inscriptions. Some late mail was sent specially and, like this cover, was postmarked in Nukualofa at 4am in the morning on 23 October. The mail has a receiving mark in Auckland later that day at 4pm.
The sender of this item must have had reasonable warning of the proposed flight as the cover has a privately produced cachet stating that it was the first flight from Tonga to N.Z.

---
All scans were made by the author. Information on this page is taken from:
Airmails of New Zealand, volume 2 (1986) compiled by Douglas A Walker, published by the Air Mail Society of New Zealand