KLM flight to Australia, 1931
In May 1931, KLM added an experimental flight from Batavia to Melbourne to their regular Amsterdam - Batavia (Dutch East Indies) service providing a through service from Amsterdam to Australia. This prompted Imperial Airways to quickly plan two experimental flights from London to Australia and return.
The regular service by Fokker FVIIB/3m to Batavia left Amsterdam on 30 April. The schedule was: Budapest 30 April, Athens 1 May, Cairo 2 May, Baghdad 3 May, Jask 4 May, Jodhpur 5 May, Calcutta 6 May, Tavoy 7 May, Medan 8 May and arriving in Batavia on 9 May.
Mail from London was accepted and was flown to Amsterdam on 29 April. The rate to both Australia and New Zealand was 2s 6d.
Java to Sydney/NZ, 1931
The Batavia to Melbourne leg was on 12 - 19 May. It was privately sponsored and partly financed by a special 1G air mail stamp designed by the pilot Captain Pattist.
The plane arrived at Soerabaja 12 May, Koepang 13 May, Wyndham 14 May, Brunette Downs 15 May, Longreach 16 May, Brisbane 17 May, Sydney 18 May and Melbourne 19 May. Mail for Perth was off-loaded at Wyndham and flown to Perth by Western Australian Airways arriving there on 18 May.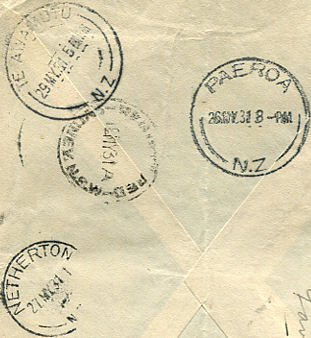 The example registered cover is postmarked on 6 May at Djokjakarta in central Java (not to be confused with Jakarta, the modern name for Batavia) to New Zealand. It was first taken to Soerabaja and flown from there to Australia. It was off-loaded at Sydney on 18 May and sent to New Zealand by sea.
The special 1 Guilden stamp was issued in both the Netherlands and the Dutch East Indies to pay the airmail postage for the flight. It is on the cover cancelled with the special Abel Tasman cachet dated 9 May in Soerabaja. Mail from Europe has a similar cachet, but dated 11 May and with Batavia Centrum rather than Soerabaja.
The cover was backstamped on arrival at Sydney on 18 May. Ulimaroa left Sydney on 22 May and arrived in Auckland on 26 May. As it was redirected, the cover has a series of New Zealand datestamps. The first is at Paeroa, near Auckland on 26 May. Others are on 27, 28 and 29 May.
The plane was a Fokker FVIIA/3m trimotor (like the Southern Cross) named Abel Tasman and that name is shown in the cachet. The pilot and co-pilot were J. Pattist and P. Moll who was to take first place for KLM in the handicap section of the MacRobertson Air Race in 1934.

Australia to UK via Amsterdam, 1931
The return flight left Melbourne on 22 May and arrived in Batavia on 27 May and Amsterdam on 6 June. No mail from New Zealand was sent on this flight.
The example cover was carried from Melbourne to the UK. The postage rate was 3s 6d.
The postmark on the cover is Shipmail Room, Melbourne on 22 May. As Melbourne is where the flight started, the cover was not carried by ship. The likely explanation is that the shipmail room was where external mails were handled and they would normally involve transport by sea.
A special purple cachet was applied in Melbourne.

MacRobertson Air Race, 1934
The next through airmail by KLM to Australia was in October 1934 when their entry in the MacRobertson Air Race was a Douglas DC 2 carrying passengers and an official mail. They took less than four days from England to Melbourne and came second in the Speed Race, but chose instead to take the first prize in the Handicap Race.
The official cover shown was issued by KLM and was postmarked on 15 October in the Netherlands and has an official cachet in red. The plane flew to England on 19 October ready for the race on 20 October.
The cover was backstamped at Melbourne on 24 October and is one of only about 50 addressed to New Zealand. It was carried there from Australia by surface mail and was backstamped Christchurch on 31 October.

---
All scans were made by the author. Information on this page is taken from:
Airmails of New Zealand, volume 2 (1986) compiled by Douglas A Walker, and The New Zealand Airmail Catalogue, (2nd Edition, 1994) by James Stapleton. Both are published by the Air Mail Society of New Zealand