The Full Face Queens
The Chalon Heads (also known as the Full Face Queens) were the first postage stamps issued in New Zealand. These classic stamps were first issued in 1855 and were not replaced until 1874.
The first printing of the 1d, 2d and 1/- values was in London and the stamps were issued in New Zealand in 1855. All subsequent printings were in New Zealand. The 6d was first issued in 1859, the 3d in 1863 and the 4d in 1865.
The stamps
Early issues were imperforate.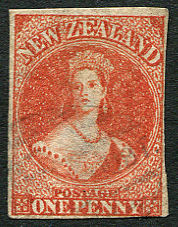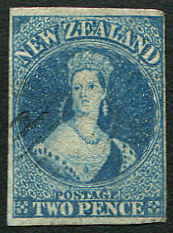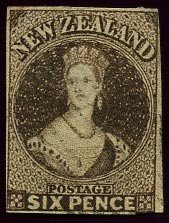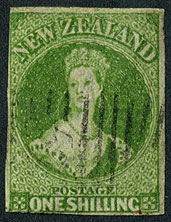 Stamps with semi-official perforations (perf 13) appeared in 1863 while stamps with official perforations (perf 12½) were issued in 1864. A second plate of the 2d blue was produced in 1865.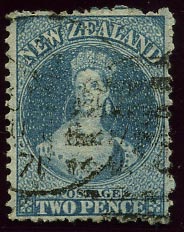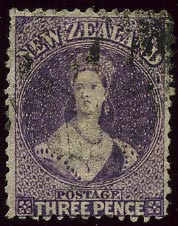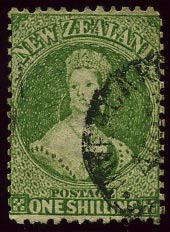 The fourpence was not issued until 1865. Its colour was changed from rose to yellow shortly after issue.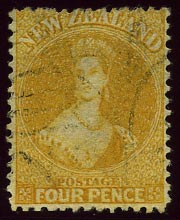 The colour of the penny, twopence and sixpence was changed in 1871. By this time, the penny plate was very worn.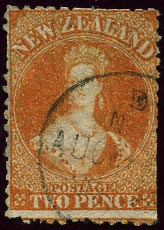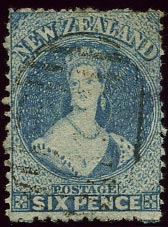 The number of Chalons printed was relatively small. As a comparison, the number of Penny Blacks sold in London on the first day (1st May 1840) was 600,000 which is approximately the same as the total number of 1/- Chalons printed in the 15 years from 1855 to 1870!
The design and the plates
The plates were produced by Perkins, Bacon & Co. in London.
The design is taken from an 1838 portrait of Queen Victoria by Alfred Chalon. (Hence these stamps are often referred to as the Chalon heads.) Edward Corbould made a water-colour sketch of part of the portrait and this was used by the engraver, William Humphrys. The background was produced using the Perkins Rose-engine which had earlier been used to produce the background for the Penny Black.
The stamps were laid down in 20 rows of 12. With the exception of the twopence, which had a new plate produced in 1865, only one plate was used for each value throughout the 19 years of use.
The watermarks
Most of the stamps were on paper with large star watermark. Exceptions are the Richardson prints from 1855 to 1861 on unwatermarked paper and the brief use of NZ watermarked paper in 1864.
Several unwatermarked provisional papers were used in the periods 1863-64 and in the final years.

---
The above information is taken from The Postage Stamps of New Zealand Vol 1, published by the Royal Philatelic Society of New Zealand in 1938. All scans were made by the author.