Health 1939-1942
The dies and plates of the 1939 to 1942 Health issues were prepared and recess printed by the Australian Note and Stamp Printer, Melbourne.
The designs were by S. Hall. All four issues were on Wiggins Teape paper, watermarked NZ and star. The perforation was comb perf 11.
1939 issue
There were two values with one plate for each value. The plates consisted of 192 stamps organised in four panes of 48.
The stamps were to be issued on October 2, but postage rates were increased the day before issue. The stamps were surcharged and issued on October 16.
1940 issue
The design was the same as the 1939 issue with the values changed so that there was no need for a surcharge.
The colour of the 2d was changed.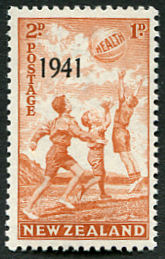 1941 issue
Again the same design was used. As paper supplies were in short supply due to the war, the unsold stamps from the 1940 issue, together with a small extra printing, were overprinted 1941.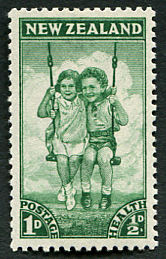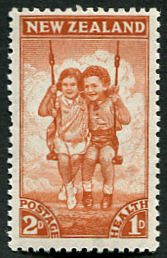 1942 issue
A new design was used although all other details were the same as in the previous three years.

Dates:
1939 issued Oct 16, withdrawn 29 Feb 1940
1940 issued Oct 1, withdrawn 28 Feb 1941
1941 issued Oct 4, withdrawn 28 Feb 1942
1942 issued Oct 1, withdrawn 28 Feb 1943
Numbers sold:
1939: 1d: 482,746; 2d: 516,046
1940: 1d: 284,756; 2d: 359,972
1941: 1d: 349,543; 2d: 434,855
1942: 1d: 720,042; 2d: 942,425
Postmarked May 1943
This cover shows the 1942 Health stamps postmarked on 12 May 1943 and is addressed to Malta.
After February 1942, mail to Egypt was only flown from New Zealand to Australia and the rate was 5d.
After being flown to Australia, this cover would be sent by sea to Egypt where a censor mark was applied along with a Cairo transit on 15 June. It would then be sent by sea from Egypt to Malta.

---
The above information is taken from The Postage Stamps of New Zealand Vol 2, published by the Royal Philatelic Society of New Zealand in 1950. All scans were made by the author.