Health 1943
The die and the plates were produced by Bradbury, Wilkinson & Co. who also recess printed the stamps.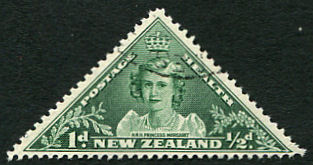 The 1943 design is triangular and shows the young princesses. Princess Margaret is on the 1d (plus ½d) and Princess Elizabeth on the 2d (plus 1d).
The paper was Wiggens Teape paper watermarked multiple NZ and star and the stamps had a perforation of 12. The stamps were printed in sheets of 120 (6 rows of 20).
Dates:
1943 issued October 1, withdrawn 29 Feb 1944
Numbers sold:
1d: 3,133,111
2d: 3,339,686
Plate blocks
The 1d (plus ½d) was from plates 4 and 5 and the 2d (plus 1d) from plates 3 and 6. The plate numbers are hard to see as they are partly cut away by the perforations.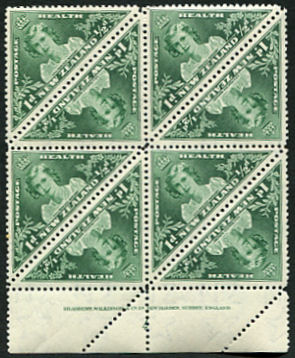 First Day Covers
This cover in red shows a cover postmarked in Hastings on the first day of issue 1 October 1943 and addressed locally. It was produced by the Federation of Health Camps and printed by John Dickinson & Co.

This version of the above cover is in brown and does not have the text souvenir Cover along the top.
It was postmarked in Wellington on the first day of issue 1 October 1943 and addressed to UK. It was also produced by the Federation of Health Camps, but the image is less well defined than the version in red.

Postmarked May 1944
This cover, showing the 1943 Health stamps is postmarked in Wellington on 1 May 1944, the first day of the 10d surcharge issue.
It is addressed to England and franked with 4 X 10d + 3d Health giving 3s 7d and so is 1d overpaid for the route: sea to Panama, air Panama to New York via Miami and then FAM 18 across the Atlantic on the 1942, 43, 44 summer route from New York to Foynes (Shannon) via Canada. It was then flown by BOAC from Shannon to Croydon.

---
The above information is taken from:
[1] The Postage Stamps of New Zealand Vol 2, published by the Royal Philatelic Society of New Zealand in 1950.
[2] Illustrated First Day Covers of New Zealand 1933-2000, Part 1: Health, Stephen Jones, July 2008.
All scans were made by the author.