Health 1936
The die and plates of the 1936 Health issue were prepared and printed by the Australian Note and Stamp Printer, Melbourne. The plates were made of chromium-plated copper.
The 1936 design was by J. Berry.
Each plate consisted of 192 stamps organised in four panes of 48 with the plate number appearing in each corner of the plate. Two plates were used in 1936.
After printing, the large sheet was split into four before distribution to post offices. The plate numbers appear in four different positions.
The issue was on Wiggins Teape paper, watermarked NZ and star and the perforation was line perf 11.
1936 plates 1 and 2
Dates:
1936 issued Nov 2, withdrawn 16 Jan 1937
1936 First Day Covers
A significant number of first day covers were produced privately in 1936, but there was no Post Office cover.
This pictorial first day cover from Oamaru shows the 1936 Health stamp postmarked in Oamaru on the first day of issue, 2 November 1936.

The second 1936 pictorial first day cover depicting the design from the earlier Smiling Boy issue shows the 1936 Health stamp postmarked in Christchurch on the first day of issue, 2 November 1936.
The cover includes the date of issue showing that this was publicised at least several days in advance.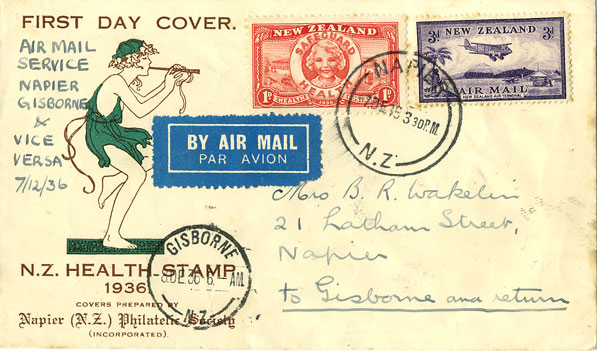 Postmarked December 1936: 1936 Health Stamp
Although this is a first day cover with the 1936 Health stamp, it was not postmarked in Napier until 7 December 1936.
East Coast Airways had set up a regular service between Gisborne and Napier in April 1935. It was suspended from April to December 1936 while Gisborne airport was improved. This cover was flown on the first flight of the resumed service.
It is franked with 4d as it was also sent on the return flight. The New Zealand air mail rate was 2d, 1d surface plus 1d air fee.

---
The above information is taken from The Postage Stamps of New Zealand Vol 1, published by the Royal Philatelic Society of New Zealand in 1938. All scans were made by the author.