Health 1935
The die and plate of the 1935 Health issue was prepared and printed by the Australian Note and Stamp Printer, Melbourne. The plates were made of chromium-plated copper.
The 1935 design was by S. Hall.
Each plate consisted of 192 stamps organised in four panes of 48 with the plate number appearing once in each pane. One plate was used in 1935.
After printing, the large sheet was split into four before distribution to post offices. The plate number appears in four different positions.
All three issues were on Wiggins Teape paper, watermarked NZ and star. The perforation was line perf 11.
1935 plate 1
The plate had numbers at each corner. When split into four panes, each pane had a number in one corner as shown below.
Dates:
1935 issued Sep 30, withdrawn 11 Jan 1936
1935 First Official Post Office First Day Cover
The first printed Health first day cover was not produced until 1933 (by the Kiwi Exchange Club), but none were produced for the 1934 issue as its first day of issue was not pre-announced.
In 1935 the Post Office produced an illustrated first day cover as part of a major publicity drive for Health stamps and the number of stamps sold was more than 4 times the 1934 number.
An example Post Office cover with a plate single and postmarked in Dunedin on the first day of issue (30 September) is shown here. They were sold at post offices with stamps attached for 3d - 1d postage, 1d health, 1d cover.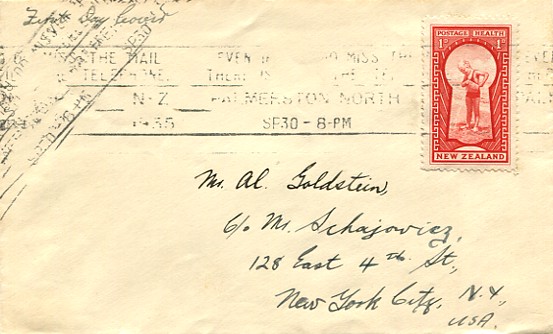 1935 Plain First Day Cover
Example plain first day cover postmarked in Palmerston North on 30 September 1930 and addressed to USA.
A number of different privately produced first day covers were produced in 1935 and some of these have the date of issue of the health stamps incorporated in the design, showing that, unlike the 1934 issue, the date of issue was announced several days in advance. However, it was 1936 before the production of privately produced first day covers really took off.

Postmarked April 1937: 1933 and 1935 Health Stamps
This registered cover shows the 1935 Health stamp postmarked in Dunedin on 14 April 1937 along with the 1933 Health stamp and the 1936 Anzac commemoratives.
The postmark is to commemorate the opening of the new Dunedin Chief Post Office. The building was recently converted into a hotel.
The cover is addressed to Grafton in Australia and is backstamped at Sydney on 24 April and at Grafton on 26 April. Thw Awatea left Auckland on 21 April and arrived in Sydney on 24 April.

---
The above information is taken from:
[1] The Postage Stamps of New Zealand Vol 1, published by the Royal Philatelic Society of New Zealand in 1938.
[2] Illustrated First Day Covers of New Zealand 1933-2000, Part 1: Health, Stephen Jones, July 2008.
All scans were made by the author.