Air Pageants 1932: Invercargill and Timaru
Special commemmorative covers were flown at Air Pageants held in Invercargill on 20 February and in Timaru on 9 April 1932.
In both cases the pilot was Capt. T.W (Tiny) White who signed all covers and the plane was a Hermes Spartan IV.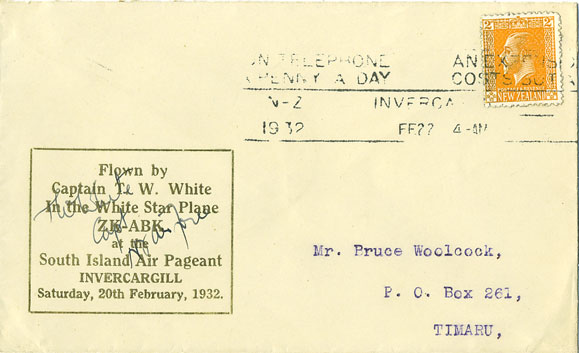 Invercargill
The covers were flown from Timaru to Invercargill and were then flown at the South Island Air Pageant on Saturday 20 February. 102 covers were posted that afternoon while 51 were not posted until 22 February.
The shown cover is one that was not posted until 22 February.
The covers all have an inscription in gold and are signed by Capt. White.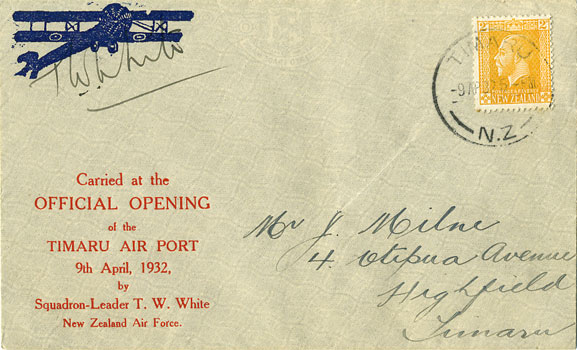 Timaru
The pageant on 9 April was to commemmorate the official opening of Timaru Air Port.
198 special covers were flown at the pageant and were then posted that afternoon in Timaru where they were postmarked at 3.25pm. The covers have a description of the event in red.
In the six weeks since the Invercargill Pageant, Capt. White had become a Squadron Leader in the New Zealand Air Force.

---
All scans were made by the author. Information on this page is taken from:
Airmails of New Zealand, volume 1 (1955) compiled by Douglas A Walker, and the New Zealand Airmail Catalogue, (2nd Edition, 1994) by James Stapleton. Both are published by the Air Mail Society of New Zealand