Union Airways, 28 June
On 28 June 1936, Union Airways made an experimental flight continuing the regular Palmerston North-Dunedin flight to Invercargill.
The return flight to Dunedin was also made on 28 June with the regular Dunedin to Palmerston North flight then taking place as normal on 29 June. Approximately 800 items were flown to Invercargill and 1600 items on the return from Invercargill.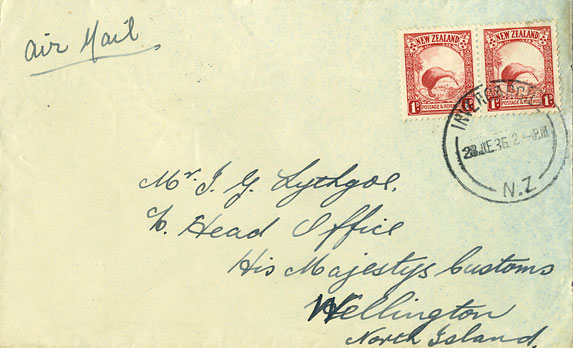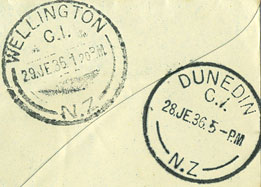 The cover was flown from Invercargill to Dunedin on the 28th and then on 29 June from Dunedin to Blenheim by Union Airways and from Blenheim to Wellington by Cook Strait Airways.
The backstamps showed that it had arrived at Dunedin by 5pm on the 28th and at Wellington by 1.20pm on the 29th.
A regular service between Dunedin and Invercargill was not set up until November 1944.

---
All scans were made by the author. Information on this page is taken from:
Airmails of New Zealand, volume 1 (1955) compiled by Douglas A Walker, and the New Zealand Airmail Catalogue, (2nd Edition, 1994) by James Stapleton. Both are published by the Air Mail Society of New Zealand