Railway Charges Stamps
The Railway Charges stamps replaced the earlier Railway Newspaper stamps in 1925.
Most railway parcels were paid for on arrival which resulted in accountancy problems. Stamps were issued on 31 August 1925 so that the cost could be prepaid. The initial values were: ½d, 1d, 2d, 3d, 6d, 9d, 1s 0d, 1s 6d, 2s 0d, 2s 6d and 5s 0d. An 8d value was added in July 1926 and a 10s 0d value in October 1928.
Initially, there was a 25% surcharge when stamps were not used, but this was unpopular and the surcharge was dropped in 1928. After that, the stamps were hardly used except for newspapers for which they remained in use until 1959.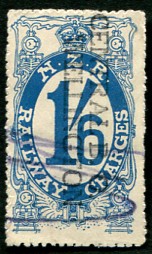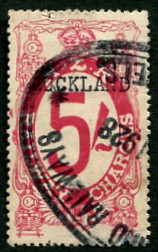 The stamps were overprinted with the name of the railway station in order to reduce fraud.
---
The above information is taken from The Postage Stamps of New Zealand Vol 6, published by the Royal Philatelic Society of New Zealand in 1977. All scans were made by the author.