Life Insurance
The New Zealand Government Life Insurance Department was opened in 1869 and started issuing its own stamps in 1891. All the designs have featured lighthouses.
The dies were engraved by A.E.Cousins and plates made at the Government Printing Office. The following values were issued: ½d, 1d, 2d, 3d, 6d and 1/- (1s).
The first issue was perf 12 x 11½ and was issued on rather poor quality paper in which the watermark has a 4mm gap between the NZ and star. This paper was also used for the second side-face issue and is often referred to as the insurance paper.
There was only one printing of the 3d, 6d and 1/- values, but several printings of the other values on paper with 7mm between the NZ and star and perforated 10, 11 and 11 x 10. In 1902-1903 they appeared on a paper with watermark sideways and perf 11.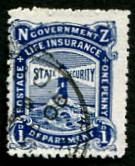 In 1905 (2d) and 1906 (1d) new plates were produced in which the VR was omitted. The 2d is rare (and therefore expensive). The watermark is sideways and the perforation is 14.
The stamps were withdrawn in January 1907 and replaced by the ordinary postage stamps overprinted Official.
New set 1913
In 1913, permission was again given for the Life Insurance Department to issue its own stamps.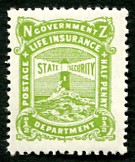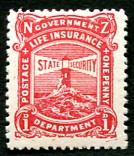 The 1½d value was not issued until 1917 and its colour was changed to orange brown in 1919. In 1920, the colour of the 2d was changed to yellow and in 1931 the 3d was changed from yellow-brown to chocolate.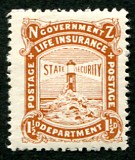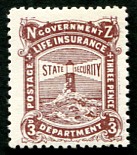 The papers and perforations followed those of the ordinary postage stamps. The initial issue was on De La Rue paper and perf 14x15. Cowan paper perf 14x15 was introduced for the ½d and 1d in 1925, and perf 14 for the ½d in 1927, the 6d in 1929 and the 1d, 2d and 3d in 1931.
Wiggins Teape single watermark paper was introduced for the ½d and 1d in 1936 and the 6d in 1937. Finally Wiggins Teape paper with a multiple watermark was introduced for the 1d in 1943, the 2d and 3d in 1946 and for the ½d and 6d in 1947.
The design was replaced in 1947 by a pictorial set showing different lighthouses.
---
The above information is taken from:
The Postage Stamps of New Zealand Vol 1 (1938).
A History of Government Life Postage Stamps J. W Brodie (1988).
Both are published by the Royal Philatelic Society of New Zealand . All scans were made by the author.