The Horseshoe Route
When Italy entered WW2 in June 1940, mail could no longer be flown through the Mediterranean by BOAC. The answer was the Horseshoe Route in which air mail between Australia and Britain was flown between Sydney and Durban in South Africa via Malaya, India and Egypt by Qantas / BOAC with the Cape Town - Britain leg being by sea. There were extensions from New Zealand (Auckland - Sydney by TEAL) and Hong Kong (Hong Kong - Bangkok by BOAC).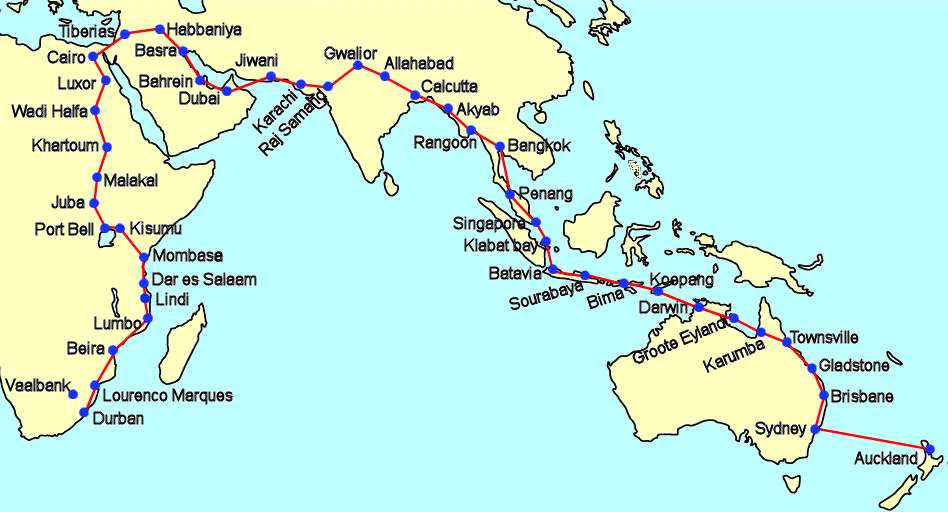 This page contains a detailed report on the Horseshoe Route from June 1940 until February 1942 when it was broken due to Japanese advances and was restricted to Calcutta - Durban. The report consists of 14 chapters each of which is available for download as a pdf file.

The Horseshoe Route: 1940 - 1942
The following chapters are freely available for download, but I would request that any use of the information is referenced as:
The Horseshoe Route: 1940 - 1942, R. Clark, www.nzstamps.org.uk/horseshoe, 2021.
The Horseshoe Route: 1940 - 1942, Robert Clark
Comments, corrections, additions etc. are very welcome and should be sent to nzsgb1 AT googlemail.com. (Replace the AT with the usual symbol.)
---
All scans were made by the author. Copyright © 2021 Robert Clark. For personal, non-commercial, charitable and educational use only.