Salonica to Athens by flying boat, April 1930
In April 1930, flights were resumed between London and Uskub via Cologne. The section between Uskub and Salonica remained by rail and the mail was then flown by Short Calcutta flying boat from Salonica to Alexandria via Athens and Mirabella in Crete. (According to Wingent, on occasion the mail was flown between Uskub and Salonica.)
Salonica to Athens by flying boat, April - August 1930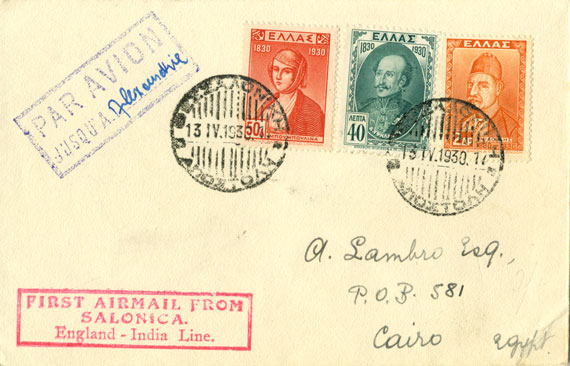 The example cover was flown on the first flight (IE 55) from Salonica to Alexandria and then taken to Cairo by train.
The flight left Salonica on April 15. The cover was backstamped Alexandria at 5.45pm on April 15 and then backstamped a couple of hours later at Cairo at 8pm.
It is likely that both the red first airmail cachet and the Jusqu'a cachet are not official, but were done privately.
First acceptance from Athens for Vienna, August 1930
Although the Imperial Airways route from Athens had been through Central Europe since November 1929, it was not until flight IW 69 on 2 August 1930 that mail from Athens was accepted for destinations in Central Europe [3].
Mail was flown from Athens on the first acceptance to Budapest, Vienna, Nuremburg and Cologne. This cover is one of 204 flown to Vienna. It is postmarked on 2 August in Athens.
It would be flown to Salonica on 2 August, go by overnight train to Uskub and then be flown on 3 August to Vienna via Belgrade, and Budapest. It has a Vienna receiving mark on 3 August.

First acceptance from New Zealand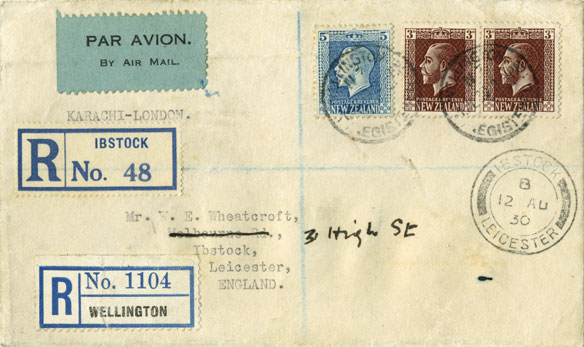 IW 69 also carried the first acceptance of mail from New Zealand for the Karachi - London route. Mail that was also flown Adelaide - Perth left New Zealand on 4 July 1930 and was flown from Karachi on IW 69 on 28 July. Mail that was only to be flown Karachi - London left New Zealand on 11 July and was flown from Karachi on the next flight IW 70 on 5 August, arriving in London on 11 August.
This cover from New Zealand to the UK is registered and so is franked with 11d, being made up of the postal rate of 8d plus 3d registration fee. It is postmarked 1 July in Wellington and has a receiving mark in Ibstock, Leicester dated 12 August 1930. That ties in with the flight arriving in London on 11 August.
It went by sea from Auckland to Sydney and then on the P&O mailboat which left Sydney on Wednesday 16 July. It was off-loaded at Colombo and sent by surface mail to Karachi.

Changed route: September 1930
The route was changed again in late September 1930 with the mail being flown between London and Nuremburg, by train to Vienna, flown to Nish (Serbia) and finally carried by train to Athens.
That was the end of Salonica as a major stop on the Eastern Route. However, although the timetable was changed on 23 September, Wingent reports that Lloyds List shows that the route was not changed from Salonica until almost a month later [1].
This cover from Calcutta is addressed to Leipzig and is postmarked on 5 December 1930 and so would have been flown from Karachi on 10 December. After being flown to Athens, it would go by rail to Nish and then be flown to Vienna.
As it has the cachet: Flughafen Halle/Leipzig, it is likely that it left the IA service in Vienna and was flown from there to Halle/Leipzig airport. It is correctly franked with 9 annas: 3 annas surface to a non-Empire plus 6 annas airmail surcharge.

Changed route: February 1931
From February 1931, the route was changed again and was now London - Paris by air and then from Paris to Athens being by train (the Simplon Orient Express) [1].
This cover is postmarked in Karachi on 27 February and joined the third flight on the new route IE100 (which had left Croydon on 21 February at Karachi) from where it was flown to Delhi on 2 March. It is backstamped in Calcutta on 3 March.
It was sent and is addressed to the well-known aerophilatelist Stephen Smith and signed by him on the back.

Experimental flight to Australia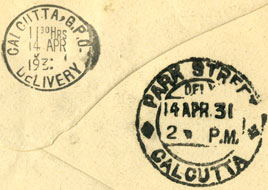 This was the route when the two experimental flights to Australia left Croydon on 4 and 25 April. This cover was carried on the London to Calcutta leg of the first flight IE 106. It arrived in Calcutta on 14 April where it was backstamped at the General Post Office at 11.30am.
It is franked with 1s 0d.

Return of Experimental flight to Australia
The next cover was flown on the return of the first experimental flight to Australia IW 109 and is franked with 12 annas. It is postmarked in Calcutta on 1 May and was flown from there on 4 May.
It is addressed to the UK and is backstamped Huddersfield on 15 May which fits in with the arrival at Croydon airport on 14 May.
The cover was produced by Stephen Smith who was responsible for many covers from India in the 1930s. His signature is on the back.

---
All scans were made by the author. Information on this page is taken from:
Airmails of New Zealand, volume 2 (1986) compiled by Douglas A Walker, and The New Zealand Airmail Catalogue, (2nd Edition, 1994) by James Stapleton. Both are published by the Air Mail Society of New Zealand
[1] Aircraft Movements on Imperial Airways' Eastern Route, Vol 1, 1927 - 1937, Peter Wingent, Winchester 1999.
[2] W.H. Legg, Aspects of the London-Karachi and the Perth-Adelaide Routes, Air Mail News, vol 44, pp 106-116, August 2001 and pp 178-183, November 2001.
[3] A S Newell, British External Airmails until 1934, (second edition) 1996.
[4] E B Proud, The Postal History of British Air Mails, 1991.