Northerly Route, November 1929 - January 1930
Imperial Airways had problems with the Italian government about flying over Italian territory and so, on 2 November 1929, the route was changed from the Mediterranean to a more northerly route through central Europe.
Changed route: Flown through Central Europe, 2 November 1929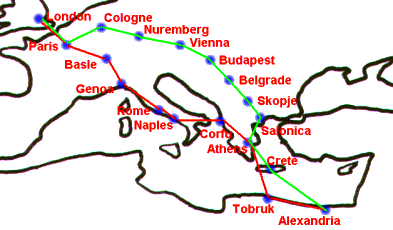 The new northerly Imperial Airways route was: London - Cologne - Nuremberg - Vienna - Budapest - Belgrade - Uskub (Skoplje) - Salonica - Athens. The plane on the first two flights in each direction was an AW Argosy while the plane on the third flights was a Handley Page W10 [1].
From Athens the scheduled route was via Suda Bay and Mersa Matruh to Alexandria by Short S8 Calcutta flying boats. However, due to the shortage of flying boats, many of the November services were either by sea or used Italian aircraft and went via Tobruk.
After the first three flights in each direction, the mail was carried by train between Athens and Central Europe.

This cover is postmarked on 6 November, 1929 and so was flown on the second all air service IW32 through Central Europe It left Karachi on 12 November and, after being diverted from Paris to Brussels due to bad weather, arrived in Croydon on 20 November [1].
As the first service IW31 which left Karachi on 3 November went from Alexandria to Athens by sea, this was the first ever flight on the Karachi - London service that was actually flown all the way.
This was also the first flight on a new timetable in which the departure day from Karachi had been changed from Sunday to Tuesday.
The cover is franked with the first Indian airmail stamps which had recently been issued on 22 October. However, it appears to be over-franked by 1 anna.

Third flight between Uskub and Salonika: November 1929
Most sources (e.g. [3]) state that due to the difficulty of flying between Uskub and Salonica, the route was changed after the two flights (IE32 & IE33) which left London on 2 and 9 November and that Cologne to Athens was by rail.
However, according to Wingent [1], Lloyd's lists show that IE34 was also flown. This cover is postmarked on 15 November and so would have been flown on that flight.

The service left London on 16 November and went by rail to Budapest and was then flown from Budapest to Athens by the Handley Page W.10 plane City of Pretoria on 18 - 20 November [1] on the third and last flight from Uskub to Salonica. It was then flown from Athens by an Italian aircraft to Cairo via Tobruk.
It arrived in Karachi 3 days late on 26 November. It then went forward to Calcutta by rail where it was backstamped on arrival on 29 November.
The airmail rate to India was reduced to 5d per ½ oz plus 1½d per oz surface rate starting with IE33. However, this cover is franked at the previous airmail rate of 6d per ½ oz plus 1½d surface.

Baghdad - Czechoslovakia
In the opposite direction, flights IW31, IW32 & IW33 leaving Karachi on 3, 12 and 19 November were flown all the way from Athens to London (including from Salonica to Uskub) [1]. The first two of these flights was in an AW Argosy while the third was the return flight of the Handley Page W.10 City of Pretoria.
This cover is postmarked on 20 November in Baghdad and joined the last of these services (IW33) on 21 November. It is addressed to Brno in Czechoslovakia where it was backstamped on 29 November.
It is correctly franked with 6 annas, made up of 3 annas surface plus 3 annas airmail fee [6].
It is likely that it was off-loaded at Vienna on 27 November and carried to Brno by surface mail.

Rail between Uskub and Salonika: November 1929
For flight IE35 leaving Croydon on 23 November, the Vienna - Athens section was by rail and for the flight IE36 on 30 November, Hochst - Athens was by rail [1]. The next cover joined the first of these flights.
The shown cover is from Solingen in Germany to Bombay.
It is postmarked 21 November and the routing instructions are for it to join the Imperial Airways service at Basel (Basle) on 23 November. Mail from Basle to Karachi had been accepted on the IA service since June 16.
Obviously, the recent change in route had not had sufficient publicity, but would be known to the postal authorities and, as Solingen is near Cologne, the cover was presumably sent there to join the Imperial Airways service IE35 that left London on 23 November.
It would then be flown from Cologne to Vienna arriving there on 24 November; go by train from Vienna to Athens; by an Italian aircraft via Tobruk to Cairo [1]; leave Cairo on 29 November and arrive in Karachi on 2 December. That itinary is compatible with the backstamp of 5 December in Bombay.
Changed route: December 1929
From 14 December (IE 38), the mail was flown from London to Cologne and then carried by rail from Cologne to Athens while, from early December, the mail from Athens went by rail to the Hook of Holland and then by sea and rail to London [1].
First acceptance Egypt - Greece
Because of the difficulty of flying over Northern Europe in winter, starting with flight IW 35, the mail went by rail all the way from Athens via Cologne to the Hook of Holland. The flight left Karachi on 3 December and arrived in Athens on 7 December. It left Athens on the evening of Sunday 8 December and arrived in London on the morning of Wednesday 11 December.
IW 35 was also the first acceptance of air mail by Imperial Arways from Egypt to Greece. This cover is postmarked in Egypt on 5 December and backstamped in Athens on 7 December. It was flown from Alexandria to Athens via Mersa Matruh and Suda Bay on 7 December [1].
The postage rate was 10 mil air rate plus 15 mil surface rate and so this cover is over-franked by 2 mil.
Mail was also accepted on this flight from Egypt to Crete.
According to Wingent [1], bad weather in Europe and damage to three Calcutta flying boats meant that virtually no two journeys in November - December 1929 took the same route.

Extension to Delhi
First Flight, 21 - 31 December 1929
The first London - Karachi service to be officially extended to Delhi was IE 39 which left Croydon airport on 21 December 1929. It was flown to Cologne and then went by rail to Athens.
However, as the extension was not officially announced until after the flight had left the UK [3], mail from London is scarce. This cover is obviously philatelic in nature and so must have been sent 'on spec' knowing that the extension to Delhi was imminent.
The air mail rate was the same as that to Karachi - 5d air fee plus 1½d. ordinary postage.
The DH 66 City of Delhi was two days late and arrived in Karachi on 30 December [1] with the mail being flown Karachi - Delhi on 31 December. Mail was backstamped on arrival in Delhi.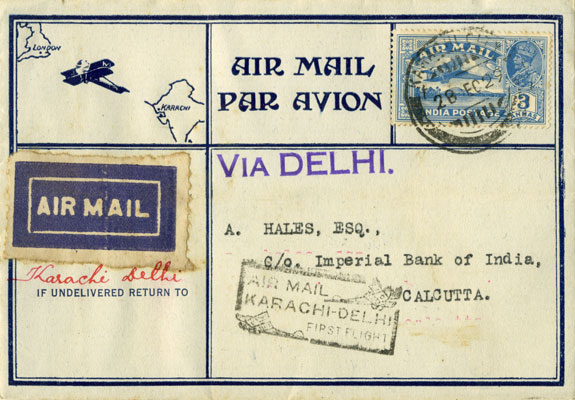 The next example was flown from Karachi to Delhi. It has a Karachi-Delhi First Flight cachet and is postmarked Karachi 28 December ready for the scheduled departure on 29 December.
From Delhi it was carried by surface mail to Calcutta where it was backstamped on 2 January 1930. It is franked with 3 annas.
Lloyd's List shows that the DH 66 City of Baghdad had flown from Karachi to Delhi on 27 December [1] to be in position for the first Delhi - Karachi airmail. There is some debate as whether the 27 December flight carried any of the mail for Delhi which had left London on 14 December and had arrived in Karachi on 24 December,

First Return Flight, 30 December
The first return flight from Delhi left on 30 December [1, 2], the plane being the DH 66 City of Baghdad. This cover was flown on the Jodhpur - Karachi leg of the return flight and has a Delhi-Karachi First Flight cachet.
The postmark is 9.30 am at Jodhpur on 30 December and the backstamp shows that it had arrived in Karachi by 6pm that day.

This cover was flown on the Hyderabad - Karachi leg.
The route between Karachi and Delhi was via Hyderabad and Jodhpur although the stop at Hyderabad was only scheduled on the outward flights [1].
However, this cover shows there was a stop at Hyderabad, at least on the first flight.

First announced flight, 28 December, 1929 - 5 January, 1930
The shown cover is postmarked 24 December and was flown from London on IE 40, the first announced service to Delhi, leaving London on 28 December, arriving in Karachi on 5 January and Delhi on 7 January[1]. It was flown from Croydon to Cologne and then went by train to Athens.
The cover has an an Imperial Airways London backstamp and a Delhi backstamp of 7 January 1930. On the front, there is a By Delhi Air Service cachet in grey blue.
With the official announcement, the postal rate to Delhi was increased to an air fee of 7d per ½ oz in addition to the surface rate of 1½d. The cover is correctly franked with 8½d.

From Australia, December 1929
Mail from Australia was accepted for the Karachi - London airmail from December 1929 with the first flight from Karachi being IW 39. That was the first service that had originated in Delhi.
This cover is postmarked 14 December 1929 in Melbourne and has the manuscript Australia - Karachi - London. It was flown Adelaide - Perth and then from Karachi on the first acceptance from Australia.
It would have been carried overnight on Saturday 14 December to Adelaide and flown from there to Perth on 15 - 16 December where it connected on Monday 16 December with the mail steamer for Colombo [2]. It was then taken by surface to Karachi from where it was flown on 30 December arriving in London one day late on 9 January [1]. There is an inscription on the back confirming the arrival date. The Athens to London section was by train via Cologne and the Hook of Holland. Surface mail sent from Perth on 16 December was due in London on 12 January.
It is franked with 1s 3d in stamps. The rate was 3d Adelaide - Perth airmail, 6d Karachi - London airmail and 1½d surface postage plus 3d registration fee and so it appears to be overfranked by 1½d.
Early January 1930
This cover is postmarked in Bournemouth on 10 January. It would have been flown on IE 42 that left Croydon airport on 11 January. This was the last flight before the route to Athens was entirely by train and boat-train.
According to Wingent [1], the flight from Athens to Alexandria was via Spinalonga which is an island off Crete. the flight was two days late in arriving in Alexandria and three days late arriving in Karachi which was reached on 21 January.
It is only franked with 7½d which was less than the required postage to Delhi of 8½d and so it would have been sent from Karachi to Lucknow by train. There is a Lucknow arrival backstamp on 24 January.
Note that the By Air Mail instructions are crossed out by a handstamp of two parallel magenta lines that was applied in Karachi to indicate that the air part of the journey had been completed. This handstamps seems only to have been applied in early 1930 and is also known in black and violet. The normal Karachi handstamp had the lines much closer together [5].


This cover is postmarked on 11 January in Bombay and would have been carried to Karachi by surface. It is then likely to have been flown on the flight IW 41 that left Karachi on 14 January.
Wingent [1] gives no further details after that service left Alexandria on 18 January, but it would be expected to arrive in London on 22 January. This was the last service before the route changed with IE 43 and IW 42.
It is correctly franked with 8 annas.

Further changes: Jan 1930
There was a further change in the middle of January 1930 and the London - Athens route was entirely by train while, in the opposite direction, Athens - Paris was by train. The train in both directions was the Simplon Orient Express which went between Paris and Athens. Athens - Alexandria was now via Mirabella in Crete [1].
---
All scans were made by the author. Information on this page is taken from:
Airmails of New Zealand, volume 2 (1986) compiled by Douglas A Walker, and The New Zealand Airmail Catalogue, (2nd Edition, 1994) by James Stapleton. Both are published by the Air Mail Society of New Zealand
[1] Aircraft Movements on Imperial Airways' Eastern Route, Vol 1, 1927 - 1937, Peter Wingent, Winchester 1999.
[2] W.H. Legg, Aspects of the London-Karachi and the Perth-Adelaide Routes, Air Mail News, vol 44, pp 106-116, August 2001 and pp 178-183, November 2001.
[3] A S Newell, British External Airmails until 1934, (second edition) 1996.
[4] E B Proud, The Postal History of British Air Mails, 1991.
[5] I McQueen, Jusqu'a Airmail Markings, 1995 Supplement, Dartford, Kent, 1995.
[6] D B Armitage and R I Johnson, Iraq Postal History 1920s to 1940s, 2009.