IA London - Karachi, First Flight 1929
A major step in providing an airmail service between New Zealand and the UK was the weekly Imperial Airways London to Karachi service which started on 30 March 1929. The journey took 7 days.

The first flight
This cover was carried on the first flight from Croydon Airport, London to Karachi and then on to Calcutta by surface mail.
The cover is postmarked 28 March 1929 and was flown from London on Saturday 30 March arriving in Karachi on the following Saturday, April 6. It was backstamped on arrival in Calcutta on April 9.
The postage rate was 6d per ½ oz air fee plus surface (empire) postage of 1½d per oz. The cover has the postage for 1 oz, i.e. 1/1½.

The route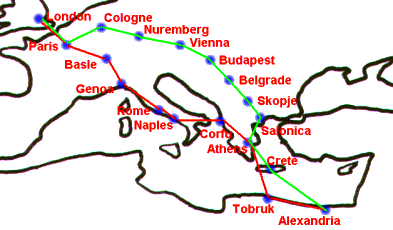 The flight from London was via Paris to Basle on Saturday March 30 by the AW Argosy, City of Glasgow and then by overnight train to Genoa. The flight from Genoa to Alexandria from March 31 to April 3 was by the Short Calcutta flying boat City of Athens. The route was:
Sunday March 31: Genoa - Rome - Naples;
Monday April 1: Naples - Corfu - Athens;
Tuesday April 2: Athens - Suda Bay (Crete) - Tobruk;
Wednesday April 3: Tobruk - Alexandria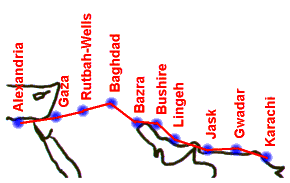 The route from Alexandria to Karachi followed the existing route to Basra and was then via Persia.
The DH 66 Hercules, City of Jerusalem, flew from Alexandria to Gaza on Wednesday 3 April and then to Baghdad on Thursday 4 April. It was scheduled to fly on to Basra on 4 April and left Baghdad, but was forced to return due to a sandstorm [3]. On 5 April, it flew via Basra, Bushire and Lingeh to Jask and then on 6 April via Gwadar to Karachi.
The magazine Flight of 11 April 1929 gives a brief account of the outward flight and the first stage of the return flight including the important passsengers. It should be noted that the account was published before the return flight arrived in London and some of the dates differ from those given above [4].
Intermediate Flights
a) London - Baghdad
This cover was flown from London to Baghdad arriving on 4 April although it was not backstamped until 5 April.
The postage rate to Iraq was 4½d per ½ oz airmail plus 2½d surface (foreign) postage and so the cover is correctly rated at 7d.

b) London - Tehran
The next cover is addressed to Tehran. It was flown to Baghdad where it was backstamped on 4 April and was then carried from Baghdad to Tehran by surface.
There is a Tehran backstamp on 9 April which is presumably when it arrived in Tehran and a Tehran postmark on the front (also 9 April) which was applied when it began its return journey to the UK by surface mail.
It is franked with 7d made up of 2½d surface and 4½d airmail.
The first airmail from Baghdad to Tehran was on 13 April and was operated by the German company Junkers Luftverkehr Persien. It gave a connection with the IA service.

c) Athens - Cairo
This cover was postmarked in Athens on 1 April 1929 and flown on the Athens to Alexandria leg of the first airmail.
It was flown from Athens to Tobruk on 2 April and on to Alexandria on 3 April. It was backstamped on 3 April at both Alexandria and Cairo.
The journey from Alexandria to Cairo was by rail.

To Destinations beyond India
Although destinations beyond India were not announced for the first flight, and official first acceptances came later, covers to countries such as Australia, Malay and New Zealand were accepted.
a) To New Zealand
A few letters for New Zealand were carried on the first flight, but are very rare. In fact, this is the only cover that has been reported.
This registered cover to New Zealand is rated at 9½d as the surface rate for printed matter was only ½d. (The registration fee was 3d. and the air fee 6d.)
The first official acceptance of mail for New Zealand by this service was in August 1929. The first acceptance of mail from New Zealand was in July 1930.

b) To Malaya
The next cover is addressed to Malacca in Malaya. It was postmarked in the UK on 28 March and is backstamped in Karachi on 6 April. A manuscript on the back states that it arrived in Malacca on 17 April.
A letter in the Singapore Free Press and Mercantile Advertiser of 8 May 1929 reports the arrival of the mail in Singapore on 16 April. However, an earlier report on 11 April 1929 stated that: "the British Post Office is not yet able to accept correspondence for transmission by Air to or from countries beyond India." It is useful for collectors that such official pronouncements were ignored and mail was sent!
The rate was 6d airmail plus 1½d empire surface rate.

First Return Flight
This cover was postmarked in Karachi on 6 April and flown on the first return flight which left Karachi on 7 April, 1929 on the DH 66, City of Baghdad. It flew to Jask and was then flown Jask - Baghdad on 8 April before flying Baghdad - Gaza - Cairo on 9 April although Cairo was not on the official schedule [3].
It was then flown Cairo - Alexandria on 10 April, but was not flown Alexandria - Athens until 11 April. It was scheduled to fly Athens - Naples on 12 April, and Naples - Genoa on 13 April before going by night train to Basle arriving early in the morning of 14 April. It was then flown Basle - Paris - London on 14 April.
The cover seems to be overfranked with 15 annas 9 pies. (There are 12 pies in an anna.) The air fee was 6 annas per ½ oz plus surface rate of 2 annnas per oz and so even if the letter weighed more than ½ an oz, the rate would be 14 annas.

Intermediate acceptances and destinations
from Djask
This cover joined the first return flight at Jask, in Persia (Iran) and is postmarked Djask (i.e. Jask) on 7 April from where it was flown on 8 April.
On arrival in Liverpool, it was redirected presumably in order to get the Liverpool postmark of 15 April. That ties in with a London arrival of 14 April.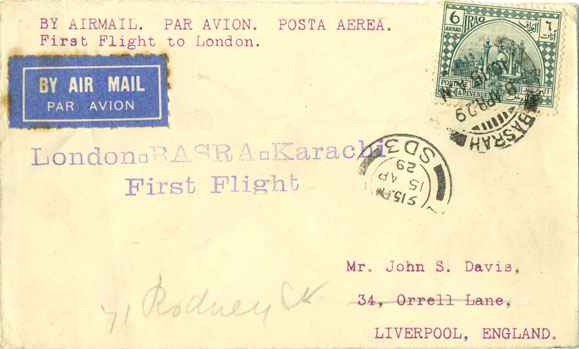 from Basra
The next cover is to the same address as the Djask cover, but joined the flight in Basra (Iraq) later on 8 April. It is postmarked Basrah on 8 April and again redirected on 15 April on arrival in Liverpool although, interestingly, with a different time from the previous cover.
It is correctly franked with 6 annas, made up of 3 annas surface plus 3 annas airmail fee [5].
Apparently the cachet London Basra Karachi First Flight is official rather than being privately applied.

from Alexandria
This cover from Alexandria is also to Davis in Liverpool and has the same 15 April Liverpool redirection mark as the Djask cover.
It is postmarked Alexandrie on 10 April and was flown from there to Athens on 11 April.
It is franked with an attractive Egypt airmail stamp. The postage rate from Egypt to the UK was 27 mil made up of an air fee of 17 mil per 20 grm and a surface rate of 10 mil [3].

---
All scans were made by the author. Information on this page is taken from:
Airmails of New Zealand, volume 2 (1986) compiled by Douglas A Walker, and The New Zealand Airmail Catalogue, (2nd Edition, 1994) by James Stapleton. Both are published by the Air Mail Society of New Zealand
[1] A S Newell, British External Airmails until 1934, (second edition) 1996.
[2] E B Proud, The Postal History of British Air Mails, Proud-Bailey, 1991.
[3] Aircraft Movements on Imperial Airways' Eastern Route, Vol 1, 1927 - 1937, Peter Wingent, Winchester 1999.
[4] Airisms from the Four Winds: India Airmail Arrives, Flight, 11 April 1929, p299, OFFICIAL ORGAN OF THE ROYAL AERO CLUB OF THE UNITED KINGDOM.
[5] D B Armitage and R I Johnson, Iraq Postal History 1920s to 1940s, 2009.