Basra - Cairo Air Mail
Imperial Airways took over the RAF Baghdad - Cairo service in January 1927 and extended it to Basra. This was the first step in the route that would, by 1940, extend from the UK to New Zealand.
Imperial Airways used DH 66 Hercules aircraft. The first flight from Basra was on January 7 while surface mail leaving London on January 6 connected with the first flight from Cairo on January 12. The service was fortnightly until April when it became weekly.
It had been expected that the air route would be extended to Karachi after a short time, but there were problems in negotiating flying rights over Persia and so the extension was delayed until 1929.
From UK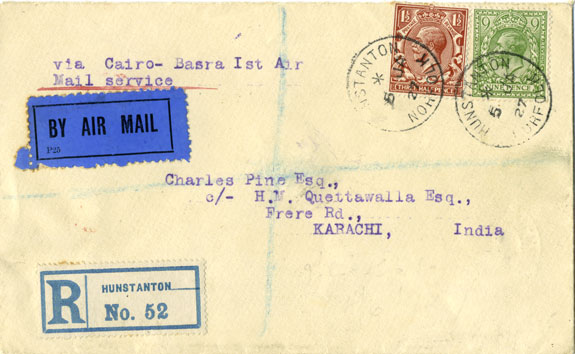 First flight
This cover is postmarked in Norfolk on 5 Jan 1927 and was in the first acceptance from London on 6 January. It would be taken to Marseilles by surface and from there to Port Said by P & O steamer which usually arrived on a Wednesday morning so that passengers and mail could be railed to Cairo for the flight [3].
The cover was flown from Cairo on Wednesday 12 January. The timetable in Wingent [1] shows that the mail left Cairo at 14.00 and arrived in Gaza at 17.00. It was then flown on Thursday, leaving Gaza at 8.00 and, after a one hour stop at Rutbah, arriving in Baghdad at 16.10. Baghdad to Basra was on Friday leaving at 8.00 and arriving at 11.05 although Proud [2] lists the arrival date of the first flight to be on Saturday 15 January.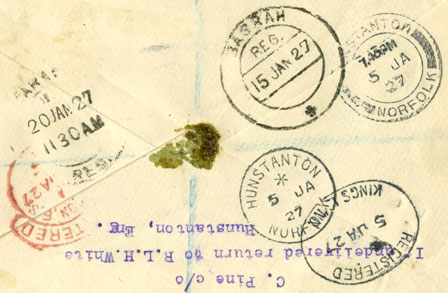 As a registered cover, it has a large number of backstamps: Hunstanton and Kings Lynn on 5 January, Basrah on 15 January and Karachi on 20 January.
It has the correct franking to India of 10½d, made up of 6d per oz air fee, 1½d ordinary postage and 3d registration.
The timetable changed in April when the service became weekly. The time was reduced from three to two days with Gaza to Basra being completed in one day.

New weekly timetable, April 1927
The next cover is postmarked Dulwich, and backstamped London, on 16 June and according to Proud [2] left London on that day.
It is addressed to Bombay and was flown from Cairo on 22 June. The Basrah arrival stamp is indistinct, but appears to be on 23 June although Proud lists the arrival data as 24 June. It has further Karachi and Bombay backstamps on 30 June and 2 July respectively.
It has the correct franking to India of 7½d.

From Basra
This cover was postmarked in Bombay on 21 July and there is a Basrah transit mark on 29 July. It has an unusual black on yellow airmail etiquette.
It was carried from Bombay to Basra by surface mail, from Basra to Cairo (via Baghdad and Gaza) by airmail on 30 - 31 July [1] and then by sea from Port Said to Marseilles and from there to London.

The next three covers all have the handstamp BY AIR in a double circle which was first used on 15 September 1927.
The first is endorsed Via Basra - Cairo Air Mail.
Unusually, the stamps were applied on the back of the envelope. Apparently this was to help seal the envelope which could become unstuck in the high humidity.


The cover is postmarked Bombay on 26 September 1927, Karachi on 28 September and Basrah on 7 October. It was flown from Basra to Cairo on 8 - 9 October.

The second is a registered letter and unusually has a dark red airmail etiquette rather than the normal dark blue.
It is postmarked Bombay on 10 December 1927 and, as a registered letter, has a Cricklewood receiving mark on 25 December. It was backstamped at Basra on 16 December although the timetable in Wingent suggests that it should have left Basra on 15 December.
A winter timetable had been introduced which meant that Cairo - Baghdad was now flown in one day.

The third cover to the UK is postmarked Bombay on 9 February 1928. It carries Queen Victoria, Edward VII and George V stamps.

It was backstamped Basrah on 17 February and flown Basra - Cairo on 18 - 19 February [1].

From Malta
The next cover is from Malta to Bombay and has the routing instructions Via Baghdad and Karachi. It is postmarked on 17 May 1928 in Malta.
It was backstamped in Cairo on 23 May and in Bombay on 2 June.
It would have been taken by sea from Malta to Egypt before being flown Cairo - Baghdad - Basra on the flight that left Cairo on 24 May. The rate from Malta to India was 1½d surface plus 6d per oz airmail fee.
The first acceptance of mail from Malta by Imperial Airways was on 1 April 1928 which is when the 6d stamp with the AIR MAIL overprint was first issued.

---
All scans were made by the author.
[1] Aircraft Movements on Imperial Airways' Eastern Route, Vol 1, 1927 - 1937, Peter Wingent, Winchester 1999.
[2] The Postal History of British Air Mails, E B Proud, 1991.
[3] A S Newell, British External Airmails until 1934, (second edition) 1996.