Eight pence
The 8d was issued on single watermarked paper on 1 May 1935 and on multiple watermarked paper in June 1936. Both issues were perforated 14x13½ and the watermark was sideways.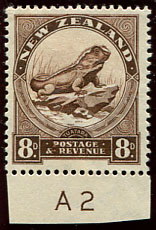 The first plate was numbered A2 which appeared under the second stamp in the bottom row. The plates had 160 impressions in 16 rows of 10.
Stamps from plate 3 from a plate numbered 3 were issued in July 1939 and were also perforated 14x13½ on paper with an upright watermark. The plate number 3 appears under the ninth stamp in the bottom row.

Blitz perforations
Plate 3 was handed over to Waterlow in September 1940 and 52,500 sheets were printed and returned to De La Rue for perforation.
7,500 sheets were salvaged from the December fire and eventually returned to Waterlow in April where they were perforated 12½. A further 38,700 sheets were printed and perforated 12½ at this time.
They were issued in July 1941. There does not seem to be any way to distinguish the two printings.
The 8d overprinted Official perforated 12½ was issued in August 1942.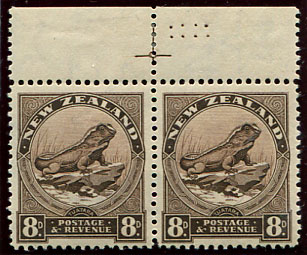 While the plates were at Waterlow, rows of dots were added to the selvedge apparently to indicate the shift in which the printing took place. As the significance of these shift dots was not widely realised by collectors at the time, surviving blocks are scarce.
Printed by De La Rue
The plates were returned to De La Rue and stamps were issued in July 1942 printed on coarse paper from plate 3 and from a new plate 4. The perforation was 14x14½ and the watermark was sideways.
The 8d plate 3 perforated 14x14½ was overprinted Official and issued in August 1945.
The 8d was replaced by the George VI definitive on 1 May 1947.

---
The above information is taken from The Postage Stamps of New Zealand Vol 1 and 2 published by the Royal Philatelic Society of New Zealand in 1938 and 1950. All scans were made by the author.