Penny Revenue: 1878
A new design of the 1d revenue stamp was issued in 1878. The design was based on the Great Britain Inland Revenue stamp.
The die was engraved by W.R.Bock and A.E.Cousins. The plate had 240 impressions in four panes of 60 and the stamps were printed at the Government Printing Office in Wellington.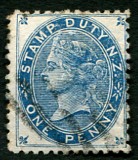 The 1d lilac was issued on 15 June and was replaced by the 1d blue on 14 December 1878. Both stamps were on paper watermarked NZ and star and were perf 12 x 11½.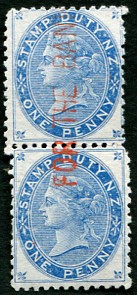 In February 1882, it was announced that the 1d revenue stamps could be used postally and that has greatly increased the interest in (and cost of) these issues. Very few of the 1d lilac were actually postally used, but that has not stopped many optimistic collecters claiming that the stamps in their collection are amongst this small number.
The vertical pair of the 1d blue shows a marked discontinuity in the perforations in the two stamps indicating that the perforation machine was re-adjusted between perforating the two rows.
In April 1882 the second side-face stamps were issued. As they could be used for both postal and revenue purposes, there was no longer any need for low-value revenue stamps.
---
The above information is taken from The Postage Stamps of New Zealand Vol 6, published by the Royal Philatelic Society of New Zealand in 1977. All scans were made by the author.