George VI Official Definitives
The various values were overprinted official as soon as they were issued: the ½d, 1d and 1½d values in 1938, the 3d in 1941 and the other values in 1947.
The 5d, 1s 3d and 3s were not overprinted.
The stamps
Only the ½d, 1d and 1½d values were issued in 1938.
The 1½d value was issued on 26 July for the Empire Airmail Scheme by which letters could be sent by air to any part of the British Empire for the low cost of 1½d. It can therefore be regarded as an airmail stamp although this was only until September 1939 when airmail rates were increased by a factor of twelve to 1/6 due to the outbreak of World War II.
Due to the increase in postal rates in World War II, the stamps were now of the wrong colour as laid down by the UPU. The 1d in green was issued overprinted in 1941 along with a 3d value. The ½d in chestnut was not issued overprinted until 1946 and the 1½d until 1951.
The 2d, 4d, 6d, 8, 9d, 1s and 2s values were issued in 1947 and the overprinted values were issued at the same time.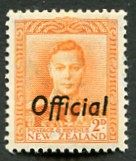 ---
The above information is taken from The Postage Stamps of New Zealand Vols 2 and 4, published by the Royal Philatelic Society of New Zealand in 1950 and 1964. All scans were made by the author.