End of Horseshoe Route
When Japan entered World War II in December 1941, the Horseshoe Route was immediately under threat.
At the same time as the attack on Pearl Harbor both Siam and Malaya were attacked by the Japanese on 8 December and Siam surrendered later that day.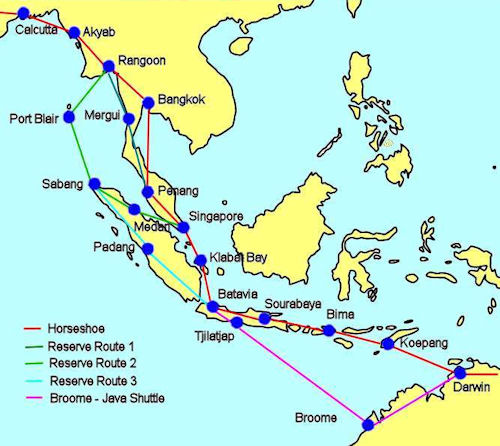 Three reserve routes had been planned between Rangoon and Batavia, first to avoid Bangkok and then later to also avoid Malaya.
The speed of the Japanese advance meant that Reserve Route 1 which was: Rangoon - Mergui (an island off Burma) - Penang - Singapore - Batavia was only used once.
After 8 December, Reserve Route 2 was used which was Rangoon - Port Blair (in the Andaman Islands in the Bay of Bengal) - Sabang (Sumatra) - Belawan (the port of Medan, Sumatra) - Singapore - Batavia.
After 30 December, Reserve Route 3 was used and Malaya was also avoided [4]. It was Rangoon - Port Blair - Sabang (Sumatra) - Padang (West Sumatra) - Batavia although a shuttle service operated between Batavia and Singapore.
KLM also set up a reserve route that was Rangoon - Sabang - Medan - Batavia [15].
In early February the route between Batavia and Darwin was changed so that it was via Tjilatjap and Broome. The route was cut in February 1942 and after that only operated between Durban and Calcutta. Singapore fell on 15th February 1942.
Reserve Route 2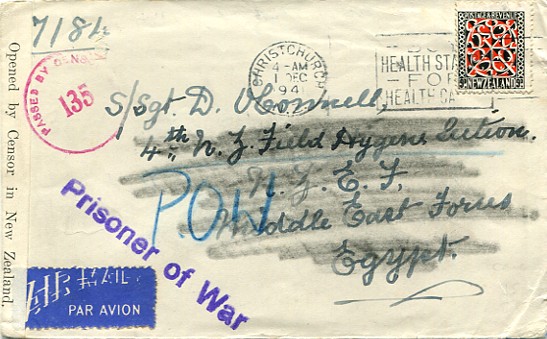 Cover postmarked in Christchurch on 1 December 1941 and addressed to a Sergeant in the NZ forces in Egypt.

There were trans Tasman flights on 3rd and 6th December [16]. As it would have been delayed by being opened by the censors in Christchurch (no 135), it was most likely flown to Sydney on 6th December and then Sydney - Cairo on WS 146 on 8 - 16 December which was the first flight on Reserve Route 2. It is backstamped in Egypt on 18 December.
The cover has the address scored out and has in manuscript and a Prisoner of War handstamp.

This cover has an Egypt Postage Prepaid postmark. with number 22 which had been allocated to the No. 1 General Hospital [5].
The postmark is 11 December 1941 and so it went by Reserve Route 2.

It was redirected to Christchurch after arrival in Wellington and has a Wellington postmark on 29 December.
It may have been flown on NE 146 which left Cairo on 14 December and arrived in Sydney on 22 December. There was a flight to New Zealand before Christmas, but that mail may not have been delivered until after the Christmas break which explains why it was not redirected until 29 December.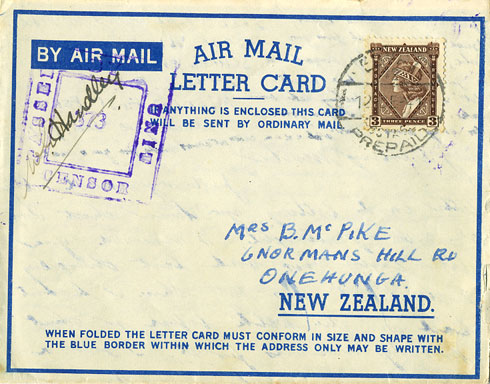 Flown by KLM?
For the last few months of the Horseshoe Route most of the forces mail from Egypt was flown by KLM.
The letter in the card is dated 12 December 1941 and so this card went either by Reserve Route 2 or by KLM.
Cards produced specially for the New Zealand forces had New Zealand already printed in the address panel as shown in this example.
KLM obviously had similar problems to BOAC and flew alternative routes.

Reserve Route 3: avoiding Malaya
The letter in this card is dated 20 December 1941 and the indistinct postmark appears to be 21 December. The next flying boat flight left Cairo on 27 December and went by Reserve Route 3. However, this card is likely to have been flown to Batavia by KLM.
The route was finally broken in early February 1942 and after that it was only between Durban and Culcutta.
From 5 February 1942, airmail from the UK for Australia and New Zealand was sent by air to the USA and then from the USA by sea [6]. The average time taken was nine weeks!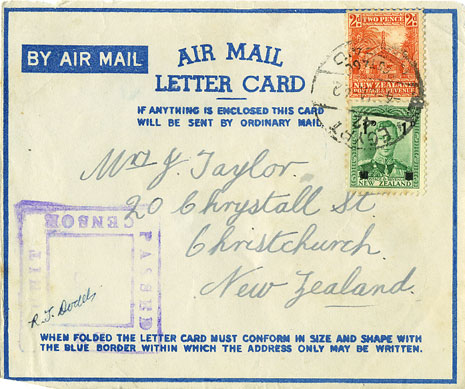 Route 3, in which Malaya was also avoided, was used after 30 December. This next card is postmarked Egypt 42 Postage Prepaid on 4 January 1942 and would go by Route 3 or by KLM.

Via Tjilatjap and Broome
On 23rd January, New Zealand troops in Egypt were warned to restrict their use of air mail and the air mail dispatch from Cairo on 25th January arrived in New Zealand on 19th February [3]. It would have been sent on NE 158 which left Cairo on 26 January and arrived in Sydney on 12 February.
This cover is postmarked in Egypt on 23rd January 1942 and so may have been on that flight.
NE 158 was the first service routed via Tjilatjap and Broome after Reserve Route 3 was no longer possible.
The final dispatch of air mail from troops in Egypt to New Zealand via the Horseshoe Route was on 5 February and arrived in New Zealand on 25 February. It presumably went by NE 160.
From the middle of February, the Horseshoe Route only operated between Durban and Calcutta.

Mail from Durban sent by sea, December 1941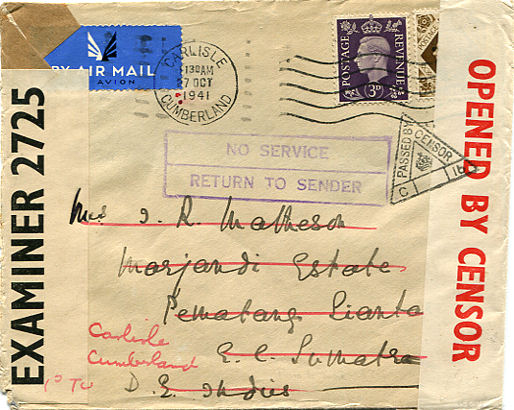 From late December, ordinary air mail was no longer sent from Durban by air for destinations east of Cairo, but was instead sent by sea.
This cover to the Dutch East Indies is postmarked in Carlisle on 27th October and has a purple handstamp No Service / Return to Sender and it has been redirected back to the sender. Mail was dispatched from London on the 4th of November [14] and would arrive in South Africa around the middle of December.

The cover has a Bombay censor mark and so it was sent by sea from Durban to Bombay where it likely arrived in early February. Although the last dispatch from Karachi was on 7th February, it seems unlikely that this cover was on it.
The cover was backstamped on return to London on 5th May 1942, more than six months after it had been sent. Not at all clear what happened to the cover between February and May.

By sea from South Africa
This air mail cover is postmarked in London on 14 January 1942 and is addressed to New Zealand. After arrival in South Africa, it was sent to Australia on the Ceramic and so the only part of its journey that was by air would be the final trans Tasman leg.
The Ceramic left Cape Town on 20th March and arrived in Adelaide on 13 April and in Sydney on 29 April

POW Air Mail via Baghdad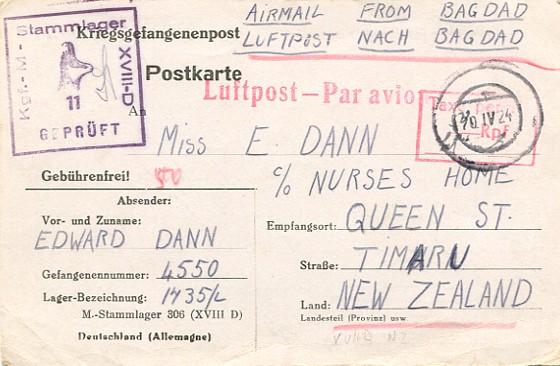 According to the text on the back this Prisoner of War postcard was written on 5 April 1942. It was sent to Timaru from Stammlager (Stalag) XVIIID which was in Marburg in Slovenia and has the inscription Airmail from Baghdad.
The cover has Taxe percue - RM 40 Rpf to cover the air mail fee. Air mail from German and Italian prisoners of war to New Zealand was normally sent to Lisbon and flown from there to the USA. and this is the only card that I have seen routed via Baghdad.
The actual route is not clear. Assuming that it went to Baghdad by surface, it may the have been flown to Cairo to join the forces mail and go to Australia by sea. Alternatively, it may have been flown by BOAC to Karachi and then flown by Indian air lines to Bombay or Colombo before going to Australia by sea. In both cases, it may have then been flown to New Zealand.

Replacement Services
Two partial airmail services to the UK replaced the Horseshoe Route service from New Zealand. Sea to San Francisco and then by air to UK had existed at a rate of 2s 6d since September 1941 and a partial air mail service of sea to Panama and then air to UK via New York was set up in January 1942 at a rate of 3s 6d.
The replacement route from the UK to New Zealand and Australia after February 1942 was air to USA and then sea across the Pacific at a rate of 1s 3d. That was the same route (in reverse) as the New Zealand 2s 6d service.
The service was poor and little or no better than by surface. This cover from the UK to New Zealand was postmarked in Bournemouth on 24 April 1943. It is franked with 2s 6d and so was overweight.

Surface mail
The surface rate remained at 2d and was not much slower than the air mail rate. This cover is postmarked at Waihi near Auckland on 22 January 1942 and has Received March 18th-42 in manuscript and so was 55 days in transit.
The last through flight on the Horseshoe Route left Sydney on 26 January and arrived in Durban on 12 February. Given how long the sailings from Capetown to the UK were taking at that time, it would have arrived later than this example of surface mail.

---
All scans were made by the author.
[1] Airmails of New Zealand, volume 2, D.A Walker, 1986, Air Mail Society of New Zealand
[2] The Horseshoe Route, Chavril Press, 1992.
[3] Airmails of New Zealand, volume 3, R.M. Startup, 1997, Air Mail Society of New Zealand
[4] Bridging the Continents in Wartime: Important Airmail Routes 1939-45, H. E. Aitink and E. Hovenkamp, SLTW, Enschede, 2005.
[5] Postmarks used by Base Post Offices in the Middle East, E.W. Leppard, The Kiwi, vol 41, no.1, pp 12-15, January 1992.
[6] Further Wartime Interruptions to Air Mail Routes, Bill Legg, Air Mail News, vol 47, pp 188 - 192, November 2004.
[9] The Postal History of World War II Mail between New Zealand and Switzerland, R.M. Startup and C.J. LaBlonde, 2005.
[11] Some Problem Air Mail Postage Rates, I. Warn, The Kiwi, vol 28, pp 126-128, November 1979.
[12] New Zealand Mail via the Indian Ocean Route during World War 2, R.M.Lee, The Mail Coach, vol 26 no 1, pp 11-16, October 1989.
[13] Australian Newspapers 1803-1954, Trove, National Library of Australia
[14] Overseas Mails Branch Weekly Reports Nos. 69-120, 1941, POST 56/77, Royal Mail Archive.
[15] Extracts from the Air Ministry Civil Aviation Intelligence Reports Summaries, compiled by P Wingent, West Africa Study Circle, 2010.
[16] Intercontinental Airmails Vol 2 - Asia and Australasia, E.B. Proud, Proud Publications 2009.
[17] Merchant Airmen, Pub. HMSO, 1946.