WW 2 Airgraphs
Airgraphs were developed by Kodak. The idea was that a letter was written on a special form which was then photographed. A large number of letters could be put on a single roll of film which was then flown to its destination. On arrival, the film was processed on to a roll of bromide paper which was guillotined to give individual prints which were then put in envelopes and posted locally [1].
This gave a great saving in weight which was important as space on aircraft was severely limited during the World War II,
The system was first used from May 1941 to exchange mail between Great Britain and Cairo for British forces in the Middle East. 1700 forms could be put on a single roll of film that weighed 5½ ozs
The US equivalent of airgraphs was V-Mail.

New Zealand use of Airgraphs
RNZAF personnel in Canada to New Zealand
The first New Zealand use was by RNZAF personnel in Canada on 1 October 1942. The film was flown from Toronto to San Francisco and by trans-Pacific by US Army Air Force flights to Australia where they were processed by the US V-Mail facilities in Melbourne. The rolls of bromide paper were then flown trans-Tasman where the rolls were guillotined and put into envelopes by the New Zealand Post Office [1].
The postal rate was 6c.
UK to New Zealand
The first dispatch from New Zealand servicemen in Great Britain was in late November 1942 with the film being flown trans-Atlantic and then flown across the Pacific to Australia by the US military where they were processed [1]. The postage rate was 3d.
Kodak installed processing equipment in Wellington in early 1943.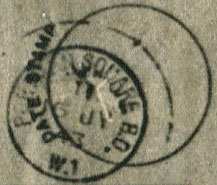 Civilian Airgraphs could be sent from Great Britain to New Zealand from April 1943 at a cost of 8d. The first dispatch from UK took 34 days.
This example is dated 13 July, has a London postmark on 15 July 1943 and a note on the envelope states that it was received on 11 August and so it was 27 days in transit.
The likely route was by RAF Ferry Command across the Atlantic to America and then by US Army airmail services to Auckland via San Francisco.
From late July 1943, forces Airgraphs were sent by sea from UK to West Africa, then by air to India via Cairo and then by from Ceylon to Perth by the new secret route across the Indian Ocean. That involved a 28 hour non-stop service flown by Qantas using Catalina flying boats.

NZEF in Middle East to New Zealand
Special Christmas airgraphs could be sent from NZEF forces to New Zealand in November 1942. They were sent to Melbourne for processing via UK and USA and arrived in New Zealand on 7 January 1943.
Airgraphs from Middle East forces to New Zealand could be sent from April 1943 at a cost of 3d. Initially, they were sent via London and the USA, but from 22 July 1943 they went via India and Australia.
This forces Airgraph has a rubber stamp dated 26 April 1944 and the envelope has answered 18/5/44 in manuscript which is 22 days later. There is a minor change in the OHMS envelope which no longer has a full stop after Post Office.
It would be sent from Cairo to Karachi by BOAC, from there to Ceylon by Tata Air Lines and then across the Indian Ocean to Perth by Qantas.

New Zealand to UK
The first dispatch of airgraphs from New Zealand to forces in Canada and the UK was on 28 January 1943 and they arrived at the end of February. The postage rate was 5d.
Civilian Airgraphs could be sent from New Zealand to Great Britain from April 1943 at a cost of 10d. The first dispatch from New Zealand was 24 days in transit.
This civilian Airgraph was sent from Auckland to the UK. It is postmarked on 20 December 1943.
Airgraphs were sent by different routes depending on the resources available. Some were sent via USA and others flown to Australia from where some were flown across the Indian Ocean while others went by sea to India. From India, they were either flown to West Africa or flown on the secret route through the Mediterranean.

New Zealand to NZEF in Middle East
At a cost of 5d, Airgraphs could be sent from New Zealand to servicemen in the Middle East from February 1943. They were flown to UK via Canada and then by sea to West Africa and air to Egypt where they were processed in Cairo.
This airgraph is postmarked in Christchurch on 4 November 1943 and is addressed to a soldier with the 2nd NZEF. It would likely be flown to Australia and then flown on the secret route across the Indian Ocean by Qantas from Perth to Colombo by Catalina flying boat. From there it would have been flown to Cairo for processing.
However, from November 1943, the 2nd NZEF were in Italy and so it took some time before it was delivered. After being processed in Cairo it would have been flown by RAF Air Transport to Taranto in Italy. The airgraph has Rec 31 12 43 in manuscript on the front and so it was 8 weeks in transit.

V-Mail to New Zealand
The US equivalent of airgraphs was Victory Mail or V...-MAIL where ...- is the morse code for V. It was free to US forces.
US army units were assigned an Army Post Office (APO) Number with a New York address for units in Europe and North Africa and a San Francisco address for units in the Pacific. This V-mail from APO 528 is addressed to New Zealand and is dated 23 March 1944.
From 7 February 1944 to 31 May 1945, APO 528 was in Rome. After being processed in Italy, the film would be flown to New York. Given the rarity of V-Mail from Italy to New Zealand, it may have been processed in New York and the print sent by air from there to New Zealand.

---
All scans were made by the author.
Information on this page is taken from:
Startup, R.M., Airmails of New Zealand, volume 3, 1997 published by the Air Mail Society of New Zealand.
Startup, R.M., Airgraphs, The Mail Coach, vol 23, pp 14-15, October 1986.
[1] Griffiths, K.A., New Zealand Airgraph Service 1942-45, Postal History Society of New Zealand Handbook No 41, 1999.